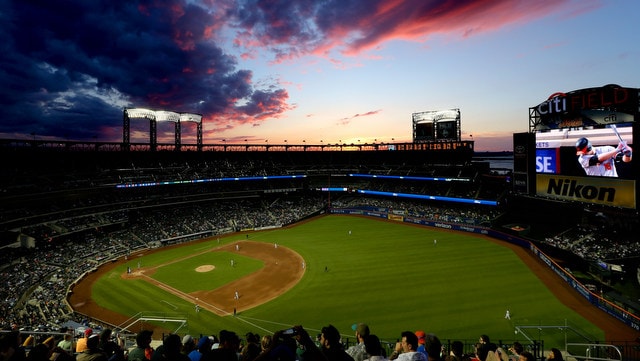 Maybe it's just me, but the Subway Series seems to be a much bigger deal on the Mets' side of town. Don't get me wrong, beating the Mets is always fun, but it largely feels like just another series. In a way, this is a no-win series for the Yankees. If they win, it's because they're supposed to. If they lose, well haha they suck. Know what I mean? Eh, whatever.
Anyway, it might not feel like it because of all the rainouts, but the Yankees have won seven of their last eight games now, and they still have baseball's best winning percentage a .690. They're the only team in baseball with fewer than 20 losses, and while the rainouts have certainly contributed to that, it's still pretty cool. Jacob deGrom is a tough customer, but the Mets are beatable. Here are tonight's lineup:
New York Yankees
1. CF Brett Gardner
2. RF Aaron Judge
3. 1B Greg Bird
4. LF Giancarlo Stanton
5. C Gary Sanchez
6. SS Didi Gregorius
7. 3B Miguel Andujar
8. RHP Masahiro Tanaka
9. 2B Gleyber Torres
New York Mets
1. LF Brandon Nimmo
2. 2B Asdrubal Cabrera
3. CF Michael Conforto
4. 3B Todd Frazier
5. RF Jay Bruce
6. C Devin Mesoraco
7. 1B Adrian Gonzalez
8. RHP Jacob deGrom
9. SS Amed Rosario
Warm and mostly sunny in Queens today. It'll be a good night for a ballgame. Tonight's game will begin at 7:10pm ET and you can watch on either YES or SNY locally, or MLB Network out-of-market. Enjoy.
Injury Update: As scheduled, Jordan Montgomery underwent Tommy John surgery yesterday. In addition to ligament reconstruction, Montgomery also had a bone chip removed from his elbow, the Yankees announced. Everything went well. See you in 14-16 months, Monty.