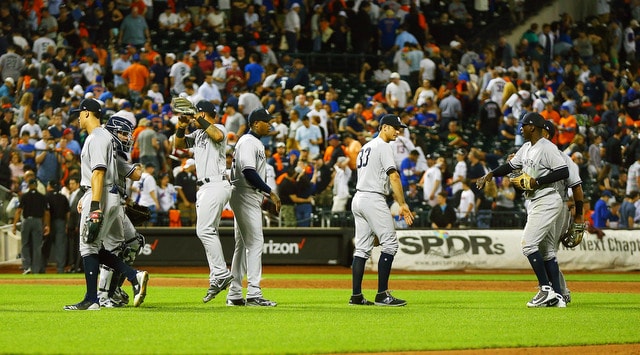 Good start to the Subway Series last night. The Yankees won a game against the opposing team's ace and they are now 8-1 in their last nine games. Since that 9-9 start — that 9-9 start in which everything seemed to go wrong — the Yankees are 32-9 (.780), far and away the best record in baseball. The next best team during that time? The Mariners at 30-15 (.667). Yeah.
You know what would be cool tonight? An easy blowout win. Been a while since the Yankees had one of those. Seven wins during this 8-1 stretch have come by three runs or less, which means the main bullpen dudes have worked a lot. Early runs and some mop-up work for A.J. Cole and Chasen Shreve would be cool. Been a while since the Yankees last put a crooked number on the board. Here are the starting lineups:
New York Yankees
1. CF Aaron Hicks
2. RF Aaron Judge
3. LF Giancarlo Stanton
4. C Gary Sanchez
5. 3B Miguel Andujar
6. SS Didi Gregorius
7. 1B Tyler Austin
8. RHP Domingo German
9. SS Gleyber Torres
New York Mets
1. SS Amed Rosario
2. 3B Todd Frazier
3. LF Brandon Nimmo
4. 2B Asdrubal Cabrera
5. RF Jay Bruce
6. CF Michael Conforto
7. 1B Adrian Gonzalez
8. LHP Steven Matz
9. C Kevin Plawecki
It is cloudy in New York today, but there's no rain in the forecast, and that's all that matters. Tonight's game will begin at 7:15pm ET and you can watch on FOX. There's no YES or SNY broadcast for this game. It's FOX and FOX alone. Enjoy the game.
Roster Moves: In case you missed it earlier, Masahiro Tanaka was placed on the 10-day with "mild" strains of both hamstrings. Sigh. Ronald Torreyes was called up a corresponding move.