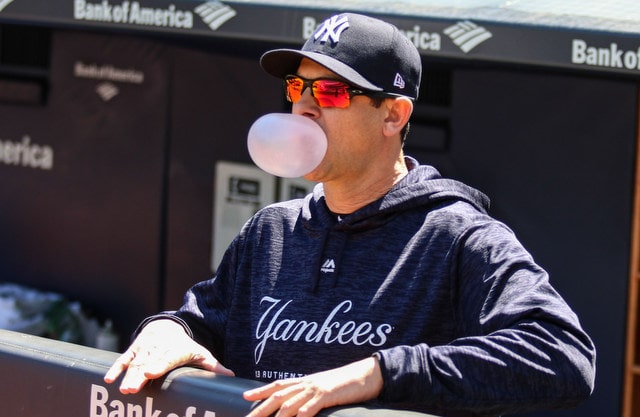 The Yankees are back home in the Bronx after a four-city road trip through Baltimore, Detroit, Toronto, and … uh … New York. They'll play seven games at home, travel to Washington for one day, then come back to home for another three games. Weird schedule lately. Blame all the rainouts.
Anyway, the Nationals are in town for a quick two-game series this week and hey, this might be a World Series preview. It also might be Bryce Harper's Yankee Stadium audition. In reality, it's just another series, just another game. Play today, win today, das it. Here are tonight's lineups:
New York Yankees
1. LF Brett Gardner
2. RF Aaron Judge
3. 1B Greg Bird
4. DH Giancarlo Stanton
5. SS Didi Gregorius
6. CF Aaron Hicks
7. 3B Neil Walker
8. C Austin Romine
9. 2B Gleyber Torres
LHP CC Sabathia
Washington Nationals
1. LF Adam Eaton
2. SS Trea Turner
3. RF Bryce Harper
4. 3B Anthony Rendon
5. DH Daniel Murphy
6. 1B Mark Reynolds
7. CF Michael A. Taylor
8. C Pedro Severino
9. 2B Wilmer Difo
RHP Tanner Roark
There are a few clouds in the sky tonight and it is pretty windy, otherwise it's a pleasant night for baseball in the Bronx. Tonight's series opener will begin at 7:05pm ET and WPIX will have the broadcast. Enjoy the game.
Rotation Update: In case you missed it earlier, Jonathan Loaisiga is indeed being called up to replace Masahiro Tanaka. He'll start Thursday.
Injury Updates: Gary Sanchez is sitting tonight and tomorrow. Aaron Boone called a physical break due to "wear and tear," though it pretty clearly has to do with his slump too. Gregorius sat out back-to-back games last month when he was slumping, remember. Sanchez has been receiving treatment on his calf since leaving the game in Texas, and he is available if necessary … Masahiro Tanaka (hamstrings) played catch today. It was more about keeping his arm in shape than beginning rehab work. He's still a few weeks away from returning.
All-Star Voting Update: MLB released the first fan voting update for the All-Star Game today. Gary Sanchez and Aaron Judge are in line to start, though Sanchez's lead over Wilson Ramos is tiny. Based on the last few years, I'd bet on Royals fans jamming the ballot box and getting Salvador Perez into the starter's spot eventually. Judge has a very big lead on a starting outfield spot. Gleyber Torres, Miguel Andujar, and Giancarlo Stanton are all distant seconds at their positions — in this case, Stanton's position is DH — and Didi Gregorius is third at shortstop. Here are the current voting results.