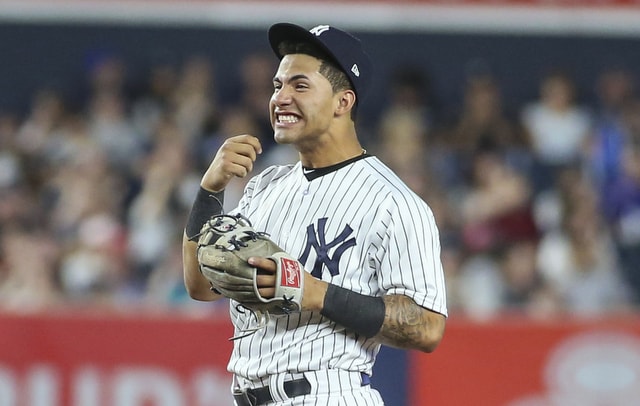 For only the third time this season, the Yankees will play the Rays tonight. Really weird schedule this year. These two teams played two games in April and they haven't played since. The Yankees haven't gone to Tropicana Field yet this season either. Weird. I guess that means these two AL East rivals are going to see a lot of each other the rest of the way.
Anyway, I've been asking for an easy blowout win for like three days now, so there's no sense in stopping now. How about a blowout win? The Yankees haven't scored more than four runs in any of their last six games — they're 4-2 in those six games because the pitching's been pretty great — and they haven't scored double digit runs since the Texas series almost a month ago. Would be cool to do that again. Here are tonight's lineups:
New York Yankees
1. CF Aaron Hicks
2. RF Aaron Judge
3. LF Giancarlo Stanton
4. C Gary Sanchez
5. 2B Gleyber Torres
6. 3B Miguel Andujar
7. DH Tyler Austin
8. SS Ronald Torreyes
9. 1B Neil Walker
RHP Domingo German
Tampa Bay Rays
1. 3B Matt Duffy
2. 1B Jake Bauers
3. C Wilson Ramos
4. DH C.J. Cron
5. 2B Joey Wendle
6. SS Willy Adames
7. CF Mallex Smith
8. RF Carlo Gomez
9. LF Johnny Field
LHP Blake Snell
Nice clear night for baseball in the Bronx. Tonight's four-game series opener will begin at 7:05pm ET and you can watch on FOX Sports 1. There is no YES or WPIX broadcast. FOX Sports 1 only. Enjoy.