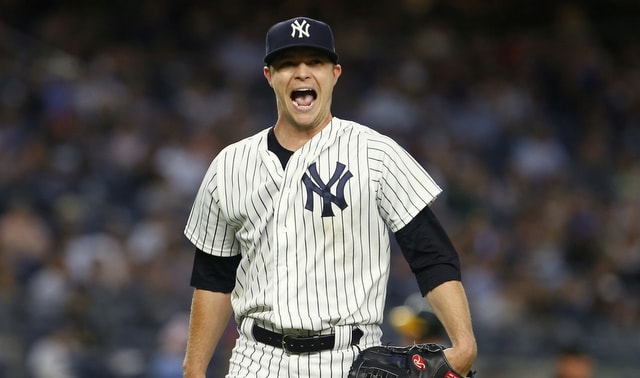 The Yankees lost for only the fifth time in their last 22 games last night, and you know what's crazy? Two of those five losses were by one run and the other three were by two runs. Even when they lose, the Yankees are in every game right to the end. Losing winnable games stinks, but I appreciate that the 2018 Yankees are never really out of a game.
Anyway, the rotation has a 2.83 ERA (3.34 FIP) so far this month and Sonny Gray will look to keep it going this afternoon. It's no secret he's been much better on the road (2.93 ERA and 2.57 FIP) than at home (7.22 ERA and 6.88 FIP) this season, and while his Yankee Stadium issues have to be straightened out at some point, I hope Gray keeps dominating on the road today. Here are today's lineups:
New York Yankees
1. LF Brett Gardner
2. RF Aaron Judge
3. SS Didi Gregorius
4. DH Giancarlo Stanton
5. CF Aaron Hicks
6. 1B Greg Bird
7. 3B Miguel Andujar
8. C Austin Romine
9. 2B Neil Walker
RHP Sonny Gray
Tampa Bay Rays
1. CF Kevin Kiermaier
2. 3B Matt Duffy
3. DH Jake Bauers
4. C Wilson Ramos
5. LF Joey Wendle
6. 1B C.J. Cron
7. 2B Daniel Robertson
8. RF Mallex Smith
9. SS Willy Adames
RHP Wilmer Font
Today's weather: Hot and humid outside and air conditioned inside. A day game with no sun is lame. Well, whatever. Today's game will begin at 4:10pm ET and you can watch on FOX Sports 1 and FOX Sports 1 only. Enjoy the game.
Injury Update: Masahiro Tanaka (hamstrings) continues to increase his running and agility work, and he "absolutely" feels better than he did when he first got hurt. He's scheduled to throw a bullpen session tomorrow and again Tuesday.
Rays Rotation Update: Turns out the Yankees won't see Blake Snell tomorrow. Rays manager Kevin Cash announced today they're pushing Snell back to give him extra rest. They'll instead do a bullpen game tomorrow with Ryne Stanek as the opener again.