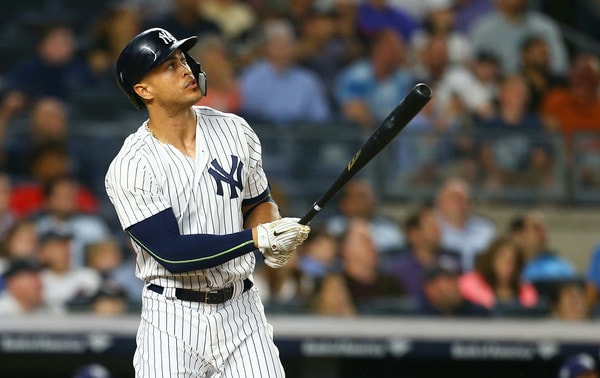 At some point soon, likely within the next week, MLB will announce the eight participants for the 2018 Home Run Derby. The Home Run Derby itself will take place Monday, July 16th, at Nationals Park.
We know this much: Aaron Judge and Gleyber Torres will not be there. Judge has said he's "one won and done" with the Home Run Derby and Torres says he'll pass on the event. Gary Sanchez is hurt, so you can rule him out too. Others like Mookie Betts and J.D. Martinez have indicated they'll pass on the Home Run Derby as well. Mike Trout's never done it and there's no reason to think he'll do it this year.
What about Giancarlo Stanton? "I haven't thought about it," he said to Pete Caldera earlier this week. MLB typically asks players to participate two weeks before the event and Stanton said that's when he'll consider whether to participate. Giancarlo is a Home Run Derby veteran who won the event in 2016. Some numbers, since I know many of you out there are wondering:
| | First Half | Second Half |
| --- | --- | --- |
| 2014 | .295/.395/.538 (157 wRC+) | .274/.396/.586 (168 wRC+) |
| 2016 | .233/.328/.495 (119 wRC+) | .254/.322/.478 (109 wRC+) |
| 2017 | .277/.360/.572 (140 wRC+) | .287/.393/.702 (175 wRC+) |
Three career Home Run Derbies with no notable drop in performance in the second half. Heck, Stanton's been better in the second half in two of this three Home Run Derby years, and last season he went on that insane second half tear after the Home Run Derby. Stanton is a Home Run Derby veteran who knows how to produce before, during, and after the event. Not worried about it at all, if he chooses to participate.
Stanton went into last night's game hitting .265/.337/.510 (128 wRC+) with 19 homers in 77 games, including .306/.373/.602 (161 wRC+) with eighth homers in June. He's got a pretty good chance to be an All-Star reserve. Players have participated in the Home Run Derby without being an All-Star — Stanton himself did it in 2016, though that might've been because it was near home in Southern California — so that's not a prerequisite.
I know this much: MLB is going to want a Yankee in the Home Run Derby. The Yankees are good and the Yankees are popular, and they'll help draw eyeballs to the event. With Judge and Torres passing, and Sanchez hurt, Stanton is the team's obvious candidate to participate in the Home Run Derby. If he passes, would they ask Didi Gregorius? Miguel Andujar? Aaron Hicks? We'll see.
Judge of course won the Home Run Derby last season. Robinson Cano (2011), Jason Giambi (2002), and Tino Martinez (1997) also won the event while with the Yankees.