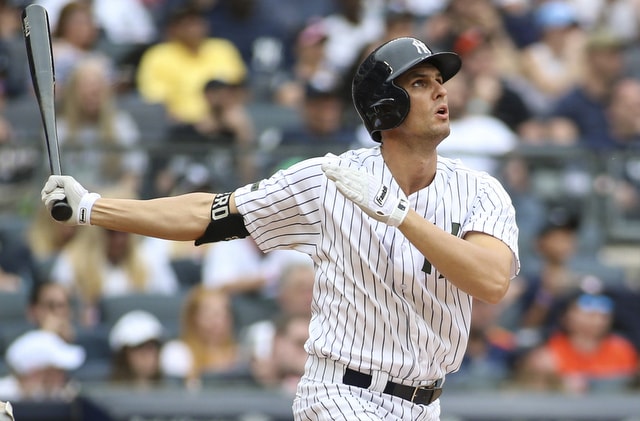 A little more than one month ago, Greg Bird returned to the Yankees after having his second ankle surgery in as many years. Tyler Austin and Neil Walker did okay enough at first base in the interim. Although the Yankees weren't having trouble scoring runs without him, adding Bird's lefty power bat to the righty heavy lineup really helps balance things out.
Twenty games into his 2018 season, Bird is hitting .211/.300/.451 (104 wRC+) overall with three home runs, and things have been much better of late. Including the completion of the suspended game, he's gone 6-for-20 (.300) with three doubles, a homer, five walks, and four strikeouts in the last seven days. Not surprisingly, Bird needed some time to get settled in following ankle surgery. He's on the path to being dangerous now.
"I'm happy where I'm at right now, but there's room to get better for sure. Get better, stay the course and turn this thing around," said Bird to Zach Braziller over the weekend. "I try to figure it out all the time. It's just the ups and downs. You want to be consistent in this game. I just feel like when you're coming back like that, there's more obstacles."
One thing Bird has not done early in his 2018 season is hit fastballs. He's hitting .162 with a .189 ISO against heaters so far, whereas the league averages are .265 and .177, respectively. He's also posted a .301 expected wOBA against fastballs this year. The league average is .365. The results aren't particularly good because the contact hasn't been particularly good.
Furthermore, Bird has missed with 20.9% of his swings at fastballs so far this season. The league average is 19.3%. Given what we've seen from Bird the last few years, I don't think it'll surprise you to learn that most of his whiffs against heaters have come on pitches up in the zone. Here are the pitch locations of his whiffs on fastballs (colored by pitch velocity):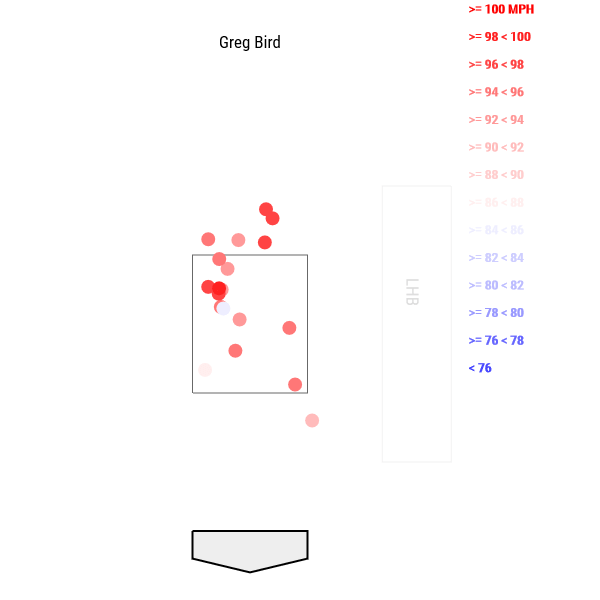 As soon as he got to the big leagues in 2015, pitchers started attacking Bird with elevated fastballs. Teams scout the minor leagues like crazy these days. When a kid comes up, they already have a book on him, and those elevated heaters are Bird's weakness. Is it something he can correct? Possibly. Elevated fastballs are hard to hit, especially when behind in the count.
Anyway, Bird has not hit fastballs in the early going and the swings and misses concern me more than the low AVG and ISO, especially since so many of those swings and misses in the plot above are 92-94 mph. A 92-94 mph heater over the plate is a pitch I want Bird to hammer. We know Bird, when he's healthy and right at the plate, can murder fastballs. Quality fastballs too. Need I remind you?
Bird can hit fastballs. He just hasn't since coming back from the disabled list. There's a big difference between not being able to do something and not doing something at this moment. Bird is not hitting fastballs at this point in time. It doesn't mean he won't hit fastballs forever.
The question is why isn't Bird hitting fastballs right now? I'm inclined to say this is all small sample size noise. Not just small sample size noise, but small sample size noise from a dude who recently returned from ankle surgery. Simply put, Bird is not yet in midseason form. Ankle surgery is not nothing — if you don't have a solid base underneath you, you're not going to hit properly — and he's just coming back from (another) one.
You're welcome to feel differently, but I think we're very far away from saying Bird has a problem with fastballs. Is he susceptible to elevated fastballs? Yes. Lots of hitters are. But do those swings and misses at 92-94 mph heaters out over the plate point to a larger problem? It's always possible, sure. We need more information though. No one ever likes to hear this, but the best thing the Yankees can do is be patient. Give Bird time and let him figure it out.