There are eleven questions in this week's mailbag. Send your questions to RABmailbag (at) gmail (dot) com and I'll answer as many as I can each week.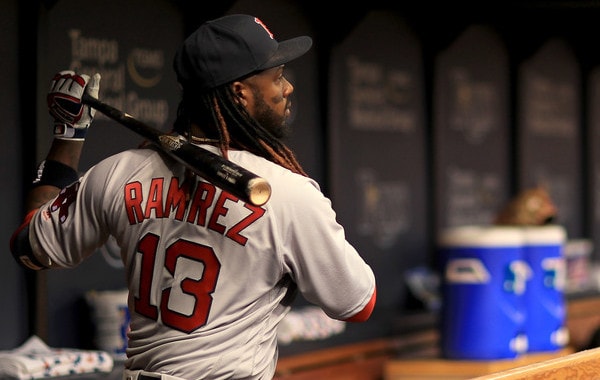 Mike asks: Obligatory Hanley Ramirez question.
I figured this was coming. The Red Sox requested unconditional release waivers on Hanley the other day, and once he clears — he absolutely will clear because no team is taking on that contract — any team will be able to sign him for the pro-rated portion of the league minimum. Boston still owes him the remainder of his $22.75M salary this season but his $22M vesting option for next year goes away. His next team doesn't assume it and the Red Sox don't get stuck with it.
A few things to consider here. One, Ramirez has been a below-average hitter three of the last four seasons now. He was hitting .254/.313/.395 (90 wRC+) when he was designated for assignment and he's hit .245/.318/.421 (92 wRC+) in over 700 plate appearances dating back to the start of last season. Two, he's a bad defensive first baseman who is best at DH. There should be not putting Hanley back at short or third or (gasp) left field. He's a terrible defender.
And three, can he even be counted on to mash lefties? Ramirez is hitting .333/.378/.476 (132 wRC+) against southpaws this year, though just last year he authored a .179/.293/.387 (65 wRC+) against them. The Yankees are carrying a first base only right-handed platoon bat in Tyler Austin. Would I rather have Hanley or Austin in that role? I'd rather have Hanley, yeah. I also don't think it's worth rocking the boat. Let him go elsewhere.
Brian asks: I guess it's hard to quantify, but do you think Clint would provide more value to this roster than Tyler Austin? Playing once a week vs. a lefty starter seems like a superfluous roster spot, no?
The question here isn't "is Clint Frazier better than Austin?" because I'm pretty sure we can all agree he is. Or, at the very least, he offers more long-term upside. The question is whether there's enough playing time to go around. The Yankees have been sitting Brett Gardner against lefties and they're all in on Aaron Hicks, so he's not coming out of the lineup. Neither are Aaron Judge and Giancarlo Stanton, understandably.
What's the best thing for Frazier right now, playing everyday in Triple-A or playing part-time in the big leagues? After his injuries (concussion this year, oblique last year), I'm cool with keeping him Triple-A a little while longer. Let him get at-bats and get comfortable. Giving a bench spot to Austin doesn't seem great because he's limited to first base and he's on the short end of the platoon. At least Frazier can move around the outfield. Unless there's a clear plan to get Frazier regular playing time — and I don't know what that plan is — I'd leave him in Triple-A for the time being. It does feel like things are coming to a head though. At some point the Yankees need to unleash Clint.
Marc asks: Do you think it is more likely that come August 1 Sheffield is traded for a starter or becomes part of the rotation? It seems hard to imagine them acquiring a pitcher without him in a trade, and equally as hard to imagine using someone from within the organization that isn't him.
If those are my two options, I'll say it's more likely Justus Sheffield will be traded come August 1st rather than be a member of the rotation. Can I add a third option though? I think the most likely scenario is Sheffield is neither traded nor in the big leagues. I think the Yankees will still have him in Triple-A. The minor shoulder injury — there's no such thing as a "minor" shoulder injury, really, but this one seems to have been as close to nothing as it gets — slowed Sheffield down some and might delay his arrival. Remember, he's still a just turned 22-year-old kid with not even a full season's worth of playing time above Single-A. No one is truly untouchable, but I think Sheffield is about as close to untouchable as it gets for the Yankees. I don't see him being traded. They have the pieces to get a starter without including him in a deal.
Michael asks: This will never happen, but….Verlander for Chapman. Who says no?
The Astros would obviously say no but the general idea is interesting. The Astros need a closer and have extra starters while the Yankees need a starter and have extra relievers. Houston could trade a starter and put Collin McHugh or Brad Peacock in the rotation. The Yankees could trade Aroldis Chapman and put David Robertson or Dellin Betances or Chad Green in the ninth inning. The Astros plug a worse starter into the rotation for a big upgrade in the ninth inning. The Yankees plug a worse reliever into the ninth inning for a big upgrade to the rotation. Fun idea. Never happening.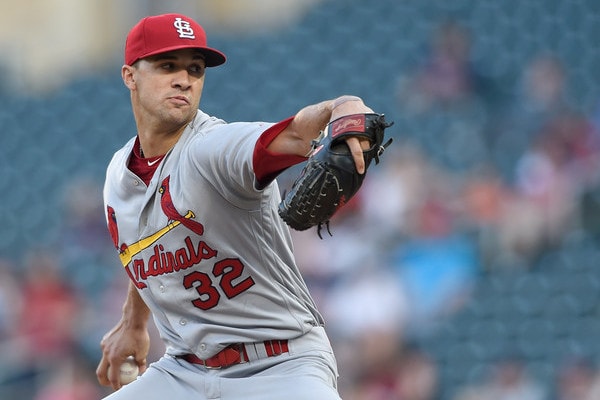 Adriano asks: What about the Cardinals as a potential trade partner for starting pitching?
They're a potential partner, for sure. The Cardinals are pretty deep with young starters at the moment. Their current rotation depth chart looks something like this:
Carlos Martinez (returning from a lat strain next week)
Michael Wacha
Miles Mikolas
Luke Weaver
Jack Flaherty
Adam Wainwright (out with an elbow injury)
Alex Reyes (out several weeks with a lat strain)
I wouldn't go anywhere near Wainwright even when healthy. He's been terrible. He'll turn 37 soon and he has a 4.76 ERA (4.15 FIP) in 340 innings since 2016. Plus he's hurt right now. Hard pass for me. Martinez started a minor league rehab assignment yesterday and will be back next week. The Reyes injury means one of the kids won't have to go to Triple-A.
I'm a big Jack Flaherty guy (No. 53 on Baseball America's top 100) and I'd love to see the Yankees get their hands on him. Finding a trade match might take some effort because the Cardinals do not need an outfielder, so Frazier may not be much help there. Dexter Fowler is legitimately their fifth best outfielder at the moment, behind Tommy Pham, Marcell Ozuna, Tyler O'Neill, and Harrison Bader. They don't need outfield help.
The Cardinals are thin on the infield, however, especially with Matt Carpenter slipping and Kolten Wong forgetting how to hit. Maybe Miguel Andujar for Flaherty is a framework that make sense? I don't think that's unreasonable, though I do love me some Miggy Mantle. Maybe there's a Brandon Drury for Flaherty framework that makes sense instead, with other things added as necessary. The Cardinals could be a pitching trade partner though, for sure.
Dean asks: What's the chance that the Yankees call up Josh Rogers to start? He probably only has 60-80 innings left at AAA this season, but he's been very good overall and he might be worth mixing into the 5th starter scenario in the absence of a trade or two.
Rogers did not pitch all that well with Double-A Trenton last season (4.62 ERA and 4.33 FIP) then he went down with surgery to remove a bone spur from his elbow. He was supposed to pitch out of the Triple-A Scranton bullpen this year, but Luis Cessa's early call-up push him into the rotation, and he has a 2.48 ERA (3.57 FIP) in ten starts and 61.2 innings. He's been great.
The Yankees gave the soon-to-be 24-year-old Rogers a well-above-slot $485,000 bonus as their 11th round pick in 2015, so, if nothing else, they really liked him once upon a time. Rogers' underlying numbers are not great. His strikeout (21.2%) and swing-and-miss (9.7%) rates are okay at best and he's been an extreme fly ball guy (36.3% grounders). I'd be interested to hear some velocity reports, because he was mostly 88-92 mph in previous years.
Because he's in Triple-A and pitching well overall, you can't rule out a call-up at some point. To me though, Rogers is more likely a trade chip a la Zack Littell last year because he'll be Rule 5 Draft eligible after the season and is probably a fringe 40-man roster guy in this organization. As good as he's been, I'm not sure Rogers is more than an up-and-down depth arm for the Yankees, and hey, you need those guys. Seems to me that, if he winds up making multiple starts at some point, something will have gone horribly wrong.
Ryan asks (short version): Michael Kay and crew talked quite a bit about Chapman going for more than 3 outs, specifically how he has to rest in the dugout then go back out for the ninth. Here's my question: Could Chapman go back to the bullpen after the last out in his half of the eighth, toss the ball, maybe a few pitches or so to stay fresh then enter from the bullpen to start the ninth?
I'm not sure whether there's a rule against the pitcher currently in the game throwing in the bullpen while his team bats, but they don't need to do that anyway. Every ballpark has a batting cage underneath the stands near the clubhouse — at Yankee Stadium it's just down the steps from the dugout — and the pitcher can throw in there. Lots of guys do that during rain delays and whatnot. For a reliever like Chapman, there are only so many bullets in that arm each night. You don't want to waste them throwing on the side while the team bats.
David asks: If MLB allowed draft picks to be traded, what would you give up for the first pick if you were the Yanks?
The answer would be different every season, right? Depends on the draft class. If there's a Stephen Strasburg or Bryce Harper in the draft, you'd pay an awful lot to get him. Auburn righty Casey Mize, the consensus No. 1 prospect in this year's draft, is not at that level. It sounds silly given how things turned out, but I think Mark Appel was a better No. 1 draft prospect in 2013 than Mize is now. Mize is a great prospect. By No. 1 picks standards, he's a tad underwhelming. I'd rather have Frazier or Sheffield than Mize given their comparable upsides and proximity to the big leagues, personally. Estevan Florial? I'd trade him for the Mize pick this year. Florial and a second piece like, say, Albert Abreu? Yeah I'd trade them for the Mize pick as well. Not sure how much higher I'd go than that though.
Anonymous asks: We've talked about Sonny Gray and Masahiro Tanaka possibly being hurt by the Yankees anti-fastball approach, but what about David Robertson? According to Fangraphs his fastball usage is down 30% from his career average. His underlying numbers are about the same, so I guess it could just be a normal slump or bad luck, but why try and fix something that wasn't broken?
Lance McCullers Jr. received plenty of attention for throwing 24 straight curveballs in Game Seven of the ALCS last year, but no one noticed Robertson threw 13 straight curveballs in Game Two. He is definitely an anti-fastball guy. Look at his month-by-month pitch selection the last few years:
That slider seems to be a variation of the cutter more than anything. It looks to me that Robertson has a short cutter — a "normal" cutter, if you will — and also one with a little more break and touch less velocity. Not quite a slider but kinda. Anyway, yeah, Robertson's fastball usage has dropped down since the trade last year, and especially so this season.
Wednesday night Robertson threw 25 pitches and 17 were cutters, including 14 of his first 15 pitches. It wasn't until he needed some strikeouts that he broke out the curveball. Robertson couldn't locate his cutter — he fell behind 3-0 on the first two batters and 2-0 on the third batter — but he threw it and threw it a lot. More than he has in a while.
Robertson was so ridiculously good after the trade last year and into the postseason that it's hard for me to believe the anti-fastball thing is a problem. He just seems to be in a rut right now. He's been having trouble throwing strikes, and when he's had to come in the zone, he's gotten hit hard. And hey, maybe the anti-fastball thing is the root cause of Robertson's recent control problems. He was great earlier this year though. Now suddenly it's a problem?
The anti-fastball philosophy has gotten a lot of attention lately, and now that the pitching staff has had a rough week, there's an anti-anti-fastball sentiment. As predictable as it gets. The Yankees do a thing, they have a bad week ("bad" week), so they should stop doing that thing. No one thought the anti-fastball approach was a problem when they went 17-1 and were getting phenomenal pitching. Sometimes a slump is just a slump.
Rich asks: It's pretty obvious to many that the area the Yankees need to improve upon most is pitching. In the offseason would signing Manny Machado and trading Didi Gregorius to get a very decent starter make sense? With one full year left before free agency, Didi's value should be decent. I realize this move makes the team yet more right-handed heavy, but there's no denying the type of player Machado is. Also on the surface it appears he'd be thrilled to join the Yankees.
Are we even sure Machado can play shortstop at this point? I mean, he can play it, obviously, but can he play it well? The defensive numbers this year are pretty bad. Among the 26 qualified shortstops he is 23rd in DRS (-6) and 25th in UZR (-3.1). He's already has surgery on both knees too. Even if you ignore the defensive numbers because it's a tiny sample, is Machado really a good bet to stay on the middle infield long-term? I know he wants to play shortstop, but is it really his best position?
Machado is undeniably a better player than Gregorius. A much, much better player. From a pure "does it make the team better on the field" perspective, trading Gregorius and signing Machado as a replacement is a wonderful idea, even if you don't get a substantial return for Didi. The upgrade on offense more than makes up for the downgrade in defense, in my opinion. I'm just not convinced a) the Yankees will spend top of the market dollars for a free agent this winter, and b) Machado will be a viable shortstop much longer. The "sign Machado and trade Didi" thing sounds more like a video game idea than a real world plan.
Larry asks: I just noticed that Caleb Smith, a pitcher the Yankees very quietly traded to the Marlins in the offseason for international bonus pool money (and someone named Mike King?) is leading Miami's staff and having a better season than every NYY starter by most of the statistics we typically measure quality performance by (K/9, HR/9, fWAR) but Sev. While it's only been two months — and the 30% GB% would be an outlier on the Yankees' staff — was there anything in Smith's history to suggest this level of performance? We obviously can't rewrite history but in hindsight given the outcome of the Ohtani sweepstakes trading Smith for $250k seems like a pretty big whiff, no?
Smith was almost certainly going to be a 40-man roster casualty at some point over the winter, so, rather than lose him for nothing on waivers, the Yankees traded him. There's nothing in his track record that suggested he'd ever be this good, even over an eleven start sample. Smith never missed this many bats in the minors — going into yesterday's games he had the tenth highest strikeout rate (29.9%) and the 28th highest swing-and-miss rate (11.5%) among the 90 pitchers with enough innings to qualify for the ERA title — and he hasn't change his pitch selection or added any velocity. Nothing like that.
Even as a left-hander, a guy who walks this many batters and gets this few grounders — Smith has the seventh highest walk rate (11.3%) and third lowest ground ball rate (29.3%) among those 90 qualified starters — seems like a bad, bad mix for Yankee Stadium and the AL East in general. The Yankees are pretty good at evaluating their own prospects — who's the last guy they traded that they miss? — and remember, the Cubs gave Smith a look as a Rule 5 Draft pick last year, and they sent him back. To me, this is a case of a pitcher getting an opportunity with a rebuilding team he otherwise wouldn't have gotten with the Yankees. Maybe the Yankees screwed up. This is an out of nowhere performance though, and I don't think Smith would've gotten an opportunity over Domingo German this year.