There are ten questions in this week's mailbag. RABmailbag (at) gmail (dot) com is the mailbag email address, so send your questions there each week.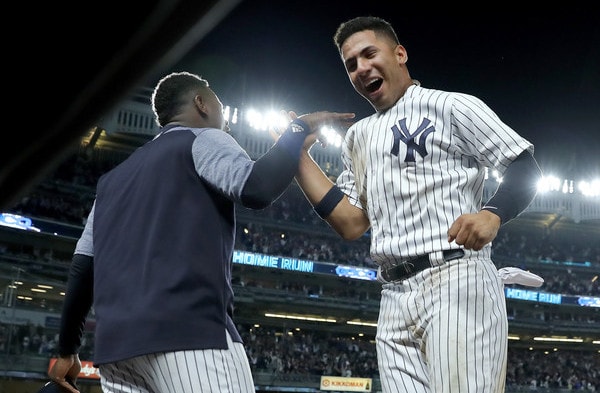 Ryan asks: Any explanation for the power Torres is showing in the majors? I think I read he had only 24 homers in like 1,500 at bats in the minors. Seems to be somewhat common with guys having better power numbers in the majors. Any insight would be great!
Gleyber Torres has hit 14 homers in 52 big league games so far. His career high in the minors was eleven homers in 125 games in 2016. Torres is certainly not the only prospect to come up from the minors and hit for more power than ever before. Aaron Judge did it, Cody Bellinger did it, Gary Sanchez did it, Albert Pujols did it. Lots of guys have done it. Torres is not the first nor will he be the last.
There are a few reasons for this. One, they're seeing more pitches in the zone than they do in the minors because MLB pitchers are just better, and MLB pitchers tend to challenge young guys until they prove they can do damage. Two, the baseball itself is different and the many of the ballparks are smaller. Three, they have access to better advance scouting and video work. And four, many of these dudes are young players who are still developing physically, and they get stronger. It's kinda weird, but showing more power in the big leagues than the minors happens often.
Bart asks: Rule 5 Draft. Your thoughts on Dermis Garcia (is he not "special" and worth protecting) and Adams performance seems just short of what is needed (more patience or trade him?).
Unless Garcia goes completely bonkers the rest of the way, there's no way the Yankees should add him to the 40-man roster after the season. He's yet to play above Low-A and he's still swinging and missing a bunch (31.9% strikeouts and 14.8% whiffs), plus he's a defensive liability. Maybe the Padres will live with an ugly strikeout filled season to get Dermis into their organization, but I can't see him sticking in the big leagues next year. Not one bit.
As for Chance Adams, he has been legitimately bad this season, throwing 65.2 Triple-A innings with a 5.21 ERA (4.54 FIP) and too many walks (11.1%). Yes, he had offseason elbow surgery. It's also mid June now. You'd think he'd be over the bone spur surgery by now. The Yankees shouldn't make him off limits in a trade, of course, but I'd stay the course and keep running him out there. Protect him from the Rule 5 Draft after the season and see where we're at then.
Seth asks: Don't you think Jonny Lasagna looks a lot like Ramiro Mendoza from those great 90's teams? And would you be ok with Loaisiga turning into Mendoza or would you hope to see more from him?
I think Jonathan Loaisiga has the stuff and command to start long-term. Can he stay healthy? That's the big question. But I think the ingredients are there to start. Right now he just looks like an inexperienced rookie, which is in no way surprising. If Loaisiga has trouble staying healthy as a starter, a relief role would work too, and a Mendoza-esque role would be great. That's basically Adam Warren, right? That do anything Swiss Army Knife reliever. That strikes me as a role the Yankees will be able to fill internally going forward, either with Loaisiga or Adams or Domingo German. Or maybe someone else.
Julian asks: Brett Gardner says he wants to play 2-3 more years. If he finishes his career with the Yankees would he be in consideration for a plaque in Monument Park?
Man, that's tough. Gardner has been a great Yankee but he's never been the star or the biggest name on the team, and he's never been a core member of a World Series champion. (He was the fourth outfielder in 2009.) That could change in the coming years — I sure hope it does! — but, if it doesn't, Gardner will have spent about 14 seasons with the Yankees as a high-end complementary player. Is that Monument Park worthy? Gardner is basically the poor man's Willie Randolph and it took almost 20 years for Randolph to get a plaque. As good as he's been, it's hard for me to think Gardner gets a plaque. A few World Series titles before he retires could definitely change things though.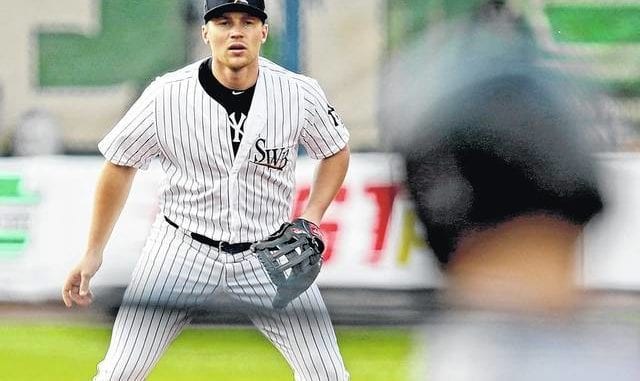 Mike asks: Drury is killing it in AAA right now, but for the Yankees he's really nothing more than depth at this point. Solak and Widener are both playing very well at AAA. In addition, the Rays have been playing Solak in the OF to increase his versatility. At this point, does Drury have more value to the Yankees than Solak and Widener would? Even if he does now, would he in the long term? Who would get more in a trade?
I think Brandon Drury has more value to the Yankees than the two prospects because they could plug Drury into the big league lineup tomorrow. Nick Solak and Taylor Widener are good prospects, don't get me wrong, but the only way they'd help the 2018 Yankees is as trade chips, and I don't think they're guys who could net you an impact pitcher. They're second or third piece in a package types and the Yankees have lots of those dudes. Having a league average (maybe better) player like Drury stashed in Triple-A as depth is a tremendous luxury for a contending team. The two prospects wouldn't move the needle much this year, and I'm not sure where Solak or Widener would fit long-term anyway. It's Drury or the mystery box, right? Do you want Drury or whatever you could hypothetically trade Solak and Widener for?
Anonymous asks: It seems like everyone throws 98 these days. Are players actually throwing harder or did something else change? I seem to recall that a few years ago PitchFX started picking the ball up out of the pitchers hand as opposed to when it crosses home plate.
Pitchers are absolutely throwing harder than ever before, though there has been a change in velocity measurements. PitchFX measures velocity at 55 feet from home plate. Statcast measures it out of the pitcher's hand. Here are the league average four-seam fastball velocities according to PitchFX:
2009: 91.4 mph
2010: 91.5 mph
2011: 91.7 mph
2012: 91.8 mph
2013: 92.0 mph
2014: 92.1 mph
2015: 92.4 mph (Statcast: 93.1 mph)
2016: 92.6 mph (Statcast: 93.2 mph)
2017: 93.2 mph (Statcast: 93.2 mph)
2018: 93.0 mph (Statcast: 93.0 mph)
Average velocity tends to increase during the season because pitchers usually reach midseason form in the hot summer months, and because a bunch of hard-throwers join rosters in September.
Even if the average velocity this year drops a bit from last year, pitchers are still throwing harder than at any other point in baseball history. It seems like every dude who comes up from the minors is throwing 97+ these days. Will we one day reach the point where 95 mph is the average velocity? And if the answer is yes, what does that mean for baseball?
Dan asks: You said the Yankees should add another starter and maybe another reliever. I totally agree. How about 1B though. Would you look for an upgrade if Bird doesn't improve till the trade deadline? Seems like that's the only weak-ish spot in the lineup.
If Greg Bird is still hitting .206/.295/.423 (96 wRC+) or thereabouts come the trade deadline, then absolutely go get a first baseman, preferably left-handed. Don't give the job to Tyler Austin, don't give to the Brandon Drury, don't give it to Neil Walker, don't give Clint Frazier a first baseman's glove, nothing like that. Go get an actual first baseman. Dudes like Lucas Duda and Justin Bour are going to be available, maybe Jose Abreu too. Stick with Bird for now, but if we're sitting here in five weeks and we're still waiting for him to get going, then it's time to stop waiting.
Michael asks: Any concern/thoughts on Judge's increase in GB%? It was 34.9% last year and has ballooned to 44% this year.
Going into yesterday's game Aaron Judge had a 44.9% ground ball rate this season, which is up ten percentage points from last season. That's significant. His ISO has dropped from .343 to .277, and while that's still elite, it is down quite a bit from last year. A graph: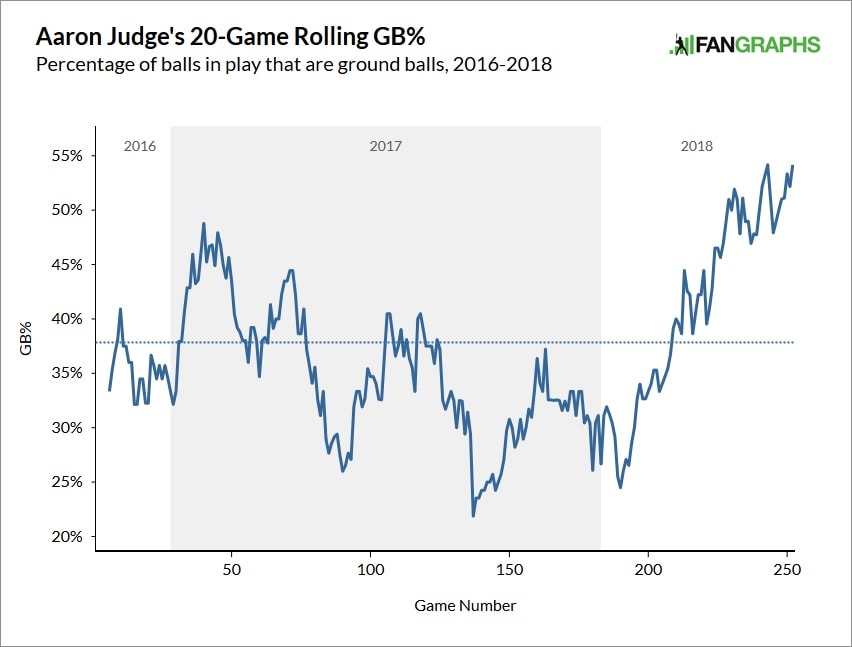 Not a good trend! You want Judge to hit the ball in the air. When Judge hits the ball in the air, very good things happen. As long as the shoulder is healthy, and there's no reason to believe it isn't, I'm not really worried about the spike in grounders. It's not like he hasn't been great this season.
I think pitchers have adjusted to Judge a bit — they've been jamming him inside more often, it's seemed to me — and now it's up to him to adjust back. It's all part of the cat-and-mouse game. Give Judge time and he'll figure it out. He's too good not to.
Vismay asks: This pitcher has a 19.6% K-BB% (top 20), 13.8% swStr% rate (top 6), but low 35.3 GB% and his batted ball rates are kinda messy: 89.3 avg exit velocity and 37.9% hard hit rates. The pitcher is Dylan Bundy. Potential trade target and one who can benefit from the anti-fastball approach?
Bundy has some tools. He gets a ton of swings and misses with his secondary pitches (slider, curveball, changeup), and while his fastball doesn't jump out in terms of velocity, it does have an above-average spin rate, which allows it to play up a bit. Bundy doesn't get ground balls and is awfully home run prone though (1.5 HR/9 since 2016), which is a bad mix for Yankee Stadium. There's some Masahiro Tanaka here. Bundy has great secondaries, but when he catches too much of the plate, hitters make him pay.
Bundy's injury history is a huge red flag for me. He's had all sorts of arm problems, including Tommy John surgery and shoulder trouble, and those injuries have already robbed him of his fastball. Plus Buck Showalter really works Bundy hard. He's thrown as many as 121 pitches in a game this season and Showalter always seems to try to get that one extra inning out of him. Bundy is interesting. I'm just not sure I'd trust a pitcher this fly ball and home run prone in Yankee Stadium long-term, especially with that injury history.
Michael asks: As of now, Judge is 59/8 in games at RF/DH. Stanton has played about half and half between the combined corners/DH. Is Stanton being rested more b/c of his knee/injury history, and should the DH time be split a little more evenly between the two giants?
After yesterday, Judge is at 60 starts in right and eight games at DH (and one in center). I am surprised he hasn't spent more time at DH. I thought it would be closer to a 50/50 split to be honest, or maybe 60/40 in favor of right field. Giancarlo Stanton is certainly comfortable playing right field and giving Judge some time off his feet isn't a bad idea. He's a big dude and he's carrying a lot of weight around. Running around the outfield every day at that size is physically demanding. Maybe we'll see him get more DH time as the season progresses, especially if the Yankees open up a big lead?
As for Stanton, there are three possible reasons he is spending so much time at DH. One, Aaron Boone doesn't know what he's doing and isn't spreading the outfield load around. (I'd bet the farm against this being the actual reason.) Two, the Yankees are protecting Stanton physically. He's had several leg injuries over the years, including hamstring and knee problems, so they're taking it easy on him. And three, they think Judge is the better defender and want him in the outfield as much as possible. Not unreasonable. I would like to see Judge get some more DH time just to take it easy on his legs, but the Yankees do know what they're doing, so I'll defer to them.