For the first time since August 2016, the Yankees have lost a game to the Mets. For shame. The Yanks had won their previous six head-to-head meetings — all four games last year and the first two games of this series — prior to Sunday night's 2-0 loss. The Yankees are 13-1-1 in their last 15 series and still have baseball's best record at 42-19.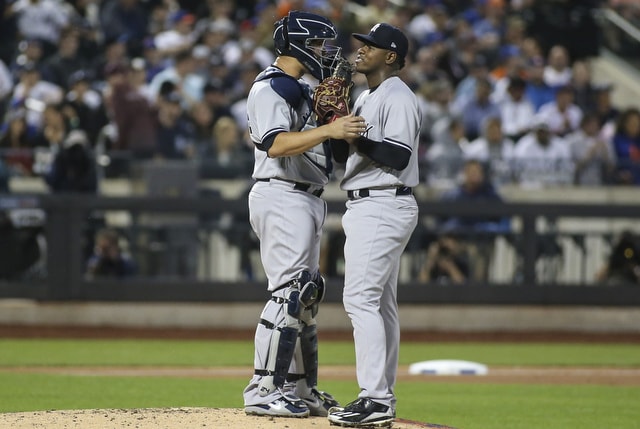 Even Bad Severino Is Pretty Good
Gotta hand it to the Mets, they made Luis Severino work Sunday night. He needed 31 pitched to toss a scoreless first inning and was out after five innings and 93 pitches. Severino wasn't bad — two runs in five innings is hardly a disaster — but he wasn't especially sharp, and the Mets were able to elevate his pitch count and put some dudes on base. Only once in his five innings did they go down 1-2-3.
Of course, this is Luis Severino we're talking about here, so he still started his night with four scoreless innings. Four-and-two-thirds scoreless, really. The Mets finally got to him with two outs in the fifth. Jose Reyes pulled a little seeing eye ground ball single through the right side, then Todd Frazer walloped a slider that hung juuust enough* over the left field fence for a two-run home run and a 2-0 Mets lead.
* It looked like Frazier went around on his check swing at the previous pitch, which would've been an inning-ending strikeout, but ESPN never bothered to show a replay. Alas.
Sliders that were not particularly well-located was a running theme all night for Severino, who didn't do a good job burying the pitch down-and-away to righties. Here are his slider locations: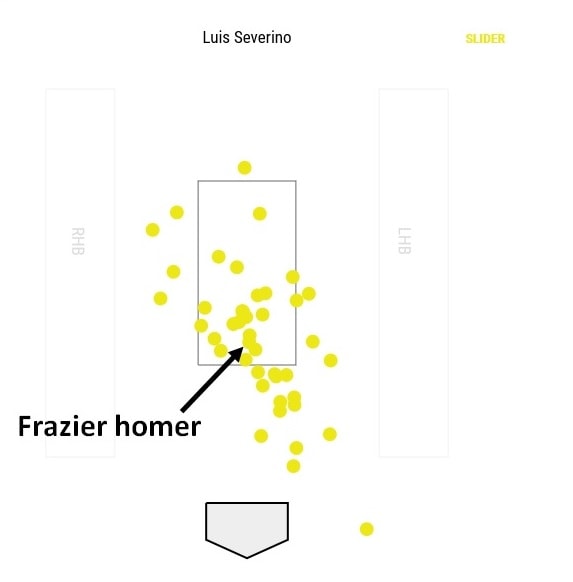 Not great. A few too many over the plate and thigh high. The Mets didn't do much with those sliders until the Frazier homer, but eventually it caught up to Severino. Sucks. His final line: 5 IP, 5 H, 2 R, 2 ER, 2 BB, 7 K. That is probably his second worst start since the April 10th disaster at Fenway Park behind his three-run, six-inning outing in Kansas City a few weeks ago. The Yankees are still a robust 12-2 in Severino starts this year.
Blown Opportunity
Well, you can't say the Mets didn't try to Mets the crap out of this one. The Yankees didn't muster anything against Seth Lugo and his extremely high-spin curveball — Lugo threw the most curveballs in a start in his career by total thrown (27) and rate (32%) in this game — for six innings Sunday night. He allowed two singles and struck out eight while being held to an 80-ish pitch count (he threw 84 pitches).
In fact, at one point spanning the second to eighth innings, Lugo and setup man Robert Gsellman retired 17 consecutive Yankees. Not easy to do! The Yankees went into Sunday's game with a league-leading .335 OBP on the season. That streak came to an end with one out in the eighth, when Miguel Andujar laced a single back up the middle. Andujar had two of his team's three hits.
The Mets — Reyes, specifically — gave the Yankees a massive gift after that. Aaron Judge pinch-hit for the pitcher following Andujar's single and hit a tailor made 6-4-3 double play ball on the first pitch. Annoying! The Mets converted it into zero outs though. Reyes took the feed at second base and threw it away. The Yankees challenged and, wouldn't you know, Reyes did not touch second base on the pivot. He stood over the base but never touched it.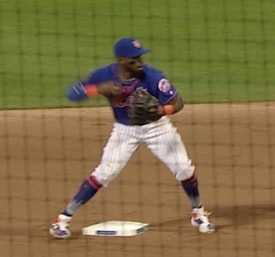 There it was, the Mets gift-wrapped the Yankees a rally. Should've been an inning-ending double play and instead the Yankees had men on first and second with one out. Alas, they could not capitalize. Gleyber Torres popped up and Brett Gardner flew out to end the inning and strand the runners. Torres (.588/.650/1.294!) and Gardner (.357/.500/.714) have been unreal in high-leverage situations this season. Felt like something big was about to happen. Oh well.
The Yankees did bring the tying run to the plate in the ninth inning when Greg Bird drew a one-out walk. Gary Sanchez, who's been slumping hard for weeks now, made the best contact he's made in quite some time and … ripped a line drive right at Frazier. Frazier caught it and threw to first to double up Bird. Game over. Not sure where Bird was going on that one. Doesn't really matter now though.
Leftovers
Andujar went 2-for-3 with two singles and Bird went 1-for-3 with a single and a walk. The rest of the Yankees went 0-for-24 with ten strikeouts. Yikes. To be fair, two of those strikes were Severino, who took enormous hacks against Lugo. Really hope someone on the bench tells Severino to tone it down going forward. Those were "ow my oblique" swings. Stanton and Aaron Hicks each struck out thrice.
Good night for the bullpen. Chasen Shreve, Adam Warren, and Jonathan Holder went a combined ten up, nine down. Shreve walked the first man he faced — I dunno man, down two runs in the seventh inning doesn't feel like a Chasen Shreve situation, but it all worked out — then the Mets didn't have another baserunner the rest of the game.
And finally, the Yankees are the last team in baseball to be shut out this season. They were the last team to be shut out last season as well. I'll miss the no shutout streak. It was a cool badge of honor. The Yankees still have the "only team that hasn't had a three-game losing streak" thing going for them though, so that's cool.
Box Score, WPA Graph & Standings
ESPN has the box score and updated standings, and MLB has the video highlights. Here's our Bullpen Workload page and here's the loss probability graph:

Source: FanGraphs
Up Next
An off-day. The Yankees have had a ton of 'em lately and there's another one Monday. After that, the Nationals are coming to the Bronx for a quick two-game series. Those are not the makeup games for last month's rainouts. They're regularly scheduled games. CC Sabathia and Tanner Roark are the scheduled starters for Tuesday night's series opener.