Ugh, I hate that the Yankees only win most games and not all games. The Yanks dropped a completely forgettable series opener to the Rays on Friday night. Giancarlo Stanton made a great catch and … that's it? Nothing else of note happened. The final score was 2-1.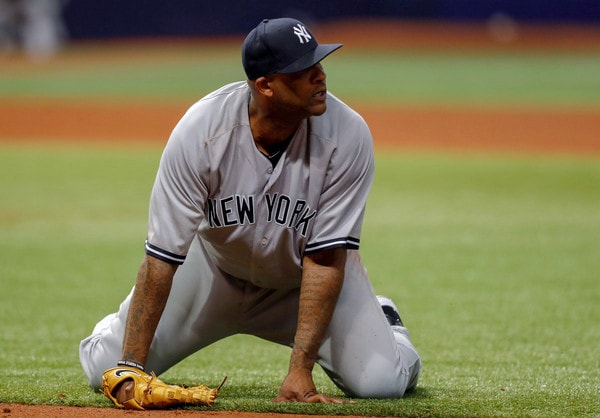 Sabathia Bends, Breaks Only A Little
Pretty much a classic late career CC Sabathia start, that was. Lots of base runners, not many runs, five or so innings. Sabathia did not have a single 1-2-3 inning Friday but it wasn't until the fourth inning that the Rays broke through. Daniel Robertson pulled a grounder down the line and past a diving Miguel Andujar for a double, then Willy Adames brought him home with a little flare single to right field. That gave Tampa a 1-0 lead.
The Rays scored their second run — the game's deciding run — thanks in part to a Sabathia error in the fifth. Matt Duffy with a weak grounder up the first base line that Sabathia tried to flip to first base with his glove, except he managed to flip it over Greg Bird's head and into foul territory. That allowed Duffy to move to second. A veteran pitcher has to know to eat that ball. Sabathia didn't have a play. He did something similar against the Astros a few weeks ago. Anyway, Duffy eventually scored on Stanton's aforementioned great catch, which was a sacrifice fly.
Sabathia's final line: 5.1 IP, 9 H, 2 R, 1 ER, 1 BB, 4 K on 92 pitches. Eight of the nine hits were singles — the other was Robertson's double that led to the first run — and, as usual, there was lots of weak contact. Sabathia allowed an average exit velocity of 80.6 mph. Sometimes that's just hard enough to get a bloop over the infield. Most days, this is the kinda start that is plenty good enough to get a win. That wasn't the case Friday.
Give Sabathia Some Support
In Sabathia's last three starts the Yankees have scored a total of five runs. That includes one run Friday night. The Yankees wasted leadoff runners on second base in the first and second innings — Brett Gardner reached on a single and an error in the first and Aaron Hicks doubled in the second — and only twice did they go down 1-2-3. Sabathia deserves some runs, you dingbats.
The Yankees scored their lone run in the seventh inning, After Gleyber Torres (walk) and Gardner (single) put runners on the corners with one out. Aaron Judge, who got hosed on two called strike threes off the plate earlier in the game, got the run home with a little bloop single to shallow right. After seeing a bunch of well-struck balls find gloves in previous innings, it was nice to see a ball drop in. The Yankees were due.
Stanton and Didi Gregorius followed the Judge bloop with ground outs, stranding runners on first and second. Andujar singled to lead off the ninth and Sergio Romo fell behind in the count 3-0 on Gardner, but, three pitches later, Gardner slapped a ground ball back up the middle and right to Adames near the second base bag for a game-ending 6-6-3 game-ending double play. Alas.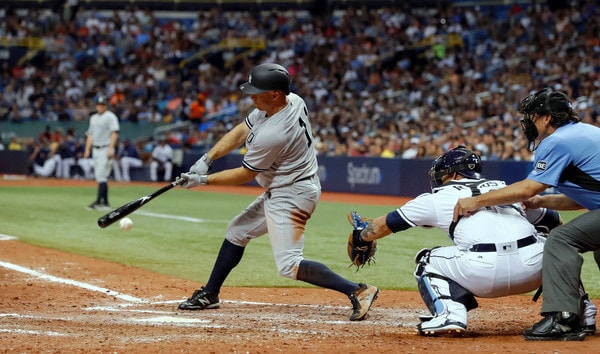 Leftovers
The B-Team relievers (Adam Warren and Luis Cessa) combined for 2.2 scoreless innings. Warren had a 12-pitch battle with Duffy in the sixth inning. That dude is annoying as hell. Bases loaded, two outs, and he fouled away six two-strike pitches before grounding out. Cessa was making his first appearance since leaving his April 17th outing with an oblique strain and landing on the disabled list.
Only five hits by the Yankees. Two singles by Gardner, singles by Judge and Andujar, and a Hicks double. They did draw six walks though. Torres had two of them. Judge, Stanton, Gregorius, and Greg Bird had the others. The Yankees went 1-for-9 with runners scoring position and I have no idea how that they had that many at-bats in those spots. Really? Didn't feel like it. Whatever.
Box Score, WPA Graph & Standings
ESPN has the box score and updated standings, and MLB has the video highlights. Here's our Bullpen Workload page and here's the win probability graph:

Source: FanGraphs
Up Next
The Yankees and Rays will continue this three-game series with the middle game Saturday afternoon. That's a 4pm ET start. Sonny Gray and Wilmer Font are the scheduled starting pitchers.