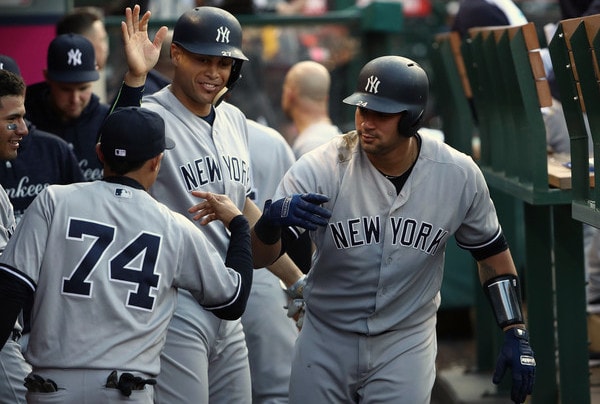 It was the worst of times, it was the best of times, then it was the worst of times again.
From the beginning of the season through April 10, the first game of the series against the Red Sox, Gary Sanchez "hit" .056/.081/.167/.248. Aren't early season, small sample numbers hilarious? Regardless, it was odd to see such a good hitter struggle so much. He soon recovered, though, and went on a long tear from April 11-May 21, hitting .278/.382/.652 in 32 games. Since then–not including Saturday night's win against the Mets, he's reverted to his early season "form" by putting up a line of .087/.208/.109/.316. At least he's walking a lot? I touched on Sanchez's season last week, but it bears another look, given that he still seems to be failing to gain traction at the plate. So, let's break it down by the aforementioned segmentations, with the help of Brooks Baseball.
The first thing that stood out to me was Sanchez's performance on fastballs. During the opening stretch , he pounded fastballs into the ground at a 2:1 rate and didn't hit any home runs when he did manage to turn number one into a fly ball or line drive. In fact, none of the fastballs he put into play resulted in a line drive during that segment. Recently, Gary hasn't hit as many grounders on fastballs, but his problem now seems to be popping them up. 30% of his fastballs in play have resulted in a pop up and, like that early stretch to start the season, he hasn't hit any homers on that pitch. During the hot streak in the middle, Sanchez was turning fastballs into home runs at a wild pace of 26.32% of fly balls and line drives; one out of every four in play turned into a homer. To begin the year, Sanchez was topping fastballs; now, he's getting too far under them. In his middle stretch, he found some sort of Goldilocks zone and they were just right for him.
Then there are the secondary pitches, the primary breaking balls: curves and sliders. All season, Sanchez has swung through them, tallying relatively high whiff/swing percentages on the pitches, even during his hot stretch. To a certain extent, that's to be expected; those pitches are designed to be swing-and-miss pitches and Sanchez swings hard, so he's got some swing-and-miss in his game to begin with. The difference is that during the middle stretch, he was hitting the ball hard when he did make contact with those pitches. He had line drives on 22.73% of the sliders he put into play along with an 11.1% HR/FB+LD rate on the pitch; on curves, he racked up a 16.7% HR/FB+LD rate. In both the early part of the season and now, he hasn't racked up any home runs on sliders and curves.
Whether it's inconsistent performance on certain pitch types or strange batted ball results like we discussed last week, something is up with Gary Sanchez and he just can't find a groove to stay in. Some joke that the Yankees don't play 162 games, but rather 162 seasons. So far, Gary Sanchez has played three separate seasons; hopefully, the middle one makes a comeback and stays through the fall.