What started as a laugher ended as a bit of a nail-biter. But, a win is a win. The Yankees completed the three-game sweep of the Mariners on Thursday afternoon to pick up their 50th win of the season. Fifty wins in 72 games. Last year the 50th win came in the 95th game. Smell ya later, Mariners.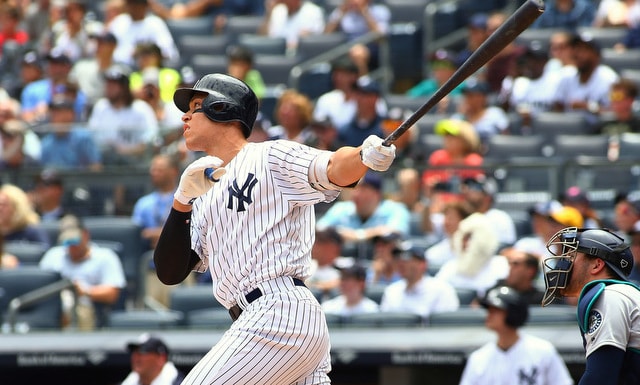 Four in the First
Three home runs in the first inning but only two made it over the fence. Pretty good start to the game, I'd say. Luis Severino fired a quick 1-2-3 top of the first and the offense put up a four-spot in the bottom half, and it would've been a five-spot had Mitch Haniger not robbed Giancarlo Stanton's center field home run. Would've been three straight games with a dinger for Stanton. Alas.
Anyway, Clint Frazier opened the first inning with a solid single to right field. Going back to Wednesday night, it was the third straight at-bat he laced a ball the other way. Aaron Judge followed that by inside-outing a 95.8 mph fastball into the right field seats for a quick 2-0 lead. Look at this: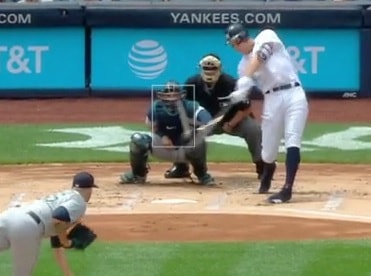 A mere mortal inside-outs that ball into shallow right field for a single. Judge muscled it into the seats. Pretty amazing. Stanton followed that with his robbed home run, then Gleyber Torres singled to left and Miguel Andujar went opposite field for a cheap two-run home run into the short porch. The home run details:
Judge: 107.8 mph exit velocity and 382 feet
Stanton: 108.6 mph exit velocity and 414 feet
Andujar: 94.8 mph exit velocity and 339 feet
Of course Stanton's was caught. Go figure. Still a good start against the very good James Paxton. A great start, really. Paxton is a tough assignment and the Yankees put four runs on the board in the first inning, and it should've been five.
Sevy Grinds
Not a good start for Luis Severino. Not a terrible start either, but it wasn't good, especially by his standards. The Mariners worked him for three runs on eight hits and a walk in 5.2 innings, and he needed 107 pitches to do it. Severino walked Nelson Cruz on five pitches to begin the second, then left a changeup right out over the plate for a Kyle Seager two-run homer. The Yankees scored four in the bottom of the first and the Mariners halved that lead eight pitches into the top of the second. Blah.
Severino's only 1-2-3 inning was the first. He pitched around leadoff doubles in the fourth and fifth, but wasn't able to pitch around a one-out single in the sixth. Cruz and Seager strung together back-to-back one out singles in the sixth, and Ben Gamel got Cruz home with a two-out single to center. Of those season high tying eight hits Severino allowed, four came in two-strike counts. The five strikeouts tie a season low and the 12 swings and misses are his second lowest total of the year. A real grind for Severino, this was. Didn't look sharp at all.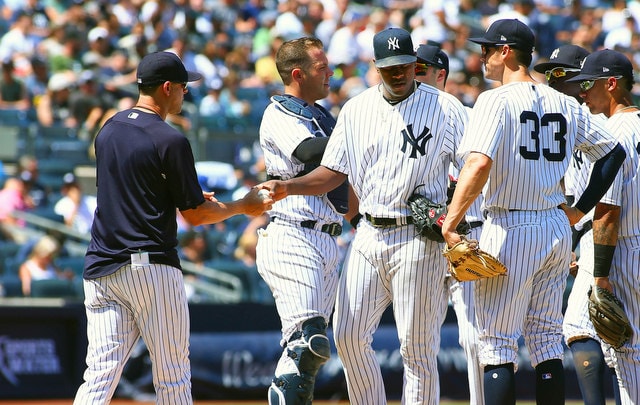 Take It Away, Bullpen
On paper, Severino vs. Paxton was a great pitching matchup. So course there were six runs on the board three half-innings into the game. Neither pitcher was sharp, though Paxton was able to keep the Yankees off the board following that four-run first inning. Most notably, he struck out Austin Romine to strand the bases loaded in the third. Romine swung at ball four, which is mildly annoying.
The bullpen battle started in earnest in the seventh inning. David Robertson got the final out of the sixth to strand the two runners he inherited from Severino and pitched around a leadoff single in the seventh thanks in part to a gift strike three call on Mitch Haniger. That sure helped. The Yankees in turn wasted a two on, one out opportunity in the bottom of the seventh. Torres struck out and Andujar grounded out. Groan.
In the eighth, Aaron Boone when to the untouchable of late Dellin Betances, who pitched around a two-out walk. He struck out two and has now struck out 14 of the last 20 batters he's faced. That is: Good. After the Yankees went down 1-2-3 in the eighth — 12 of the final 14 batters they send to the plate made outs — Aroldis Chapman pitched around a one-out walk int he ninth. This was Chapman's tenth appearance in the last 18 days. Give him the weekend off, offense.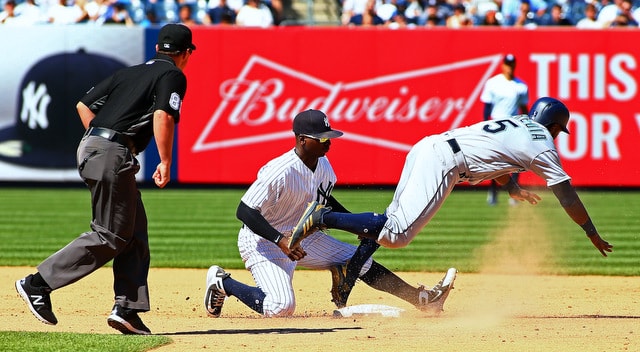 Leftovers
Tough 0-for-4 for Stanton. He did strike out twice against Paxton, but he also had a home run robbed, and a 101.6 mph liner find Denard Span's glove in left field. Leadoff hitter Clint Frazier had two hits, as did Gregorius and Torres. Judge and Andujar each had a single and a walk, and … that's it. The 7-8-9 hitters went a combined 0-for-10 with two walks.
Frazier started his first big league game in center field Thursday afternoon — Boone said he wanted to give Aaron Hicks a day off, and Brett Gardner's hurt, so Clint it was — and he didn't have any tough plays. Caught a fly ball and did a nice job cutting a ball off in the gap to hold the hitter to a double. That's about it. All things considered, a good came in center.
And finally, the Yankees have now played exactly one-third of a season (54 games) since their 9-9 start. They are 41-13 in those 54 games. That is a) a 123-win pace, and b) their best 54-game stretch since 1998. At one point that 1998 team went 45-9 in 54 games. Good gravy.
Box Score, WPA Graph & Standings
Go to ESPN for the box score and updated standings and MLB for the video highlights. Here's our Bullpen Workload page and here's the win probability graph:

Source: FanGraphs
Up Next
The homestand is over and the Yankees are heading to their home away from home next. First series of the season in Tampa, if you can believe that. CC Sabathia will start Friday night's series opener. The Rays will use right-hander Ryne Stanek as their opener.