And the Yankees are still the only team in baseball without a three-game losing streak this season. Would this even have counted as a three-game losing streak? They lost the completion of the suspended game Monday afternoon, but that's not really a full game for streak purposes, right? Whatever. It's a non-issue now. The Yankees rallied for a 4-2 win in Monday night's makeup game against the Nationals. I'd say see you in October, but … you know.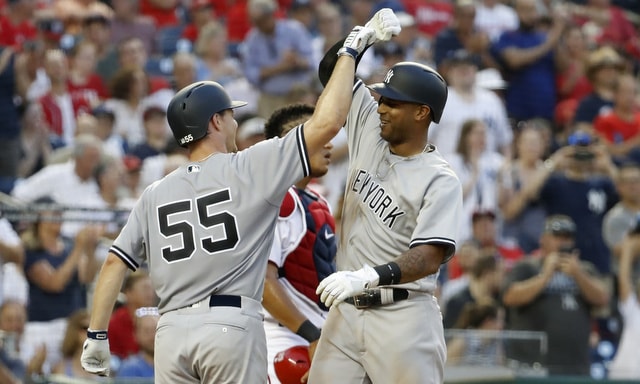 The Two Fan Favorites
It's no secret the Yankees have been struggling offensively lately — including this game but not the suspended game, the Yankees have scored more than four runs only once in their last eleven games, and that was five runs Friday — yet they've been winning a bunch anyway, mostly because of the pitching. Offensively, it's seemed like one or two players carry them every day. Didi Gregorius had the two-homer game, Gleyber Torres socked a game-winning dinger last week, etc.
On Monday night, the offensive heroes were two fan favorites: Aaron Hicks and Giancarlo Stanton. The duo teamed up for a run in the top of the first. Hicks doubled inside the left field line and Stanton brought him home with a little ground ball single that somehow snuck by a diving Trea Turner at shortstop. Seemed like Turner should've at least kept it on the infield to stop Hicks at third, but nope. The Yankees were on the board quickly.
Four innings later, after the Nationals had taken a 2-1 lead, Hicks gave the Yankees the lead for good. There was some fun National League  s t r a t e g y  that inning. Austin Romine started the inning with a single and Sonny Gray tried to bunt him up, but it was a bad bunt and the Nationals were able to get the force out at second. So not only did Gray not advance the runner, he also had to run the bases. Groan. The Yankees haven't had much luck with pitchers running the bases lately. Fortunately, Hicksie allowed Sonny to jog home.
The two-run home run turned the 2-1 deficit into a 3-2 lead. Third homer in the last five games for Hicks, not counting the suspended game. Stanton did his part in the seventh inning with a loud run-scoring double to left field. He hit it so hard (111.7 mph) that Aaron Judge couldn't score from first with two outs. Pinch-hitter Clint Frazier was hit by a pitch and Judge walked earlier in the inning to set that rally up.
Now, it's important to note Nationals manager Dave Martinez inexplicably let lefty Sammy Solis face Stanton with two on and two out in that seventh inning. Righty and slider specialist Shawn Kelley was warming up in the bullpen, so they could've stalled if he wasn't quite ready yet, but Martinez let Solis face Stanton anyway. He ripped the double for an insurance run. Not the best managerial move there. Hicks and Stanton drove in all four runs.
Sonny & Sweaty
Hot night in Washington, huh? Sonny Gray looked like he took a shower in his uniform between innings. Anyway, this was one of those "eh, could've been worse" starts for Gray. The Nationals scored their second inning run with one ball leaving the infield. Anthony Rendon pulled a ground ball single to left, Juan Soto beat out a Baltimore chopper, and Mark Reynolds got the run home with a grounder. A grounder Gleyber Torres booted. Gregorius was able to pick him up and get the out at first.
Rendon's double and Reynolds' sac fly gave the Nationals a 2-1 lead in the fourth inning. Gray got ahead in the count 0-2 on Reynolds, couldn't get him to chase either of the next two pitches out of the zone, then hung a curveball for the sac fly. Pretty terrible two-strike pitch. Lucky it was only a sacrifice fly. Gray was able to escape a two-out jam in the fifth inning — Adam Eaton singled and Trea Turner was hit by a pitch — by striking out Bryce Harper, who is now 5-for-43 (.116) since going to a Washington Capitals game wearing a Vegas Golden Knights jersey during the Stanley Cup Final.
Sonny's final pitching line: 5 IP, 6 H, 2 R, 2 ER, 1 BB, 7 K on 86 pitches. He exited the game with runners on the corners and no outs in the sixth inning, which is something we'll talk about in a bit. Gray wasn't great, he wasn't terrible, he was just kinda … blah. At least he didn't walk the park and fall behind in the count a whole bunch. That's when you know things are really going wrong.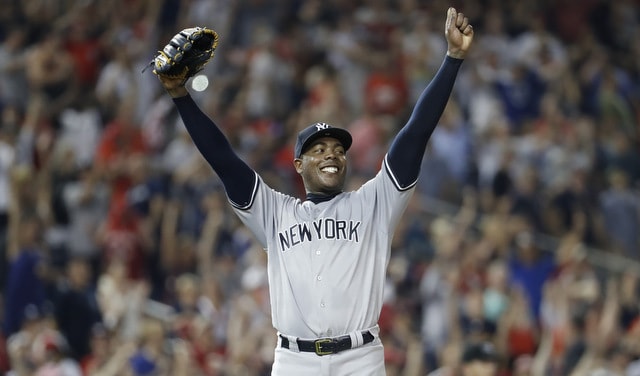 Saved by the Bullpen
The unquestioned unsung hero: Jonathan Holder. I wouldn't have brought him into the game with runners on the corners and no outs and a one-run lead — I would've gone to David Robertson because Robertson's more likely to get you strikeouts, which is the best way to strand that runner at third — but Aaron Boone went to Holder, and holy crap, he escaped the sixth inning jam. Two strikeouts (Reynolds and the un-strike out-able Daniel Murphy) and a harmless fly ball (Pedro Severino) did the trick.
Reynolds is of course known for striking out, but he really battled Holder. It was a ten-pitch at-bat and Reynolds fouled away six two-strike pitches, including five straight at one point. Holder eventually got him to chase a slider out of the zone. And yes, he absolutely got away with some mistakes that at-bat: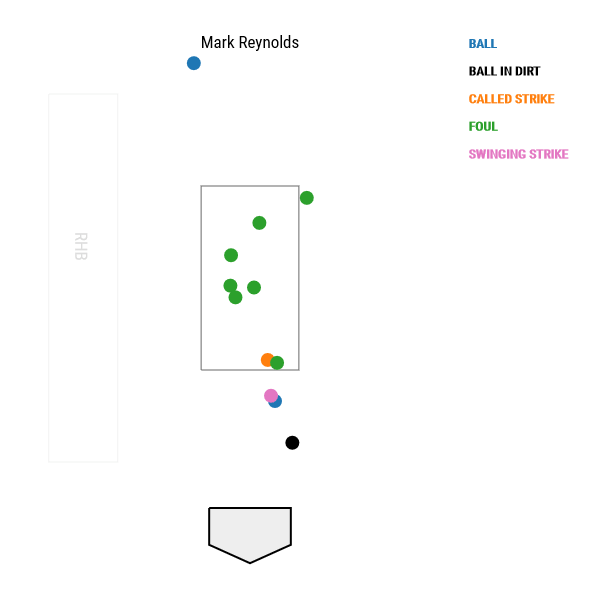 Yeesh. No harm, no foul. Holder stranded the runners on the corners and preserved the 3-2 lead. David Robertson handled the seventh and Dellin Betances dropped the hammer in the eighth. Three strikeouts, all looking on nasty breaking balls. Betances has struck out 12 of the last 17 batters he faced, or 70.6%. Is it too late for Dellin to grab his fifth straight All-Star Game selection? I hope not.
Things got interesting in the ninth inning. Aroldis Chapman, who looked visibly fatigued to me — I can't say that's surprising given the guy was pitching for the eighth time in the last 16 days — allowed a leadoff double to Murphy then walked Michael A. Taylor to put the tying run on base with one out. Chapman was able to strike out Eaton for the second out. Turner was at the plate and it sure looked to me that Murphy had the Yankees' signs at second base.
Three reasons I say this. One, Turner looked unusually comfortable in the box. He laid off what I thought was a very good elevated fastball, and he fouled away another fastball that was well-placed down and away. Two, Gregorius stood in front of Murphy to block his line of sight to the plate! He did it at least once deep in the at-bat. And three, eventually Romine and Gregorius went to the mound to talk out the final pitch. Seemed pretty clear Murphy had the signs.
Anyway, the final pitch of the game was a 100 mph heater right over the heart of the plate that Turner drove to the wall in right field. Judge made a great over-the-shoulder running catch to end the game. Hooray for having a very tall right fielder, eh? Even when he doesn't do much at the plate — Judge went 0-for-3 with two walks in the game — Judge still has an impact on defense. What a ballplayer. How about Chapman the next few days off, offense?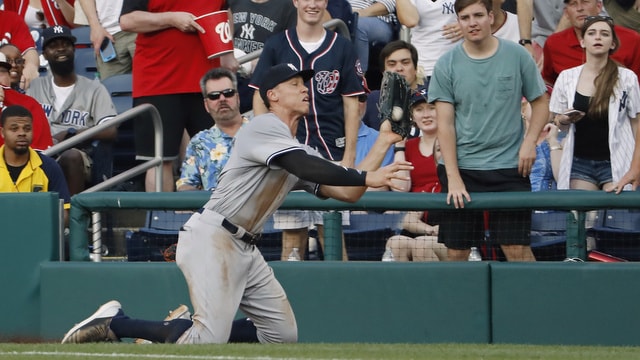 Leftovers
The Yankees need to give Gregorius the red light. He was thrown out stealing to end the fifth inning with Stanton at the plate. I know Stanton is the worst and sucks forever and ever, but maybe just let the dude who hit 59 homers last season swing with men on base, especially in a one-run game? At least the second time this month Gregorius has done that. He's 9-for-14 (64%) in steals now. Not great.
Four-for-five night for Stanton, who went from .243/.320/.479 (115 wRC+) to .254/.328/.489 (120 wRC+) on the day. Hicks had two hits, scored two runs, and drove in two runs. Gregorius, Torres, and Romine had base hits as well. Greg Bird drew two walks, giving him four walks in his last three games after drawing two walks in his first 15 games.
Box Score, WPA Graph & Standings
ESPN has the box score and updated standings, and MLB has the video highlights. Here's our Bullpen Workload page and here's the win probability graph:

Source: FanGraphs
Up Next
This quick one-day jaunt to Washington is over and the Yankees are heading back to New York to continue what was originally a seven-game homestand. Domingo German and left-hander Marco Gonzales are the scheduled starting pitchers for Tuesday night's series opener against the Mariners.