Yeah, I think the Yankees have brushed off getting swept in Tampa over the weekend just fine. They clinched yet another series win Tuesday night — the Yankees are 16-2-2 in their last 20 series now — with a 6-0 win over the Phillies. The offense took control early and Luis Severino never gave the Phillies a chance to get back in the game. Good win. Great win.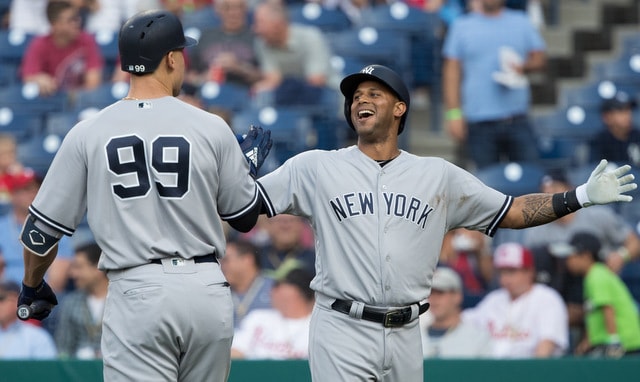 Dingers & Clutch Two-Out Hits
Good to see the Yankees come out and beat up on a starting pitcher again. They haven't done that much recently. Aaron Hicks sent Jake Arrieta's third pitch of the game over the center field wall for a leadoff homer — it was the team's third leadoff dinger of the season (Brett Gardner has the other two) — and the third inning is when the Yankees really broke it open.
That third inning started with, of all things, a Luis Severino fly ball. He said before the game he was hoping to make contact and hit a foul ball. Severino did one better and hit a lazy can of corn to the right fielder. The offense — the real hitters, that is — went to work on Arrieta after that. A lot happened in that inning, so let's annotate the play-by-play: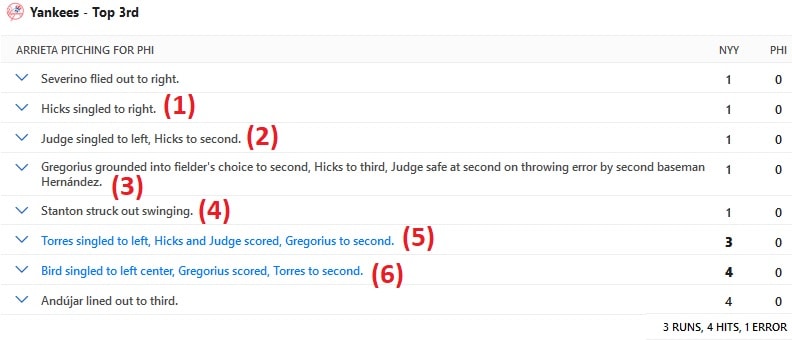 (1) Very good night for Hicks. He had the leadoff homer, the one-out single to start the three-run third inning rally, and he also drove in a run with a long sacrifice fly — I thought it had a chance to get out off the bat — in the fourth inning. This single was a hard-hit grounder through the right side. Seen it a million times. After the 2-for-4 with a homer night, Hicksie is hitting .247/.337/.467 (119 wRC+) on the season. He also made a great leaping catch at the warning track in the eighth inning.
(2) Ground balls have been a bit of an issue for Aaron Judge this month — stay tuned to RAB for more on that Wednesday! — so it was good to see hit rip a legitimate line drive to left field for a single. Arrieta left a changeup up, and Judge hammered it. There was no chance for Hicks to go first-to-third on the play, but runners on first and second will do.
(3) Didi Gregorius hit would should've been an inning-ending double play. First pitch sinker and it was a tailor made 4-6-3 double play grounder. Inning should've been over. Instead, Cesar Hernandez's flip to second base was a bit wide of the bag, and Scott Kingery was unable to reel it in. He dropped the throw but it pulled him off the bag anyway. Instead of an inning-ending double play, the bases were loaded with one out. A gift.
(4) Not a good at-bat by Giancarlo Stanton. He's been awesome lately — Stanton went into Tuesday's game hitting .315/.386/.640 (174 wRC+) with eight homers in 23 games this month — but that was not a good at-bat. Arrieta struck Stanton out on four pitches, two of which were swings and misses on pitches out of the zone. The pitch locations: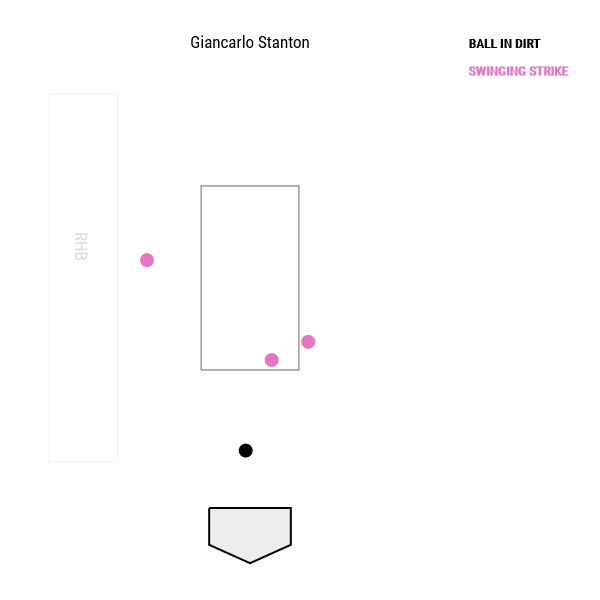 Eek. Not a good at-bat for Stanton there. Fortunately, his teammates picked him up.
(5) Overall, Gleyber Torres has not had a great June — he went into this game hitting .228/.291/.468 (103 wRC+) this month, so the power's been there, but the on-base ability hasn't — but he does seem to have a knack for timely hits, and he provided one following the Stanton strikeout. Gleyber laced a two-run single to left field to score two runs and stretch the lead to 3-0. A big hit, it was. Wasting a bases loaded situation wouldn't have felt good after the recent offensive struggles.
(6) Greg Bird did a thing! He has not hit well since returning from the disabled list, though he was able battle Arrieta for six pitches, and eventually was able to reach out and poke an elevated changeup the other way for a run-scoring single. The pitch was well off the plate: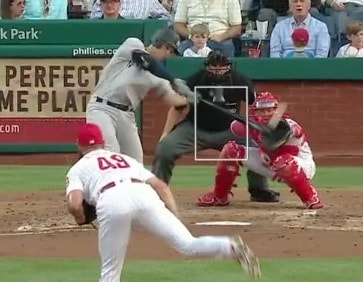 Not a typical Greg Bird hit. He usually pulls the ball — he went into the game with a very high 60.3% pull rate — but Bird went the other way with that one to get the run in and give the Yankees a 4-0 lead. The Phillies made a bad error on the would-be double play and the Yankees really took advantage, and they didn't even need a homer to do it. Who says this team is too reliant on the long ball?
Hicks added another run with his fourth inning sacrifice fly — Austin Romine set that up with booming double to left, and he then advanced to third on a wild pitch thanks to a nifty slide to avoid the tag — and Gregorius sent a solo homer over the high wall in right field for a 6-0 lead in the fifth inning. The Yankees tagged Arrieta for six runs (three earned) on nine hits and one walk in five innings.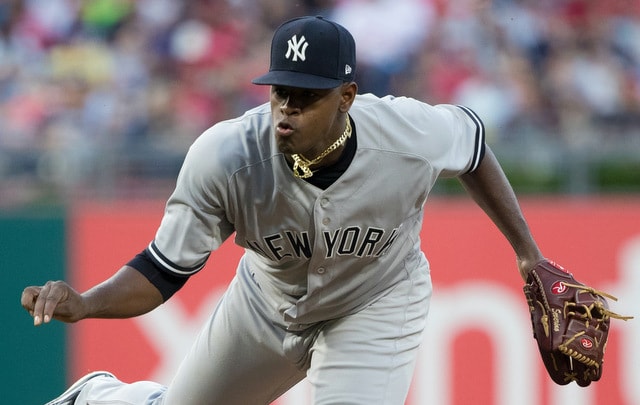 Luis Cy-verino
The last few starts were a tad un-Severino-like but holy smokes, the good great Luis Severino returned Tuesday night, and he was dominant. How dominant? Severino didn't throw his first first pitch ball until the sixth inning, to the 18th batter he faced. He filled the strike zone and it wasn't until the seventh inning, when his pitch count approached the century mark, that the Phillies started to square him up.
Aside from all the first pitch strikes — Severino threw a first pitch strike to 23 of 26 batters faced, which is bonkers — two things stood out to me about Severino on Tuesday. One, Severino didn't even bother with his changeup. His fastball and slider were so good that he threw only five changeups among his 103 pitches, and he dominated anyway. There aren't many starters who can go out and truly dominate with two pitches the way Severino does.
And two, his did a really good job elevating his fastball for swings and misses. Severino's fastball was lively as always — his heater averaged 98.6 mph and topped out at 100.6 mph on Tuesday — and the Phillies were chasing up and out of the zone. Here are his swing-and-miss locations: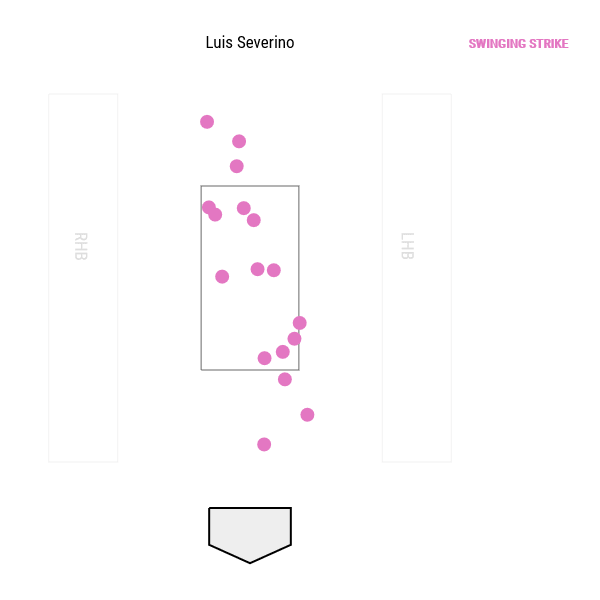 Those are fastballs up — way up in some cases — and sliders down. In addition to the overpowering velocity, Severino did a very nice job changing eye levels. Phillies hitters did not look comfortable at all. Much less comfortable than hitters usually look against Severino, and that's not comfortable at all. His final line: 7 IP, 6 H, 0 R, 0 ER, 0 BB, 9 K. Dead sexy. Severino has now allowed no more than one run in eight of his 17 starts this year.
Leftovers
Good night for the bullpen. Adam Warren went three up, three down in the eighth inning and Chasen Shreve worked around a one-out walk in the ninth. He walked the batter then went 3-1 on the next guy and I'm pretty sure we were all in full blown GET HIM OUT mode. Shreve bounced back and finished the game without incident. Hopefully this is the start of him turning it around.
Every starter had a hit except Miguel Andujar and Severino. Hicks, Stanton, and Torres each had two hits. Judge and Bird both had a hit and a walk. The Yankees went 2-for-8 with runners in scoring position and that's a good example of why I hate that stat. Everyone focuses on the six times they didn't get a hit, meanwhile the two hits drove in three runs and were clutch two-out knocks. Whatever.
Box Score, WPA Graph & Standings
For the box score and updated standings, go to ESPN. For the video highlights, go to MLB. Here's our Bullpen Workload page and here's the win probability graph:

Source: FanGraphs
Up Next
The Yankees will look to complete the three-game sweep in the series finale Wednesday night. Luis Cessa is making the spot start in that one because the Yankees want to push CC Sabathia back into this weekend's Red Sox series. Works for me. Righty Zach Eflin will be on the mound for the Phillies.