This team, man. THIS TEAM. Never out of a game, talent up and down the roster, a new hero every night. What a fun season. It's only going to get better too. The Yankees erased a 5-0 deficit in the final five innings Wednesday night to earn a 7-5 walk-off win over the Mariners. They are 15-1-3 in their last 19 series now. Love this team, you guys.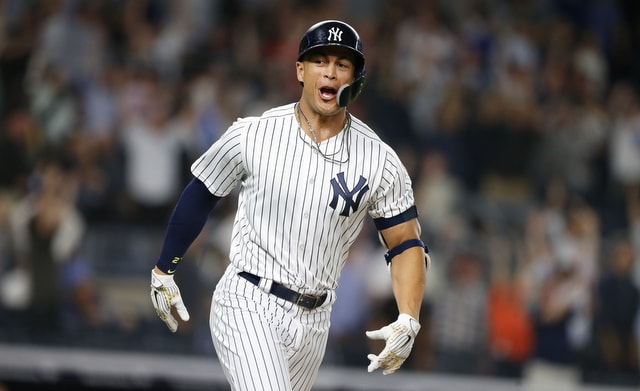 Gary in the Eighth, Giancarlo in the Ninth
Gosh, how good does it feel that Gary Sanchez and Giancarlo Stanton provided the big hits? So good. So, so good. They've been struggling to different degrees most of the season — Stanton's been getting booed pretty much every home game — and the Yankees have been waiting and waiting and waiting for them to break out and be the hitters they've been their entire careers. On Wednesday, they arrived.
Fast forward to the eighth inning, when the Mariners were nursing a 5-3 lead. Alex Colome, who struck out Stanton with a man on base to end the seventh inning, stayed on to pitch the eighth as well. Gleyber Torres worked a five-pitch leadoff walk, then my goodness, Sanchez took a first pitch cookie right down the middle. It was a 95 mph heater. I immediately thought "that was the pitch … he's not going to get another one to hit this at-bat," know what I mean? Well, two pitches later, Colome hung the crap out of a cutter, and Gary tied the game.
Poor Sanchez has been hitting rockets for outs for like a week now. Heck, earlier in the game and he tattooed a ground ball that was ticketed for extra bases in the left field corner, but Kyle Seager made a ridiculous backhand snag, then made the pivot to start the 5-4-3 double play. That's the way things have been going for Gary lately. He's been hitting the ball hard with no results. In the eighth inning, the results came.
With the score tied 5-5 in the ninth, Mariners skipper Scott Servais decided to leave all-world closer Edwin Diaz in the bullpen and save him for the save situation, because those are the rules. Instead, journeyman Ryan Cook and his zero big league innings pitched from 2016-17 came in to face the top of the order. Managers do such stupid things sometimes. Naturally, Cook retired Aaron Hicks and Aaron Judge quickly.
The game-winning rally started with two outs. Didi Gregorius golfed a 1-1 changeup into center field for a single, setting up Stanton to be the hero or the goat. Cook hung a first pitch slider that Stanton took and again I thought "that was the pitch … he's not going to get another one to hit this at-bat." Stanton fouled away the second pitch heater, then Cook went back to the slider, and again he hung it. Take it away, Giancarlo:
Look at his face. Look how happy he is. Stanton's been waiting for a moment like this. He's been waiting to play on a winning team and waiting to hit meaningful home runs. He's been waiting for that big Yankee Stadium moment that gets the fans in his corner. He's been waiting a very long time to experience baseball joy. His face running the bases is what it looks like when a dude who's been stuck playing meaningless games in front of tiny crowds for the better part of a decade is finally having some damn fun. So happy for him.
The Comeback Begins
One thing is for sure: The Yankees had plenty of chances to score Wednesday night before Sanchez and Stanton played hero. Chances against Felix Hernandez and chances against the parade of relievers. A one-out double was wasted in the first. Back-to-back one-out singles in the second were wasted. Runners were stranded at first and second in the fifth and sixth too. Gross.
The Yankees broke through and got on the board in the bottom of the fifth, after Miguel Andujar stroked a one-out double and Aaron Hicks worked a two-out walk. Felix gave Aaron Judge nothing but offspeed pitches. The seven-pitch at-bat featured four changeups, two curveballs, and a slider. In fact, Hernandez went with the anti-fastball strategy all night. He threw 95 pitches in five innings and only 26 of those 95 pitches were fastballs.
Anyway, Judge managed to pull a two-out ground ball single into left field to score two runs — Denard Span bobbled the ball in left, allowing Hicks to score from first base — and cut the deficit to 5-2. In the seventh, the Yankees added their third run on a Gregorius sacrifice fly. Clint Frazier hustled a leadoff double and moved to third on Judge's hard-hit single to left. Gregorius hung in against the hard-throwing lefty James Pazos to get the sacrifice fly.
The unsung hero: Jonathan Holder. He entered the game with two outs and the Yankees down 5-3 in the sixth inning, and retired seven of the eight batters he faced. Holder plunked Mike Zunino with two outs in the eighth and that's it. More great work from him. Holder has been nails since rejoining the team in April. The other day in Washington he escaped that runners on the corners, no outs jam. On Wednesday, he shut the Mariners for 2.1 innings to give the offense a chance to win.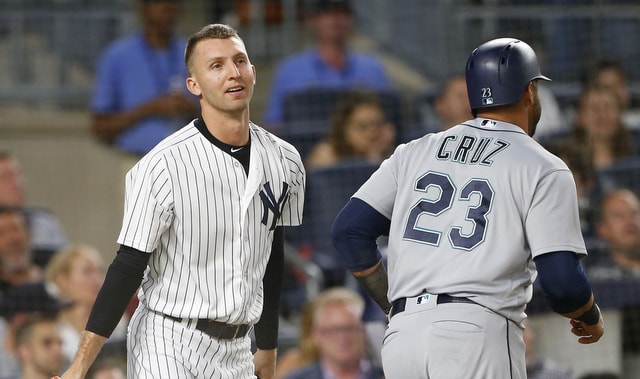 The Shreve Decision
It's a footnote, now, but it has to be discussed. It's the first time all season an Aaron Boone move really annoyed me. With a mere one-run deficit and post-prime Felix on the mound, Boone went to his worst reliever with runners on second and third and two outs in the fourth inning. To face the top of the lineup, no less. Chasen Shreve was brought in to get the left-on-left matchup against Dee Gordon — we all know it was a left-on-left thing — but:
LHB vs. Shreve: .207/.361/.552 (.386 wOBA)
RHB vs. Shreve: .246/.310/.477 (.338 wOBA)
Shreve's had a reverse split his entire career too, so those numbers are not a small sample anomaly confined to 2018. Sure enough, Shreve allowed the two-run single to Gordon — he left a splitter up in a two-strike count — and then he compounded the problem by allowing two more runs in the fifth inning. Yuck. Shreve faced five lefty batters and got two harmless outs. The other three lefties had two hits and a sacrifice fly. Righties did a number against him too.
In his last seven appearances now Shreve has allowed eight runs on eleven hits and two walks in seven innings. He also allowed the two runners he inherited to score. I just don't get bringing him into that spot. I mean, I get it, the left-on-left matchup, but no. Shreve is fine enough as the last dude in the bullpen. He has no business pitching in big spots, especially with most of the bullpen rested following the Domingo German/A.J. Cole effort Tuesday. Blah.
Leftovers
Not so great second MLB start for Jonathan Loaisiga, who was charged with three runs — the defense wasn't great behind him and Shreve allowed two inherited runners to score — in 3.2 innings. The Mariners worked him hard though. Loaisiga threw 84 pitches to get eleven outs. Unlike his first start, when he seemed to be just missing off the plate, Loaisiga was more wild this time. Kid's got great stuff and I like his moxie. You can tell he has limited experience at the upper levels of the minors though.
Three hits for Judge and two hits apiece for Stanton and Sanchez. Gary also a pitch right to the elbow, but, based on the dinger, he's fine. Those three dudes went 7-for-12 (.583) and the rest of the Yankees went 4-for-23 (.174). Ain't mad about it. The Yankees have been get contributions from up and down the lineup all season. It was time for the big boys to win a game, and win a game they did.
After Shreve barfed all over everything and Holder saved the day, Aroldis Chapman threw a 1-2-3 ninth inning and was electric. Needed ten pitches to get the three outs and he hit 104.5 mph on the radar gun. His fastest pitch of the season and his fastest pitch since hitting 104.8 mph with the Cubs in September 2016. I still hope he gets like four days off now.
Box Score, WPA Graph & Standings
Head over to ESPN for the box score and updated standings, and MLB for the video highlights. Here's our Bullpen Workload page and here is the amazingly awesome win probability graph:

Source: FanGraphs
Up Next
The Yankees will go for the sweep in the three-game series finale Thursday afternoon. That's a 1pm ET getaway day game. Great pitching matchup too: Luis Severino vs. James Paxton.