It didn't seem possible given the forecast, but the Yankees and Orioles played a full nine innings Saturday. The game was delayed an hour and 40 minutes and they played through a steady shower for a few innings, and, when it was all said and done, the Yankees picked up an 8-5 win. At 37-17, the Yankees are 20 games over .500 exactly one-third of the way through the season. Pretty incredible.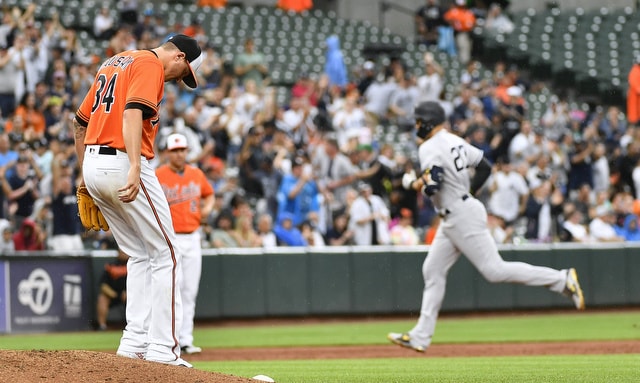 Two Two-Run Homers
Kevin Gausman had a very good splitter working Saturday evening. He threw the pitch 33 times, the Yankees swung at it 16 times, and they missed 12 (!) times. Some pretty good numbers there. For Gausman, that is. Miguel Andujar cares not about the quality of Gausman's splitter, however. He golfed one of those splits to left field for a two-run home run in the second inning. Look at the location: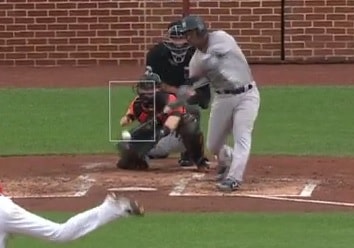 Like I said, he golfed it. Aaron Hicks singled to center as the previous batter to set Andujar up for the two-run dinger. Both hits with two outs too. The Yankees added two more runs with a homer in the third inning. Brett Gardner stroked a leadoff double and Giancarlo Stanton ambushed a first pitch fastball — it was about time someone did that, the Yankees were taking those first pitch fastballs all game — for a two-run dinger. He hit it into a bachelorette party.
First homer in ten games for Stanton. The Yankees wasted a Gardner leadoff double in the first inning — both doubles were both driven into the left-center field gap, nearly carbon copies of each other — and it sure looked like they were about to do it again before Giancarlo's two-out dinger. Gausman had the swing-and-miss splitter working Saturday. Andujar's bat-to-ball skills and Stanton's early count fastball hunting gave the Yankees a 4-1 lead anyway.
Messy Masahiro
Not a good outing for Masahiro Tanaka at all. It wasn't a disaster, but it sure wasn't good. The Orioles had runners on base in every inning and Tanaka gave up three solo homers. One to Adam Jones (eh), one to Joey Rickard (really???), and one to Manny Machado (it happens). His final line: 5.1 IP, 8 H, 4 R, 4 ER, 1 BB, 7 K, 3 HR on 97 pitches. A dozen starts into the season, Tanaka has a 4.79 ERA (5.02 FIP). Twelve starts into last year, he had a 6.55 ERA (5.70 FIP). So … better?
Tanaka's start could've been worse but wasn't because, with men on base, he held the O's to 0-for-8 with four strikeouts, a double play grounder, and a walk. The walk to literally the last batter he faced. In the sixth inning, his final inning, Tanaka went back to pitching out of the stretch exclusively. He made the switch in the middle of an at-bat. Mark Trumbo kept fouling away pitches, Tanaka went to the stretch, and he got him to case a slider. Hmmm. Not a good start though. The bats bailed out Tanaka.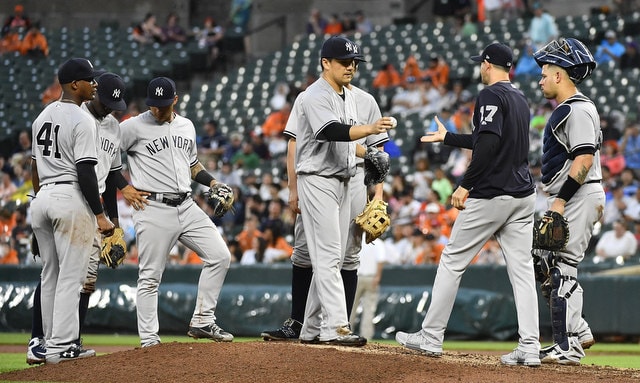 Insurance Runs
The Orioles were extremely annoying and would not go away, so, thankfully, the Yankees added insurance runs. Back-to-back-to-back Orioles errors helped them in the sixth inning. Jonathan Schoop threw away a double play ball, Jones let a single hop over his glove and get by him, then Jones made an errant throw to the plate on another single. The O's gave the Yankees one free out and three free bases that inning. The result was two insurance runs and a 6-2 lead.
The first three batters reached base in the eighth inning to push across two more runs. Didi Gregorius singled — it was a total BABIP hit, a weak little grounder through the right side — and stole second, then Hicks drove him in with a single, and Andujar drove in Hicks with a double into the left field corner. The Yankees went 4-for-18 (.222) with runners in scoring position. Good thing for dingers and errors, eh? Also, did they really have 18 at-bats with runners in scoring position? Geez.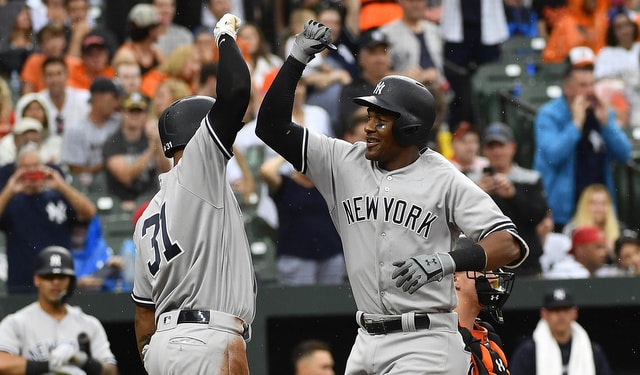 Leftovers
Chad Green, Dellin Betances, and David Robertson all pitched in this game and yet, it was Jonathan Holder on the mound in the biggest spot. He inherited two runners from Tanaka in the sixth inning and entered with the tying run at the plate. Holder allowed a run-scoring double to trim the lead to 6-4, but otherwise limited the damage. Robertson allowed a dumb who cares run in the ninth. Good night for the bullpen overall.
Three hits for Hicks (all singles) and two apiece for Gardner (doubles), Stanton (single, homer), Gregorius (singles), and Andujar (homer, double). Aaron Judge and Greg Bird both doubled. The Yankees had 13 hits total, seven for extra bases. Seems good. Gary Sanchez (0-for-5) and Gleyber Torres (0-for-3 with a hit-by-pitch) were the only hitless Yankees. They are forgiven.
And finally, this is the earliest the Yankees are 20 games over .500 since 1998, when they were 29-9 on May 19th. The 2018 Yankees keep doing a lot of things that were last done by the 1998 Yankees, eh? I'm cool with it.
Box Score, WPA Graph & Standings
Go to ESPN for the box score and updated standings, and MLB for the video highlights. Here's our Bullpen Workload page and here's the win probability graph:

Source: FanGraphs
Up Next
More rain. Sunday's series finale is scheduled to begin at 1:05pm ET, though there's rain in the forecast much of the afternoon, so we might be in for another delay or even a postponement. There does appear to be a window later in the evening though. We'll see. Domingo German and Alex Cobb are the scheduled starting pitchers.