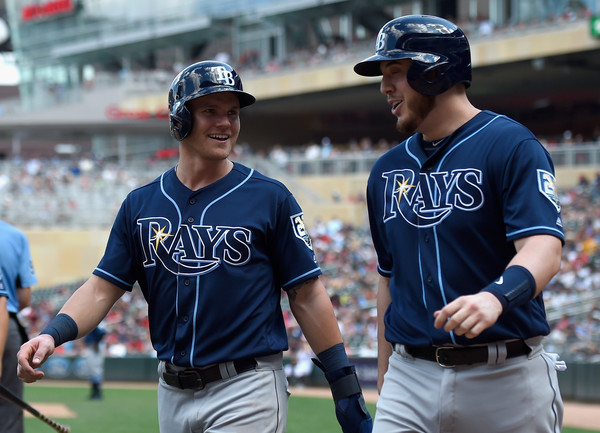 The most recent entry into the Subway Series was incredibly frustrating, with the Yankees taking a loss on Friday, attempting to snatch defeat from the jaws of victory on Saturday, and seeing yet another rain-out on Sunday. And now they will head to everyone's favorite ballpark, Tropicana Field, for a three-game set against the surprisingly competent Rays.
The Last Time They Met
The Yankees were swept in Tampa Bay back in June, with two of the three losses coming by one run. It wasn't a fun series, to say the least. Some notes:
Game one ranks among the most boring games of the season, as a 2-1 loss with precious little in the way of excitement. Well, with the exception of this amazing catch by Giancarlo Stanton:
Game two was even more uneventful, at least from the Yankees perspective, as they were shutout, 4-0. They only had six base-runners all game, and just one after the six inning (via a walk).
Giancarlo Stanton did his best to prevent a sweep, going 5-for-5 with two doubles and a home run in the final game of the series. Unfortunately, the Yankees would drop the game in extra innings, resulting in their first three-game losing streak of 2018. Oh, and Gary Sanchez was injured, too. Not a great series.
Check out Katie's Yankeemetrics post for more sad facts.
Injury Report
Pitchers Jose De Leon, Jake Faria, Wilmer Font, Vidal Nuno, Chaz Roe, and Jonny Venters are all on the disabled list, and none will be back for this series. Catcher Wilson Ramos is out, as well. Adeiny Hechavarria and Kevin Kiermaier are both banged-up, but neither is expected to hit the DL.
Their Story So Far
The Rays are 50-49 with a +20 run differential, which is a veritable about-face from where they were heading into their last series. They're 16-9 with a +37 run differential since then, and have looked quite good overall. Though, they did bookend the All-Star break with series losses to the lowly Twins and Marlins, so the magic might be wearing out.
And, yes, they're still going with their "openers" in some games.
The Lineup We Might See
I'll operate under the assumption that both Kiermaier and Hechavarria are available:
Kevin Kiermaier, CF – .183/.259/.289, 2 HR, 6 SB, 56 OPS+
Matt Duffy, 3B – .314/.369/.410, 4 HR, 7 SB, 121 OPS+
Jake Bauers, LF – .243/.351/.472, 5 HR, 2 SB, 131 OPS+
C.J. Cron, 1B – .254/.328/.472, 19 HR, 1 SB, 123 OPS+
Ji-Man Choi, DH – .212/.255/.442, 3 HR, 0 SB, 86 OPS+
Carlos Gomez, RF – .221/.307/.363, 8 HR, 7 SB, 89 OPS+
Joey Wendle, 2B – .281/.328/.402, 5 HR, 7 SB, 106 OPS+
Willy Adames, SS – .209/.263/.330, 3 HR, 1 SB, 67 OPS+
Adam Moore, C – .000/.000/.000, 0 HR, 0 SB, -100 OPS+
Jesus Sucre (44 OPS+) should get a start or two behind the dish, Hechavarria (82 OPS+) will see some time at short, Mallex Smith (113 OPS+) will pop-up in the outfield, and Daniel Robertson (121 OPS+) plays almost everywhere.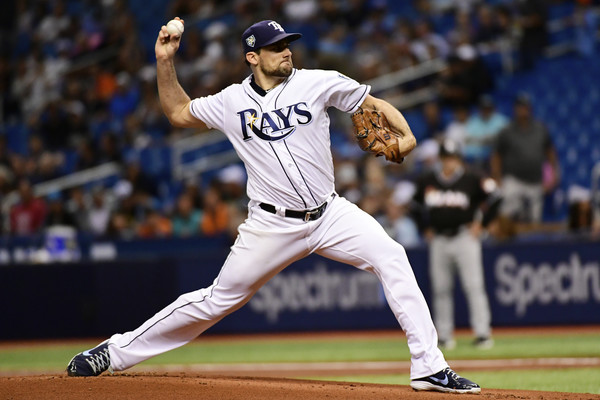 The Starting Pitchers We Will See
Monday (7:10 PM EST): RHP Luis Severino vs. RHP Hunter Wood
This will be Wood's second career start – or "start" – and his tenth big-league appearance. He was a 29th-round draft pick by the Rays back in 2013, and spent the majority of his minor-league career as a starter, before transitioning into something an opener role in the minors this season. It's a sample size of just 13.2 IP, but he does have a 2.63 ERA (158 ERA+) in the majors.
Wood is a three-pitch guy, featuring a low-to-mid 90s four-seamer, a high-80s cutter, and a mid-70s curveball.
Last outing (vs. MIA on 7/21) – 2.0 IP, 3 H, 1 R, 1 BB, 4 K
Tuesday (7:10 PM EST): RHP Masahiro Tanaka vs. LHP Blake Snell
The Yankees plated 4 runs in 5 innings against Snell back on June 14, which ranks among his worst starts of the season. His line since then: 31.2 IP, 19 H, 5 R, 18 BB, 37 K, 1.42 ERA.
Last outing (vs. MIN on 7/12) – 3.0 IP, 5 H, 3 R, 3 BB, 2 K
UPDATE: The Rays placed Snell on the 10-day DL with shoulder fatigue this afternoon, so he'll miss tomorrow's start. The Rays currently have tomorrow's starter listed as TBA. They'll probably go with a bullpen game. We'll see.
Wednesday (12:10 PM EST): RHP Luis Cessa vs. RHP Nathan Eovaldi
Eovaldi was also hit hard by the Yankees back in June, allowing 5 runs in 7.1 IP on June 15. He has been solid on the season, though, pitching to a 4.26 ERA (93 ERA+) in 10 starts (57.0 IP). The fact that he has made it back after so many surgeries and setbacks is a good story, and it's easy to forget that he's still on 28.
Last outing (vs. MIA on 7/20) – 6.0 IP, 6 H, 1 R, 0 BB, 8 K
The Bullpen
The Rays have a solid-average to above-average bullpen. It ranks 1st in shutdowns, 7th in WPA, 10th in adjusted-ERA, and 12th in WAR, and they are relatively deep. Sergio Romo (3.26 ERA) seems most of the ninth inning work, and Jose Alvarado (2.52 ERA) is their high-leverage guy.
Who (Or What) To Watch
For better or worse, Eovaldi is a potential trade target for the Yankees (and pitching-starved teams across the league), and this is his next-to-last start before the deadline. The Rays have to be hoping for a bit outing here, and they're almost certainly grateful that he's facing the potent Yankees lineup at home.