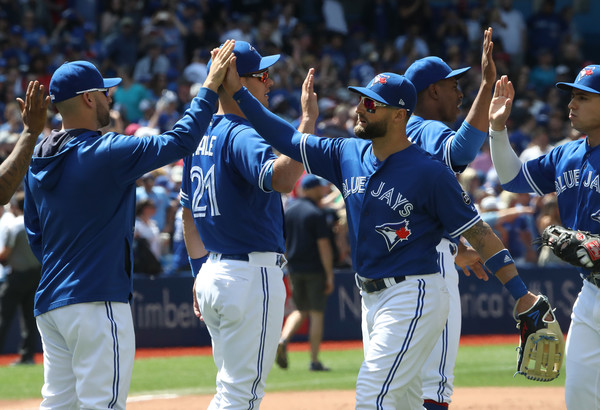 We are a scant ten days away from the end of the first-half, and the Yankees trail the Red Sox by one game for the best record in baseball. The Yankees will play three against the Blue Jays, four against the Orioles, and four against Cleveland (all on the road) before the All-Star break, and the Red Sox will square-off against the Royals, Rangers, and Blue Jays.
The Last Time They Met
The Yankees visited the Blue Jays for a two-game series back in early June, taking both games. That brought their record to 7-3 against the Blue Jays in 2018, and wouldn't it be lovely if they kept that pace up? Some notes from the mini-series:
The Yankees pitching staff was excellent, holding the Blue Jays to just ten baserunners and two runs in 22 innings (the second game went to extras), while striking out 24. The bullpen was particularly dominant, pitching to a combined line of 7 IP, 2 H, 0 R, 0 BB, 10 K.
Sonny Gray had his best start in pinstripes in that second game, going 8 scoreless innings and allowing just four baserunners, while striking out 8.
Aaron Judge sat out the first game on the heels of his dreadful performance in the double-header against the Orioles – lest we forget that he went 0-f0r-9 with 8 strikeouts. That bit of rest must've helped, as he hit what proved to be the game-winning two-run homer in the top of the 13th. You might remember that particular moonshot for this young fan's reaction.
Check out Katie's Yankeemetrics post for more information on the series.
Injury Report
Josh Donaldson, Jaime Garcia, Aaron Sanchez, Ryan Tepera, and Troy Tulowitzki are all on the disabled list, and none are slated to return in time for this series.
Their Story So Far
Toronto is 40-46 with a -41 run differential, and are currently sitting in fourth in the AL East. They've played fairly well since their last meeting with the Yankees, going 14-11 with a -5 run differential. They've been discussed quite a bit as a potential seller as we approach the trade deadline, but injuries to free agents to-be Josh Donaldson and Marco Estrada (he left Tuesday's game early with an glute strain) may put a damper on just how much they can get back.
Last time around, we wondered if we'd get to see Vladimir Guerrero Jr. anytime soon, and the answer proved to be no. And that doesn't seem likely to change for at least a few more weeks, as he's been out since June 6 with a strained patellar tendon. It seems as though the team's injury woes aren't just limited to the big club.
The Lineup We Might See
Manager John Gibbons has been somewhat all over the place with his lineups of late, with the only real piece of normalcy being Yangervis Solarte batting third. We'll probably see something along these lines, though:
Curtis Granderson, DH – .254/.364/.467, 9 HR, 1 SB
Teoscar Hernandez, LF – .261/.313/.518, 13 HR, 3 SB
Yangervis Solarte, 3B – .250/.308/.451, 16 HR, 1 SB
Justin Smoak, 1B – .232/.358/.434, 11 HR, 0 SB
Kevin Pillar, CF – .245/.277/.401, 7 HR, 10 SB
Russell Martin, C – .165/.321/.286, 6 HR, 0 SB
Randal Grichuk, RF – .210/.278/.451, 10 HR, 2 SB
Lourdes Gurriel, SS – .225/.244/.388, 4 HR, 1 SB
Devon Travis, 2B – .230/.282/.358, 5 HR, 1 SB
Kendrys Morales (87 OPS+) may see starts at first and/or DH, and we'll probably see Aledmys Diaz (83 OPS+) at short, too.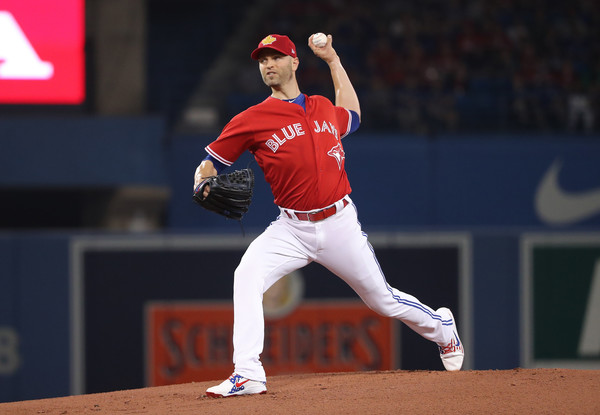 The Starting Pitchers We Will See
Friday (7:07 PM EST) – RHP Sonny Gray vs. RHP Sam Gaviglio
Gaviglio shut the Yankees out for 7 innings back on June 6, striking out 4 and keeping 70% of batted balls on the ground. He has been significantly less effective since then, pitching to a 6.16 ERA in four starts (19.0 IP).
Last outing (vs. DET on 6/30) – 7.0 IP, 4 H, 3 R, 3 BB, 5 K
Saturday (4:07 PM EST) – RHP Luis Severino vs. LHP J.A. Happ
The Yankees knocked Happ out in the fifth inning back on March 29, scoring three runs and forcing the southpaw to throw 96 pitches (nearly 40% of which were balls) in 4.2 IP. Happ is striking out a career-best 26.3% of batters, walking just 6.7%, and maintaining a league-average 44.4% groundball rate; a bit of gopheritis, however (1.23 HR/9) has elevated his ERA to 4.03 (104 ERA+), his worst mark since 2015.
Last outing (vs. DET on 7/1) – 5.2 IP, 10 H, 7 R, 1 BB, 4 K
Sunday (1:07 PM EST) – RHP Domingo German vs. RHP Ryan Borucki
Borucki, a fifteenth-round draft pick back in 2012, made his big-league debut two weeks ago, and has performed admirably through two starts (2.77 ERA/2.33 FIP in 13.0 IP). It has been a long road for the 24-year-old rookie, as he missed all of 2013 and most of 2015 with injuries, but he has performed well up each rung of the ladder in the minors.
Gibbons compared Borucki to Mark Buehrle, which is equal parts lazy, accurate, and unsurprising – he's a lefty that throws a low-90s four-seamer, a low-80s change-up, and a high-70s slider.
Last outing (vs. DET on 7/2) – 7.0 IP, 6 H, 2 R, 0 BB, 8 K
The Bullpen
Closer Roberto Osuna was given a 75-game suspension (retroactive to May 8) for violating MLB's domestic violence policy, and is not eligible to return until August 5. Other than that news finally being handed down, not much has change in the Blue Jays bullpen since these teams last met – Seung-Hwan Oh and Tyler Clippard are a pseudo-closer-by-committee, with Aaron Loup and John Axford handling the middle innings.
Who (Or What) To Watch
J.A. Happ is auditioning for his next team, and the Yankees are almost certainly interested – so his start is worth watching a bit more closely. That first part applies to Justin Smoak, as well, but I don't see him as a target for Cashman and Co. given his middling production thus far.