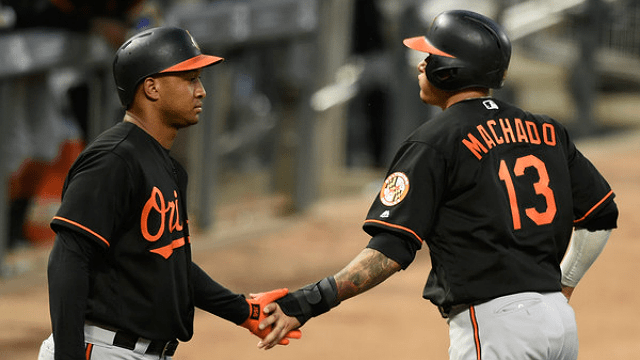 To Baltimore, we go! The Yankees head to Oriole Park at Camden Yards for a four-game set over the next three days, their second trip to the Charm City this season.
The Last Time They Met
The Yanks and O's were set to play a four-game set from May 31 through June 3, but Mother Nature intervened, holding them to two games, both Yankee wins.
Sonny Gray gave up a first-inning homer to Manny Machado but was unblemished otherwise, holding the O's to one run over six innings on the Friday win. Aaron Judge homered and Greg Bird had an RBI triple (!).
Masahiro Tanaka slightly outpitched Kevin Gausman, who the Yankees tagged for six runs – including homers by Giancarlo Stanton and Miguel Andujar – in the Saturday win.
The Thursday rainout led to this week's doubleheader and the Sunday game was washed out as well, a matchup that will be made up in a doubleheader on Aug. 25.
For more information, check out Katie's Yankeemetrics post on that series.
Injury Report
Former Yankee Richard Bleier (lat) and fellow reliever Darren O'Day (hamstring) have undergone season-ending surgery. Relievers Pedro Araujo (elbow) and Gabriel Ynoa (shoulder) are each on the DL as are starter Chris Tillman (back), RF Craig Gentry (rib) and 3B Steve Wilkerson (oblique).
Their Story So Far
Soooooooooooo bad. At 24-65, the Orioles hold a .270 winning percentage and are 37 games back of first place in the AL East. They are on pace to lose 118 games and it's truly not inconceivable that they play to that pace. Maybe even worse. Their best player (Machado) will likely be traded any day now and their best relievers (Zach Britton and Brad Brach) could follow.
They are a bottom five team in the following categories, which are in no particular order: Overall ERA, SP ERA, wRC+, runs scored, BB rate, batting average, OBP, position player WAR, overall WAR, defensive WAR, UZR and DRS. In summary, this team is not good.
Lineup We Might See
1. 3B Tim Beckham (.211/.259/.278, 46 wRC+)
2. CF Adam Jones (.283/.309/.434, 101 wRC+)
3. SS Manny Machado (.313/.382/.560, 151 wRC+)
4. DH Mark Trumbo (.260/.323/.471, 117 wRC+)
5. 1B Chris Davis (.157/.230/.280, 36 wRC+)
6. 2B Jonathan Schoop (.216/.256/.381, 69 wRC+)
7. RF Danny Valencia (.256/.317/.426, 99 wRC+)
8. LF Trey Mancini (.224/.297/.369, 83 wRC+)
9. C Chance Sisco (.197/.313/.296, 75 wRC+)
INF/OF Jace Peterson will likely get a start at some point this week and we'll certainly see backup C Caleb Joseph during the doubleheader. Joey Rickard could play in the OF as well.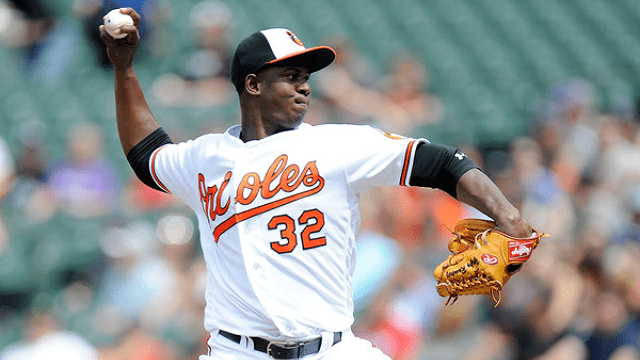 The Starting Pitchers We Will See
Monday (4:05 PM ET): LHP CC Sabathia vs. RHP Jimmy Yacabonis
Yacabonis will be making his second career start and just his fourth appearance of the season. He lasted just four innings and 67 pitches against the Mariners on June 28 and had another 67-pitch, four-inning start in Triple-A on Tuesday. The 26-year-old righty hasn't thrown more than 83 pitches in a game this year and that was back on May 2.
The right-hander is primarily a fastball-slider pitcher, working in a changeup on occasion. He's had lackluster results against the Yankees, including his MLB debut last June in which he allowed a two-run double to Aaron Hicks and a two-run homer to Aaron Judge. If he makes it past the fifth inning Monday, the Yankees will have failed to do what they should at the plate.
Last Outing (vs. SEA on June 28) – 4.0 IP, 6 H, 2 R, 1 BB, 5 K, 1 HR
Monday (Game 2): RHP Luis Cessa vs. RHP Yefry Ramirez
Ramirez was signed by the D-backs as an international free agent back in 2011 before he was grabbed by the Yankees in the MiLB Rule 5 draft in 2015. After 1.5 years in the Bombers' system, he was dealt to the Orioles for international bonus pool money as the Yankees pursued Shohei Ohtani. Oh well. Ramirez likely wouldn't have made the Yankees' 40-man roster in the winter anyway.
Ramirez held the Red Sox, Mariners and Phillies to just four earned runs over 14 1/3 innings in his first three career outings, though his two starts were against Chris Sale and Aaron Nola, so they both went as losses. He isn't fully stretched out, throwing just 65 pitches vs. Philly on July 4. Ramirez uses his low-90s fastball and mid-80s changeup and slider as his three main offerings.
Last Outing (@ PHI on July 4) – 5.0 IP, 1 H, 2 R (1 ER), 2 BB, 4 K
Tuesday (7:05 PM ET): RHP Masahiro Tanaka vs. RHP Andrew Cashner
Cashner comes into this game with a 4.39 ERA, though he tends to be a much tougher opponent for the Yankees. In five career starts vs. the Bombers, he has a 2.25 ERA over 32 innings and has a 3:1 K-BB ratio. That includes a pair of quality starts this season. For some reason, he hasn't walked everyone in creation against New York like he has other teams.
He throws a low-to-mid 90s fastball as well as a changeup, cutter and curveball. The 31-year-old is coming off a quality start and has a 3.18 ERA over his last 34 innings (six starts), though his peripherals have been suspect in that span.
Last Outing (@ MIN on July 5) – 6.0 IP, 6 H, 3 R (2 ER), 2 BB, 3 K, 1 HR
Wednesday (7:05 PM ET): RHP Sonny Gray vs. RHP Dylan Bundy
Bundy is the de facto ace of the staff and had an impressive June to back that up. In four June outings, he went 3-0 with a 1.98 ERA over 27 1/3 innings and four starts. He allowed just 27 baserunners and struck out 25 in that span.
But it's no longer June. He gave up nine hits and a walk over 3 1/3 against the Twins on Friday and was coming off a skipped start due to an ankle injury suffered in interleague play. Hopefully, he has recovered more in the intervening days and will be at full strength for his first start against the Yankees this season.
Last Outing (@ MIN on July 6) – 3.1 IP, 9 H, 6 R (5 ER), 1 BB, 2 K, 1 HR
The Bullpen
In a blowout loss on Sunday, the Orioles had Brad Brach and Miguel Castro throw an inning each while rookies Paul Fry (one of three lefty relievers) and Ryan Meisinger combined for another. Castro has thrown an inning of the last two days.
Britton is back to closing, though the O's haven't had many closing opportunities recently. Brach is his main setup man alongside Mychal Givens. Mike Wright Jr. has seen long relief and lefty Tanner Scott is in middle relief. The team also is likely to make moves to bring up fresh arms as necessary this series.
Yankees Connection
As I mentioned above, both Yefry Ramirez and Richard Bleier spent time in the Yankees system with Bleier getting a cup of coffee in 2016. Meanwhile, Jace Peterson was a Yankee in April. He was called up to face these very same Orioles. Also, don't forget Buck Showalter's stint in pinstripes. Brief but memorable.
Who (Or What) to Watch?
This should be the last time Manny Machado faces the Yankees as a member of the Orioles. While I enjoy watching him play in general, I can't say I'll miss watching him launch homers against the Bombers, particularly CC.
On the pitching side of things, Tanaka is back! Excited to watch that as well as seeing what the former Trenton Thunder star Ramirez can do.