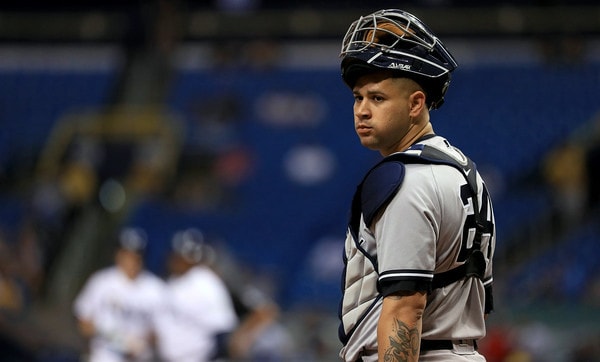 Last night the Yankees lost an impossibly frustrating game against the Rays and there's plenty of blame to go around. Luis Severino got hammered, Chad Green couldn't strand inherited runners, and don't even get me started on the Didi Gregorius bunt. The worst part is Didi squared around twice before he got it down, so Aaron Boone had a chance to call it off, and he didn't. Oy vey.
All of that will be forgotten though. Gary Sanchez was the goat of the game and it was the kind of game that will stick to his reputation forever. Rightly or wrongly, there are lots of people out there who think Sanchez is lazy and last night's game was validation. First, Gary took his time jogging after a ball that got away on a cross up, allowing a run to score all the way from second. Good grief. Here's the play:
The cross up is whatever. It happens. Severino said after the game it was his mistake, that he misread the signs. Either way, the cross up happened. The problem was Sanchez taking his time getting the ball and allowing Jake Bauers to score from second. Severino was late covering home, though I assume that's because he didn't actually expect Bauers to try to score. Gary should've gotten that ball quickly.
And secondly, Sanchez didn't run hard on the game-ending grounder. Hard-hit grounder to the shortstop, Aaron Hicks hustled to beat the force play at second base, but the Rays were able to throw to first for the out because Sanchez didn't run. Had he beat it out, the tying run scores. Instead, the game ended. Here's Gary jogging it out: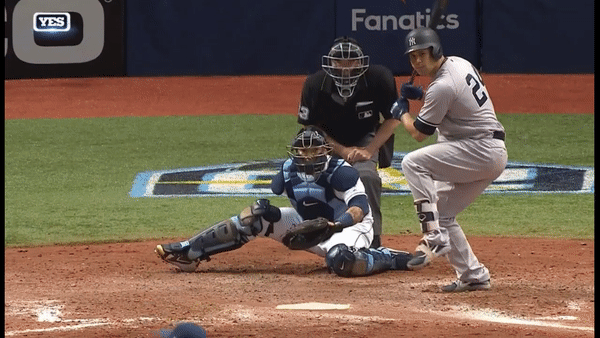 Sanchez was slow out of the box and it looked like he broke it down because he thought they'd get the force at second, and by time he picked up the pace, it was far too late. Either way, inexcusable. Sanchez did drive in a run in the game, but between the slow recovery on the cross up and not running out the final play, it was an inexcusable game. It was really was. If Sanchez hustles on the final play and gets thrown out because he's a slow catcher, then, well, what can you do? But there was no hustle.
After the game Sanchez said the only thing he could say — "I should have gotten to that ball quicker. I should have done a better job. I should have run harder," he said — but, ultimately, the lack of effort on two plays that demanded urgency contributed (greatly) to the loss. It's one thing to be in a slump and not hit for awhile. That happens to everyone. And hey, I am totally cool with jogging out the occasional grounder, especially so soon after returning from the disabled list. But last night? That can't happen in those situations, and when a star player and one your top core building blocks does it, it has to be addressed.
Boone handled Sanchez's mistakes well during his postgame scrum — "He should be able to get after it. He's here and back, and should be fine getting after things," Boone said —  and, frankly, what he says to the media is meaningless. What he does behind the scenes matters, and guess what? We're not privy to that. We don't know what Boone said to Sanchez, we don't know what veteran leaders like Brett Gardner and CC Sabathia said to him, and we don't know what other teammates said to him. And we're probably never going to find out, because that stuff is usually kept in-house.
Clearly though, this is not something the Yankees can let slide. They can't send Sanchez to the minors — he's out of options and would have to go through waivers to go to Triple-A and lol at that — so forget that. You can't fine a player for anything on-field — teams can only fine players for breaking rules and sorry, hustling is not a rule — and besides, I'm not sure a fine would get the point across anyway. MLB fines always seem so silly given how much money players make. Pulling him from the game would've worked if Sanchez hadn't made the final out.
Can't send him down, can't fine him, so the only real solution is benching him. Sitting Gary the next two games would be the way to go, but there's a day game tomorrow and Sonny Gray needs his personal catcher Thursday night, which throws a wrench into things. Maybe Boone should just sit Sanchez the next three games and let Austin Romine grind it out? He should sit though. The single best way to get through to players is to take away their playing time, so do it.
All things considered, the players have made life easy for Boone this season. When they play poorly, they're still playing .500 ball. There hasn't been any sort of crisis. This is the first real test of Boone's managerial career. An important player half-assed two costly plays last night while his teammates fought to get back into that game (twice!). It has to be addressed and how Boone addresses it is important. If Sanchez is back behind the plate tonight, it's going to look really weak. There have to be consequences for that, something beyond a stern lecture. Boone prides himself on having good relationships with his players, but sometimes tough love is needed too, and this is one of those times.