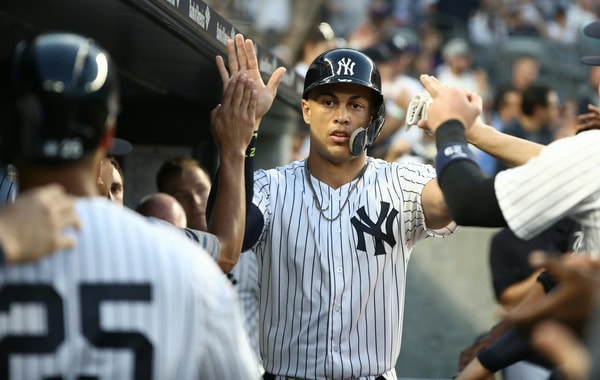 For the second time in as many games, Giancarlo Stanton smacked a home run en route to a win over the Braves on Wednesday afternoon. Tuesday night Stanton hit a cheap short porch homer to plate two insurance runs. Wednesday's homer was one of those home runs only a handful of players can hit. A missile the other way into the right field bleachers.
Here's video of Wednesday's three-run home run, which more or less put the game to bed:
Opposite field into the bleachers? How many times have seen that at the new Yankee Stadium? Not many at all. That ball was 111 mph off the bat and it traveled 411 feet. Do you know how many batters have hit a ball 410+ feet with a 110+ exit velocity to the opposite field this season? Five. Only Stanton's done it twice:
Giancarlo Stanton (Wednesday plus 117.3 mph and 426 feet on Opening Day)
Jorge Alfaro (114.1 mph and 433 feet on April 7th)
Mac Williamson (114.2 mph and 434 feet on April 20th)
Joey Gallo (110.9 mph and 416 feet on April 22nd)
Bryce Harper (110.5 mph and 416 feet on May 1st)
Like I said, it was one of those home runs only a handful of players can hit. Stanton went 1-for-4 with that three-run home run in Wednesday's game and 7-for-24 (.292) with two homers during the six-game homestand, raising his season batting line to .267/.338/.515 (130 wRC+) overall. That is still below Stanton's career .268/.358/.551 (143 wRC+) batting line, but he's trending in the right direction.
"I'm getting there. I still have work to do, but it's good for right now. In the box, I feel pretty close to where I need to be," said Stanton to Howie Kussoy following Wednesday's game. "(I have) better plans, better approach overall, letting the ball get deeper, and putting the barrel on it. As long as I keep my approach right and keep not giving away at-bats, the numbers should be there."
Stanton has been progressively better with each passing month this season, going from a 102 wRC+ in April to a 126 wRC+ in May to a 155 wRC+ in June. (He has a 187 wRC+ in the super early going in July.) There always seems to be a lot of chatter about his batting stance because it is unconventional — I can't remember ever seeing another hitter this closed — and, when he was struggling earlier this year, there were calls for Stanton to open up a bit. Has that happened?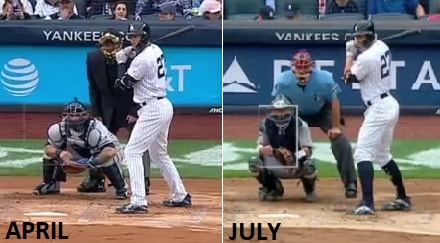 Kinda? If Stanton has opened up, it's rather slight. For weeks now Stanton has said he has no plans to change his stance, mostly because he's comfortable with it and he's had success with it, so why change it? A few sluggish weeks to begin the season aren't grounds for an mechanical overhaul. Stanton (seems to have) stuck with his closed stance and now the results are coming.
Beyond mechanical changes, it looks to me Stanton is really starting to settle in and get comfortable with the Yankees. There were times earlier this season when it looked like he was trying to hit a five-run home run every at-bat. I mean, I get it. New team, new city, new fans, first time on a contender … Stanton wanted to impress and he wanted to help the Yankees win. He wound up twisting himself into knots at the plate.
The sluggish April gave way to a productive May and then a great June, and now Stanton has been even better so far in July. It's not just home runs either, though there have been plenty of those. Giancarlo is hitting .303/.368/.598 (159 wRC+) with ten homers in 31 games since June 1st. He's hitting for average and power. And his home/road and right/left splits are starting to even out:
Stanton at home: .225/.297/.445 (97 wRC+)
Stanton on the road: .314/.384/.595 (166 wRC+)
Stanton vs. RHP: .238/.313/.427 (101 wRC+)
Stanton vs. LHP: .345/.404/.759 (208 wRC+)
Remember how bad Stanton was at home and against righties earlier this season? Now he's basically league average at Yankee Stadium and against same-side pitchers. Give it a little more time and he'll be an above-average hitter both at home and on the road, and against lefties and righties. Stanton is looking very dangerous and very comfortable at the plate these days. Arrows are pointing up.
"I think there's another gear. We've seen that other gear when he ran off and won the MVP," said Aaron Boone to Kussoy. "Whether we see that kind of run, I don't know, but all I know is we're starting to see a consistent performer that I feel like is putting himself in a good position night in and night out. Does that mean he goes on a run like last year? That would be great, but who knows? It's certainly in there. We've seen it."
It would be unfair to expect Stanton to repeat his .287/.383/.702 (175 wRC+) second half effort from last season — the guy hit 30 homers in 48 games at one point! — because basically no one does that consistently. Stanton is still the game's preeminent power hitter though, and at age 28, he's right smack in his prime. Now that he's comfortable, we're seeing the type of force he can be at the plate. It took a little longer than we all hoped, but Giancarlo has arrived, and better later than never.