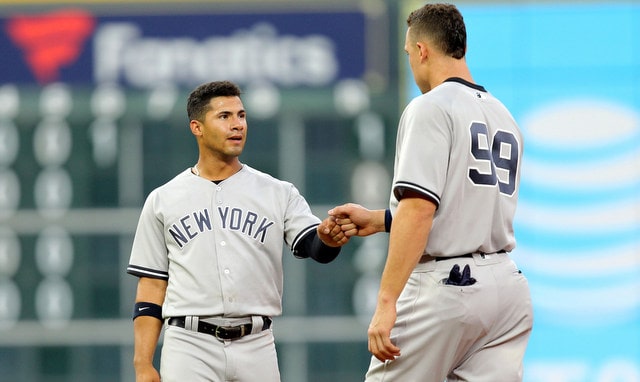 Four Yankees are heading to the 2018 All-Star Game. MLB announced the All-Star Game rosters Sunday and the Yankees will be represented by Aroldis Chapman, Aaron Judge, Luis Severino, and Gleyber Torres in Washington next week. Judge was among the fan voting leaders and will start the All-Star Game for the second straight season. Here are the full All-Star rosters.
Last season Judge joined Joe DiMaggio and Hideki Matsui as the only Yankees to start the All-Star Game as a rookie. This year he joins DiMaggio as the only Yankees to start the All-Star Game in each of their first two big league seasons. Pretty amazing. Judge is the first Yankee to start back-to-back All-Star Games since Robinson Cano started four straight from 2010-13.
So far this season Judge is hitting .280/.399/.572 (163 wRC+) with 25 home runs in 85 games. That is down a tick from last season but still places him among the game's most productive players. Judge is second in baseball in home runs and both versions of WAR have him as a top five position player (+4.9 bWAR and +4.6 fWAR). Once again, he's been the team's best player all year.
"First and foremost, I have to thank my team for always putting me in the right position," said Judge in typical Aaron Judge fashion following the All-Star Game selection. "They're always getting on base, always just helping me out. I wouldn't be in this spot without them."
Like Judge, Severino was selected to his second All-Star Game. He did not pitch in last year's game but is a serious candidate to start the All-Star Game this year, especially since Justin Verlander is scheduled to start next Sunday and will thus be ineligible to pitch in the All-Star Game. Here are Severino's ranks among the 87 pitchers with enough innings to quality for the ERA title coming into today:
ERA: 2.12 (third)
FIP: 2.47 (fourth)
Strikeouts: 29.8% (tenth)
fWAR: +4.3 (third)
bWAR: +5.0 (fourth)
If Severino does get the All-Star Game starting assignment, he'll be the first Yankee to start the All-Star Game since Roger Clemens in 2001. And, at age 24, he'll be the youngest Yankee to start the All-Star Game since 24-year-old Lefty Gomez start the very first All-Star Game in 1933. The starting pitchers will be announced the day before the All-Star Game. Even if he doesn't start, Severino is very deserving of the All-Star Game selection.
As for Chapman, this is his fifth All-Star Game selection and first with the Yankees. He went to four straight All-Star Games with the Reds from 2012-15. Chapman has been nails this season, going 24-for-25 in save chances with a 1.42 ERA (1.41 FIP) in 38 innings. His 66 strikeouts are fourth most among all relievers. Chapman pitched in all four prior All-Star Games and threw three scoreless innings total.
Torres is, obviously, going to the All-Star Game for the first time. He's currently on the disabled list with a hip injury and it seems unlikely he'll actually participate in the All-Star Game, but being selected is still pretty cool. Torres is hitting .294/.350/.555 (144 wRC+) with 15 home runs in 63 games this season. He leads AL rookies in basically everything, including homers, wRC+, bWAR (+2.2), and fWAR (+1.6 WAR).
"I called him in and was like, 'Have you done any work today?'" joked Aaron Boone following Gleyber's All-Star selection. "'What's going on with your leg? You're probably going to have to get that right so when you go to DC next week you can tip your cap properly.'"
The Yankees could have a fifth All-Star as well. Giancarlo Stanton is on the Final Vote ballot alongside Andrew Benintendi, Eddie Rosario, Jean Segura, and Andrelton Simmons. Stanton is hitting .267/.341/.510 (130 wRC+) with 21 home runs on the season. It's a down year for Stanton and an amazing season for most players. Here's the Final Vote ballot. Voting closes Wednesday at 4pm ET.
Did any Yankees get snubbed? Of course. It wouldn't be tough to argue to Dellin Betances and Chad Green deserve to be All-Stars. Heck, even Gary Sanchez has a case because the AL catching crop is so impossibly bad. Sanchez hasn't played in two weeks now and he still leads all catchers with 14 home runs. Betances or Green could still make the All-Star Game as an injury or Sunday starter replacement.
The 2018 All-Star Game will be played Tuesday, July 17th, at Nationals Park. The Yankees will be represented by Justus Sheffield at the Futures Game on Sunday, July 15th. We're still waiting on the Home Run Derby field announcement. Judge has already said he won't do it again. I suppose Stanton could be selected. We'll see. The Home Run Derby is Monday, July 16th.
Update: Stanton is skipping the Home Run Derby, apparently. "I don't want to. I've done it plenty of times. I can take a year off. I can take two years off if I want," he said to Mike Mazzeo. So that's that. Looks like no Yankees in the Home Run Derby this year. A bummer, but I'll live.