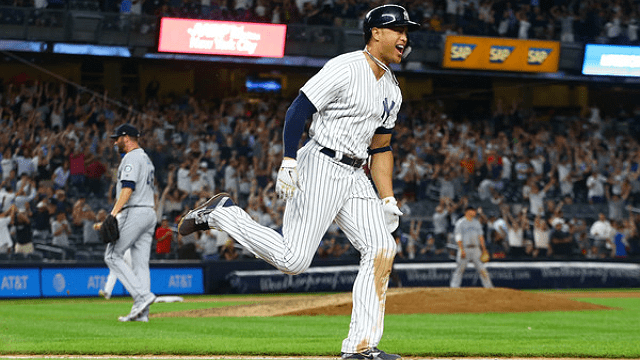 When you win 62 games in the first half, there's going to a wide variety of victories. Blowouts, nail-biters, walk-offs and everything in between. In this post, I take a closer look at five of the Yankees' most dramatic victories from the first half before checking back in with a peek at some easy-going wins next week.
April 27: Didi's curtain call in Anaheim
Player of the Game: Didi Gregorius' wild April was essentially capped off with his 10th-inning homer off Blake Parker to give the Yankees a 4-3 win. It's easy to forget now with their recent woes, but the Angels seemed poised to contend at that point in the season and were two outs from getting a win off the Bombers and Luis Severino.
Play of the Game: Parker went up and in with a fastball to Gregorius and it simply caught way too much of the plate. Didi was on fire at that point (batting .368/.459/.828), so he didn't miss. All that was left was the home run trot and a rare road curtain call.
The Play(s) before the Play:
This game frustrated the heck out of everyone. Shohei Ohtani took a 99 mph inside fastball from Severino and deposited it into the seats. Neil Walker nearly hit multiple homers but was robbed by Kole Calhoun. Giancarlo Stanton looked to have won the game in the eighth inning, but his ball died on the warning track.
The Yankees won this game because they put together a rally in the ninth inning down by one. A Gary Sanchez walk and Miguel Andujar double set the stage for a Brett Gardner sacrifice fly. Gardner is someone you want up in the clutch every time.
May 1: Gary Sanchez ruins Ken Giles' season
Player of the Game: Domingo German stepped up in a tremendous way. Jordan Montgomery went down with a UCL injury after one inning and German was called into action. All he did was throw four shutout innings and keep the Astros' potent lineup quiet. The Yankees' bullpen would combined for eight scoreless innings, but German's were the most impressive and unexpected.
Play of the Game: Gary. Freaking. Sanchez. Scoreless in the ninth with two guys on, Sanchez clobbered a first-pitch hanging slider, the second time in seven months he's knocked Giles out of a game with a decisive blow … though Giles also decided to knock himself out.
The Play(s) before the Play:
Aaron Judge isn't clutch, they said. Well, they were lying. Judge led off the ninth with a single before Gregorius lined a double to set the Bombers up. The Yankees had no answers for Justin Verlander so it was merely a matter of outlasting him.
May 6: Gleyber Day in the Bronx
Player of the Game: Gleyber Torres only had one hit in this game, so he's got to share the honors with German. After all, the rookie righty threw six no-hit innings in his first MLB start! He was truly untouchable until he ran up against his pitch limit. German set 'em up, Gleyber knocked 'em down.
Play of the Game: The most impressive thing about Torres is how he adjusts within a game or at-bat. Dan Otero threw him a few 88-89 mph sinkers over the plate that Torres fouled away. On the sixth pitch of the at-bat, he did not miss when Otero went to it again on 3-2.
The Play(s) before the Play:
After Cleveland got four runs off Dellin Betances and Jonathan Holder, the Yankees looked cooked. But Neil Walker drew a six-pitch walk to start an eighth-inning rally capped by a Gardner RBI single and Judge two-run double. In the ninth, Hicks doubled and Walker doubled him in. This was a two-week stretch where the Yankees put together a plethora of rallies and Walker seemed to have a big role in all of them.
May 9: Gardner gets to Kimbrel
Player of the Game: Gardner and Judge each had three hits and three runs scored while combining for five RBI. Hard to choose between them, so I'll do the cowardly thing and not.
Play of the Game: After Walker doubled and Torres walked against Matt Barnes to put the tying and go-ahead runs on the corners, the Red Sox brought in Craig Kimbrel to face Gardner. Gardner ground Kimbrel to a pulp over seven pitches, fouling off fastballs on 3-1 and 3-2 before getting the meatball he needed.
Side note: Mookie Betts was playing
waaaaaay
too far in.
The Play(s) before the Play: After Chad Green gave up a two-run shot to Hanley Ramirez, Holder kept the Yankees in the game by working out of Chasen Shreve's jam. It seemed like the first moment he really belonged in a high leverage situation. Judge's laser home run off Kimbrel sealed the game.
June 20: Stanton's walk-off
Player of the Game: Stanton had two hits and a HBP in the game, but the only thing that really mattered was that walk-off homer. It came an inning after Sanchez tied the game on a powerful two-run shot of his own. Big game from the big boppers.
Play of the Game: A lesson for everyone out there: Don't leave a hanging slider to Giancarlo Stanton on an 0-2 pitch. Don't do it in any count, but especially 0-2. Let Ryan Cook serve as an example.
The Play(s) before the Play:
Another game where Holder excelled and came in after Shreve struggled. As for Sanchez, he had been hitting lasers all series and you could tell he was locked in heading into his key at-bat against Alex Colome in the eighth inning.
Honorable Mentions
The Yankees already have six walk-offs this season to go with some other comebacks and late road wins. Here are some of the ones could have received the deeper dive in this post:
April 26: Gary Sanchez's walk-off three-run homer against the Twins
May 3: Yankees blow lead, come back in ninth vs. Astros in series finale
May 4: Andujar walk-off after Shreve, Robertson and Chapman blow lead
May 12: Walker walk-off vs. Athletics
May 25: Torres' go-ahead homer to beat the Angels
May 29: Gardner ties it, Torres walks it off against Houston
June 6: Judge, Stanton give Yankees 13-inning victory
July 8: Gardner wins it off Clippard in Toronto
July 14: Romine's Little League homer