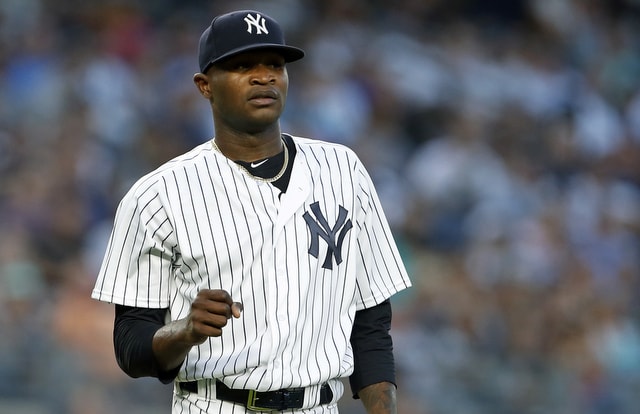 That loss was annoying last night, but tonight the Yankees have a chance to get some payback, and improve upon their 107-win pace. They'll have to do it with a short bullpen after Jonathan Loaisiga's short start yesterday, and that's just baseball. Sometimes you have to play with a short bullpen.
The goal tonight, aside from winning the game: Getting a scoreless first inning from Domingo German. He's allowed a first inning run in four straight starts and five of his last six starts. Playing from behind is no fun. German has to fix those first inning issues. A scoreless top of the first, then let the offense take care of the rest. Here are the lineups:
New York Yankees
1. LF Brett Gardner
2. DH Aaron Judge
3. RF Giancarlo Stanton
4. CF Aaron Hicks
5. SS Didi Gregorius
6. 3B Miguel Andujar
7. 1B Brandon Drury
8. C Kyle Higashioka
9. 2B Neil Walker
RHP Domingo German
Atlanta Braves
1. CF Ender Inciarte
2. SS Ozzie Albies
3. 1B Freddie Freeman
4. RF Nick Markakis
5. DH Kurt Suzuki
6. LF Ronald Acuna Jr.
7. C Tyler Flowers
8. 3B Johan Camargo
9. SS Dansby Swanson
LHP Sean Newcomb
It rained for a bit this afternoon, though that has mostly cleared out and there shouldn't be much trouble getting tonight's game in. It is disgustingly hot and humid though. Yuck. Tonight's game will begin at 7:05pm ET and you can watch on YES locally and MLB Network nationally.
Injury Updates: Gleyber Torres has a stiff hip flexor, which is why he's out of the lineup. He is available tonight if necessary and it is not a major concern. With the off-day Thursday, it wouldn't surprise me at all to see Torres get tomorrow off too … Gary Sanchez (groin) is making throws from behind the plate. He's doing all sorts of strength exercises as well, but has not yet been cleared to start running.