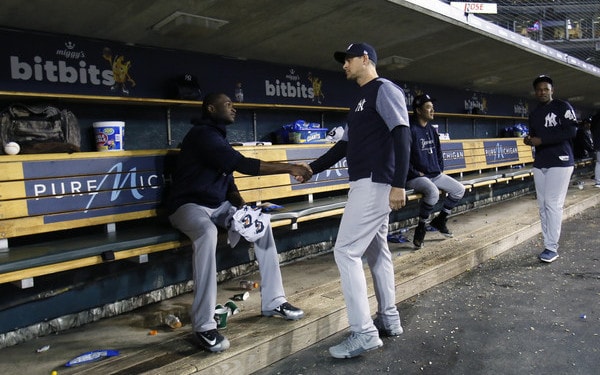 The Yankees and Blue Jays have split the first two games of this three-game series, which means today will determine whether the Yankees go 19-2-2 in their last 23 series or 18-3-2 in their last 23 series. Both are pretty good! But yeah, I prefer the former. The Yankees have to keep pace with the Red Sox because there's no chance they're losing to the Royals today. Man do the Royals stink. They really stink.
Anyway, Domingo German will be on the mound on this Sunday and he wasn't able to complete the fifth inning in either of his last two starts. He's had an … interesting season, I'd say. German is sitting on 5.91 ERA (4.66 FIP) as a starter but it feels like he's pitched a lot better than that. It does to me, anyway. German has shown some really nasty stuff and has those three or four inning stretches where he's lights out, then it all falls apart. Hopefully he can avoid that One Bad Inning today. Here are the lineups:
New York Yankees
1. CF Brett Gardner
2. DH Aaron Judge
3. RF Giancarlo Stanton
4. 3B Miguel Andujar
5. SS Didi Gregorius
6. LF Clint Frazier
7. 2B Brandon Drury
8. 1B Greg Bird
9. C Austin Romine
RHP Domingo German
Toronto Blue Jays
1. LF Teoscar Hernandez
2. 3B Yangervis Solarte
3. 1B Justin Smoak
4. DH Kendrys Morales
5. CF Kevin Pillar
6. C Russell Martin
7. RF Randal Grichuk
8. SS Lourdes Gurriel Jr.
9. 2B Devon Travis
LHP Ryan Borucki
Another gorgeous day in Toronto. The Rogers Centre roof will be open again this afternoon. Pretty excellent weather for the Yankees' final series north of the border this year. Today's game will begin at 1:07pm ET and YES will have the broadcast. Enjoy the game.
Injury Updates: Both Aaron Hicks (leg) and Aroldis Chapman (knee) are doing better. Hicks is available today but Aaron Boone wants to stay away from him. Chapman probably isn't available though.