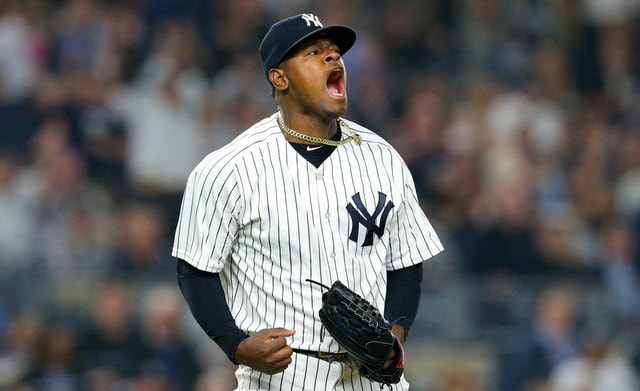 A case can be made the two best pitchers in the league — the two best right-handed pitchers, at the very least — will square off tonight. It's Luis Severino vs. Corey Kluber at Progressive Field. They didn't face each other in the ALDS last year because of the whole Wild Card Game thing, but they will meet tonight. Can't beat a pitching matchup like this.
The Yankees of course hammered Kluber in the ALDS last year — they had nine runs and 13 baserunners in 6.1 innings, including four homers — though don't think that means they have his number. That was just baseball being baseball. Kluber is as good as it gets. The Yankees will have their hands full tonight. So will the Indians with Severino. Here are the starting lineups:
New York Yankees
1. LF Brett Gardner
2. RF Aaron Judge
3. SS Didi Gregorius
4. DH Giancarlo Stanton
5. CF Aaron Hicks
6. 1B Greg Bird
7. 3B Miguel Andujar
8. C Austin Romine
9. 2B Neil Walker
RHP Luis Severino
Cleveland Indians
1. SS Francisco Lindor
2. LF Michael Brantley
3. 3B Jose Ramirez
4. DH Edwin Encarnacion
5. 1B Yonder Alonso
6. 2B Jason Kipnis
7. RF Tyler Naquin
8. C Yan Gomes
9. CF Greg Allen
RHP Corey Kluber
It is a lovely night in Cleveland. Great weather for a ballgame. Tonight's game will begin at 7:10pm ET and you can watch on YES locally and MLB Network out of market. Enjoy the game.
Injury Updates: Gary Sanchez (groin) is going through full workouts and is expected to begin a minor league rehab assignment at some point this weekend … Gleyber Torres (hip) has resumed running and everything went well, so that's good.