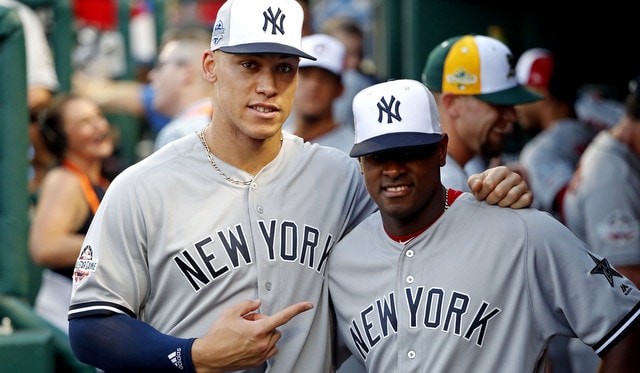 Finally, baseball is back. Meaningful baseball, that is. The Home Run Derby and All-Star Game are fun in their own ways, though I'm ready for games that count again. It's been a while since we've last seen the Yankees, so let's take a second to set the stage a bit and remember where they are:
Record: 62-33 (+131 run differential)
AL East Position: Second place, 4.5 games back of Red Sox (three in loss column)
Wild Card Position: 5.0 games up on Mariners for top spot, 8.0 games up on A's for second spot
Postseason Odds: 100.0% per FanGraphs (36.9% to win AL East)
Last Series: Split four in Cleveland
Remember all that? Good. The Yankees have 67 games remaining and a 38-29 record in those 67 games gets them to 100 wins. Will that be enough to win the AL East? Almost certainly not. The Red Sox are too good. Bottom line, the Yankees have to lose four fewer games than the Red Sox from here on out to win the division. Doable? For sure. Easy? It never is. Here are tonight's lineups:
New York Yankees
1. LF Brett Gardner
2. DH Aaron Judge
3. SS Didi Gregorius
4. RF Giancarlo Stanton
5. CF Aaron Hicks
6. C Gary Sanchez
7. 1B Greg Bird
8. 3B Miguel Andujar
9. 2B Neil Walker
RHP Domingo German
New York Mets
1. RF Brandon Nimmo
2. DH Yoenis Cespedes
3. 2B Asdrubal Cabrera
4. 1B Wilmer Flores
5. LF Michael Conforto
6. 3B Jose Bautista
7. C Devin Mesoraco
8. SS Amed Rosario
9. CF Matt den Dekker
RHP Noah Syndergaard
It has been an absolutely gorgeous day here in New York and it will continue to be gorgeous tonight. That's good, because it's supposed to start raining tomorrow afternoon and not stop until like next Saturday. Sucks. Anyway, tonight's game will begin at 7:05pm ET and you can watch on WPIX and SNY locally, and MLB Network out-of-market. Enjoy the ballgame.
Roster Moves: Welcome back, Gary Sanchez and Brandon Drury. As expected, Sanchez was activated off the disabled list today. Good to have him back. Kyle Higashioka and Clint Frazier were sent down to Triple-A Scranton to clear roster space for Sanchez and Drury. Frazier was actually sent down following last Sunday's first half finale.
Injury Updates: Gleyber Torres (hip) will begin a minor league rehab assignment tomorrow. He's going to play Saturday, rest Sunday, then play again Monday. Sounds like the plan is for Gleyber to rejoin the Yankees on Wednesday … Clint Frazier has been placed on the Triple-A disabled list and is going through the league's concussion protocol. He left last night's game with concussion symptoms after attempting a diving catch. Frazier missed all that time with a concussion earlier this year, remember. Hope he's okay. Multiple concussions is always bad news, especially this close together.