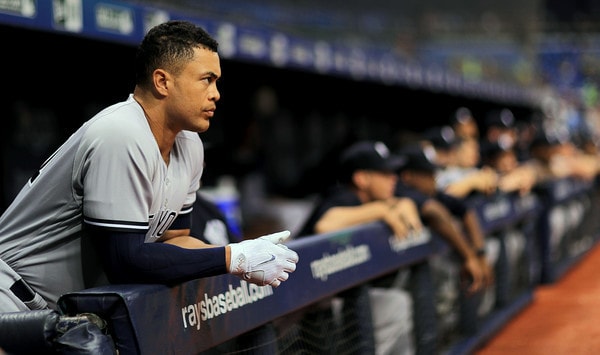 So these last 20 hours or so have sucked, eh? I'd say so. Imagine if the Yankees weren't 28 games over .500. Anyway, look forward, not backward. Tonight the Yankees will try to win a game at stupid Tropicana Field, where they remain winless this season. Four games, four losses. Getting annoying.
On the mound tonight is Masahiro Tanaka, who's looked pretty good in his two starts back from his dual hamstring injuries. Pitched into the seventh inning against the Indians last time out. The #obligatoryhomer is still a thing. As long as he can limit the damage otherwise, the Yankees will be okay. Get a win, then try to win the series tomorrow. Here are the starting lineups:
New York Yankees
1. CF Brett Gardner
2. RF Aaron Judge
3. LF Giancarlo Stanton
4. SS Didi Gregorius
5. 3B Miguel Andujar
6. DH Greg Bird
7. 2B Brandon Drury
8. 1B Neil Walker
9. C Austin Romine
RHP Masahiro Tanaka
Tampa Bay Rays
1. CF Kevin Kiermaier
2. 3B Matt Duffy
3. LF Jake Bauers
4. 1B C.J. Cron
5. DH Ji-Man Choi
6. 2B Daniel Robertson
7. RF Mallex Smith
8. SS Willy Adames
9. C Jesus Sucre
RHP Yonny Chirinos
It is humid and raining in St. Petersburg, so it's a good night to play in a dome. First pitch is scheduled for 7:10pm ET and you can watch on YES locally and MLB Network out-of-market. Enjoy the game.
Injury Updates: In case you missed it earlier, Gary Sanchez was placed on the 10-day DL with a right groin strain. Kyle Higashioka was called up in a corresponding move. Sanchez reaggravated the groin last night and Aaron Boone said he's going to miss "weeks." How many? Not sure. But this won't be a short-term thing. Sucks … Aaron Hicks is "a little banged" up, which is why he's out of the lineup. Apparently he hit the dirt and second base hard in the ninth inning last night … Gleyber Torres (hip) is playing his final rehab game tonight, and is scheduled to rejoin the Yankees tomorrow.