Got nine questions in the mailbag this week. As always, the place to send any and all mailbag-related correspondence is RABmailbag (at) gmail (dot) com. Thanks in advance.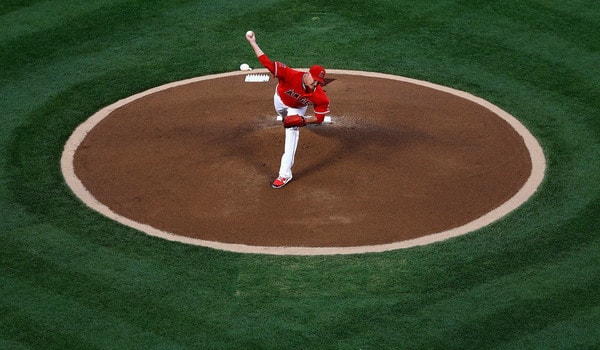 Dan asks: In February of 2003, the Yankees signed Jon Lieber to a two year contract knowing that he wouldn't be able to pitch until 2004. The same thing the Twins did with Michael Pineda and the Rays did with Nathan Eovaldi. Would it make sense to try something similar with Garrett Richards?
The Yankees did this with David Aardsma and Andrew Bailey more recently, though neither of those deals worked out as hoped. The Lieber contract was a smashing success. He was their second best starter in 2004! Eovaldi is working out well for the Rays and Pineda is still on the way back from Tommy John surgery. Other teams have done this too. The Royals did it with Mike Minor and Kris Medlen. Minor worked out. Medlen didn't. So it goes.
Richards blew out his elbow earlier this month and needed Tommy John surgery, which stinks, because he was a potential trade deadline target. He'll be a free agent after the season as well, so he was about to cash in. Now he'll presumably take one of those cheap two-year prove yourself contracts like Lieber and Pineda. I'd absolutely give Richards one of those contracts. Pineda got two years and $10M. Eovaldi got one year and $2M with a $2M option for a second year, presumably because he carried more risk coming back from his second Tommy John surgery. Richards has a long injury history, but this is the first Tommy John surgery, and he's very good when healthy. Even when healthy, Pineda and Eovaldi kinda stunk. I'd give Richards the Pineda contract for sure.
Michael asks: Is the amount of hitting Bird has done so far sufficient to quit the 1B search? Seems like last year, when he slumped brutally at first go off the DL, but then found his timing and mashed. You buying it?
Yeah, I think so. There are still eleven days to go before the trade deadline, so we'll see how things go between now and then, but right now Greg Bird seems to be on track. He's hitting .214/.317/.457 (109 wRC+) overall and is at .227/.352/.477 (124 wRC+) in his last 108 plate appearances and .255/.333/.588 (139 wRC+) in his last 60 plate appearances. The arrows are pointing up.
The first base trade market kinda stinks anyway, so I am cool with sticking with Bird going forward, as long as he doesn't get hurt or stop hitting completely between now and July 31st. There's always going to be injury risk with him, for sure, though I think getting a first base replacement wouldn't be tough on August trade waivers, if necessary. If the Yankees can find a clear cut upgrade at first base, sure, go for it. I'm not sure that's realistic though. Bird's hitting now and I've seen enough to stick with him.
Frank asks: If you could assign two 80 grade skills (one to pitcher one to hitter). Which grades would you give out and to who? I'd love to give 80 command to German, but I dont know if his health history warrants it. As for a hitter, maybe an 80 grade bat to Didi or 80 defense to Miggy? What are your thoughts?
Oh man, that's a good one. I'd be tempted to give Giancarlo Stanton an 80 hit tool, because with his power, an 80 hit tool would equal something like a .320 AVG and 50+ homers annually. I guess you could say the same for Aaron Judge. Miguel Andujar as an 80 defender at third base would be a lot of fun too. On the position player side, I think I'd give Stanton an 80 hit tool, and basically turn him into 2008-13 Miguel Cabrera with more power. That works for me.
As for the pitcher, giving 80 fastball command to Domingo German is awfully tempting. He has the velocity and his secondary stuff is sooo good. On days he throws his fastball for strikes, he dominates. Get him to pitch to the edges with the fastball consistently and he might be a top 20 starter in baseball. That said, his injury history isn't pretty. I think I'd give Masahiro Tanaka an 80 fastball. Give him an 80 fastball with those secondary pitches and his pitching know how, and he'd be a top five starter in baseball. Maybe give Dellin Betances 80 command and put him in the rotation?
Keane asks: You think pitchers should be wearing helmets? It doesn't take away anything from the game. I'm worried it's going to take a tragedy before anyone considers it.
Yup. Batters hit the ball way way way too hard these days. It's very dangerous. We've seen more than a few scary close calls with Judge and Stanton this year. Eventually someone is going to get hit in the head and die. Brandon McCarthy took a line drive to the head a few years ago and needed emergency brain surgery. Baseball is fortunate there has been nothing worse yet.
A few years ago journeyman southpaw Alex Torres wore that goofy padded hat …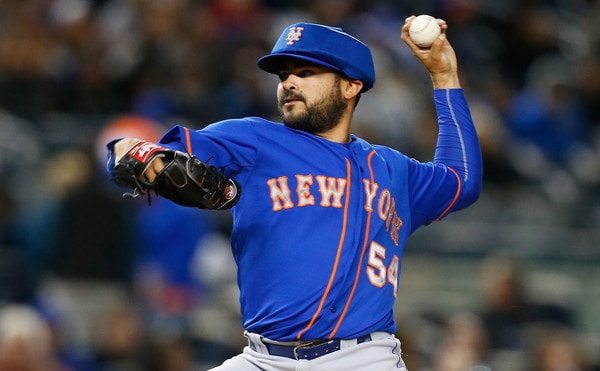 … everyone laughed at, but the dude was playing it safe, and I don't blame him one bit. MLB does actually have approved protective headgear, but it is not mandatory and no one uses it. MLB can not make it mandatory and I'm not sure whether the MLBPA would ever go along with it.
All I know is baseballs are being hit harder than ever before, and eventually someone will take a liner to the head and something very bad will happen. The players are resistant to the idea because it's uncomfortable and funny looking, but at some point MLB and the MLBPA need to step in and protect the players from themselves.
Seth asks: How was Erik Kratz able to be in the dugout last year during the postseason run even though he wasn't on the roster? Can we do that with Toe this year?
Kratz and Clint Frazier traveled with the Yankees during the postseason last year even though they weren't on the roster. You can see Clint (and Kratz) sitting there during the dugout shot following Didi Gregorius' first homer against Corey Kluber in ALDS Game Five. They traveled with the team and went through pregame workouts every day to stay sharp in case someone got hurt and they had to be added to the roster.
Anyway, for a non-roster player to be in the dugout during the postseason, it has to be cleared with the other team and MLB. And, from what I understand, this is never an issue. They all get the okay as a professional courtesy. Every team brings an extra player or two along in the postseason just so that player is ready and available as soon as they're needed, rather than having them work out at the Spring Training complex and have to travel to join the team should they have to be added to the roster.
Michael asks: Was speaking with a friend who has a place up near Cooperstown, and we are planning on going up for both Rivera & Jeter's HOF induction ceremonies which will be undoubtedly coming up in the next couple of years. Both Mariano & Jeets were obviously career Yankees. But this made me start to think; Who was the last Yankees player inducted into the HOF who played their entire career exclusively for the Yanks?
All told, there are 56 men in the Hall of Fame with ties to the Yankees (player, manager, or executive) and 22 of them were inducted into the Hall of Fame as a Yankee. Seventeen of the 22 were players, and of those 17, only seven spent their entire MLB careers with the Yankees. The list:
Phil Rizzuto: Played 1941-42 and 1946-56, inducted in 1994.
Whitey Ford: Played 1950 and 1953-67, inducted in 1974.
Mickey Mantle: Played 1951-68, inducted in 1974.
Earle Combs: Played 1924-35, inducted in 1970.
Joe DiMaggio: Played 1936-42 and 1946-51, inducted in 1955.
Bill Dickey: Played 1928-43 and 1946, inducted in 1954.
Lou Gehrig: Played 1923-39, inducted in 1939.
Yogi Berra would've been on the list too had he not played four games with the Mets in 1965. Rizzuto is the last player inducted into the Hall of Fame after spending his entire career as a Yankee. Mantle, however, played for the Yankees most recently among that group of players. Mariano Rivera joins the Hall of Fame ballot this offseason and will join this group. Derek Jeter hits the ballot next offseason.
Austin asks: Watching the ASG, wasn't the same. I understand the qualms about having it determine WS home field, but today now its turned into spectacle and not as enjoyable to watch. How can they make the game meaningful?
I have no trouble whatsoever with the All-Star Game being a meaningless exhibition. It seems silly to tie anything important to a stupid All-Star Game. Wish it was more exciting and competitive? Sure, I'm on board with that. The best way to do it, in my opinion, is to give every player on the winning team a $1M bonus. Every player on the roster. There's the solution. Guys will play to win in that case. MLB surely has the money in the league's central fund — hell, the Yankees have paid enough luxury tax over the years to cover like a decade's worth of All-Star Game bonuses — and there is no better way to incentivize anyone to do anything than money. I don't want homefield advantage in the World Series or something important like that to be decided by the All-Star Game. If MLB wants the players to play hard and take the game seriously, then give them great big bonuses.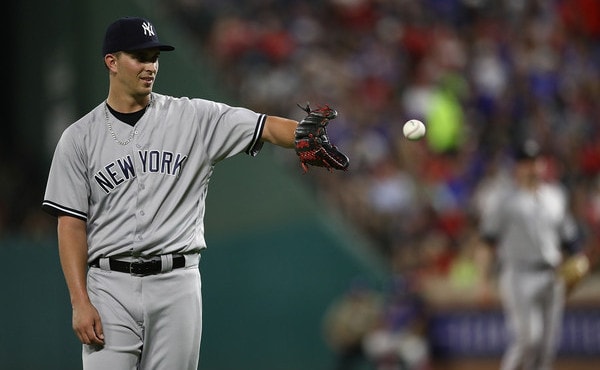 Jonathan asks: So, if the best you can get via trade is Happ or Eovaldi, why not see if Cole can be turned into a starter? If he's not an ace, perhaps he's another Jordan Montgomery. And if not, fine, he goes back to being the long man. This wouldn't preclude a Happ trade, by the way, but as something to try in addition to Happ (in case he continues to pitch as he has been for the past several starts).
I'm not sure this is something the Yankees can do during the season. A.J. Cole is out of minor league options, so he can't be sent down to get stretched out properly in Triple-A. They'd have to do it in the big leagues, which can be messy. Assuming he sticks around, I can totally see Cole coming to Spring Training as a starter next year a la Adam Warren all these years.
There are two reasons why I don't think Cole is a good starter candidate. One, his average fastball velocity jumped from 92 mph as a starter with the Nationals to nearly 95 mph as a reliever with the Yankees, and also his top end velocity went from almost 95 mph to about 97 mph. That's quite a jump. Secondly, lefties have always hit Cole well. I'm talking a career .291/.379/.537 (.386 wOBA) opponent's batting line here.
Cole's been awesome as a mop-up guy, and if the Yankees get hit so hard by injuries later this year that they run short on starters, it would be worth giving him a shot in that role. They wouldn't have a choice, really. Right now, I'm inclined to leave Cole where he is, because he's having more success now than ever before. Given his arsenal (lots and lots of sliders), I get the sense Cole is right where he belongs. Not sure trying him as a starter is worth it.
Alex asks: I'm not sure if you've done something like this in previous versions of the mailbag but can you put together a list of the best statistical season in the history of the sport at every position?
I don't believe I've been asked this before. At least not anytime recently. Since this is a Yankees blog, here are the top individual seasons at each position by a Yankee and by all players, using good ol' WAR.
| | Yankee | All-Time |
| --- | --- | --- |
| C | Munson, 1973: .301/.362/.487, +7.2 WAR | Mike Piazza, 1997 LAD: .362/.431/.638, +8.7 WAR |
| 1B | Gehrig, 1927: .373/.474/.765, +11.8 WAR | 1927 Gehrig |
| 2B | Stirnweiss, 1945: .309/.385/.476, +8.7 WAR | Rogers Hornsby, 1924 STL: .424/.507/.696, +12.1 WAR |
| SS | Jeter, 1999: .349/.438/.552, +8.0 WAR | Cal Ripken Jr., 1991 BAL: .323/.374/.566, +11.5 WAR |
| 3B | A-Rod, 2007: .314/.422/.645, +9.4 WAR | Al Rosen, 1953 CLE: .336/.422/.613, +10.1 WAR |
| LF | Ruth, 1921: .378/.512/.846, +12.9 WAR | 1921 Ruth |
| CF | Mantle, 1957: .365/.512/.665, +11.3 WAR | 1957 Mantle |
| RF | Judge, 2017: .284/.422/.627, +8.1 WAR | Sammy Sosa, 2001 CHC: .328/.437/.737, +10.3 WAR |
| DH | Baylor, 1983: .303/.361/.494, +3.5 WAR | Edgar Martinez, 1995 SEA: .356/.479/.628, +7.0 WAR |
| SP | Guidry, 1978: 273.2 IP, 1.74 ERA, +9.6 WAR | Doc Gooden, 1985 NYM: 276.2 IP, 1.53 ERA, +12.2 WAR |
| RP | Rivera, 1996: 107.2 IP, 2.09 ERA, +5.0 WAR | G. Gossage, 1975 CWS: 141.2 IP, 1.84 ERA, +8.3 WAR |
For starting pitchers, I limited it to Expansion Era only, so since 1961. Back in the day there were a ton of seasons at like +17 WAR because dudes were throwing 450 innings a year on the regular. I didn't expect Snuffy Stirnweiss to have the best second base season in Yankees history by WAR. I figured it would be Robinson Cano for sure. Otherwise nothing surprised me with the Yankees.
As for the all-time list, I was expecting Joe Morgan to have the best second base season and Mike Schmidt to have the best third base season going into this exercise, but nope. They were close. I also thought maybe Bryce Harper would have the best right field season. Another nope. And how about 20-year-old Doc Gooden with a +12 WAR season in 1985? Goodness. I was in diapers at the time so I couldn't fully appreciate his greatness.