Frustrating loss is frustrating. Everything seemed to go the Yankees' way — how many balls did the Mets kick around? how much hard contact with Noah Syndergaard give up? — and they had runners on base all night, but they still couldn't overcome yet another early Domingo German deficit. The final score was 7-5. Losing games to the Orioles and Mets ain't great!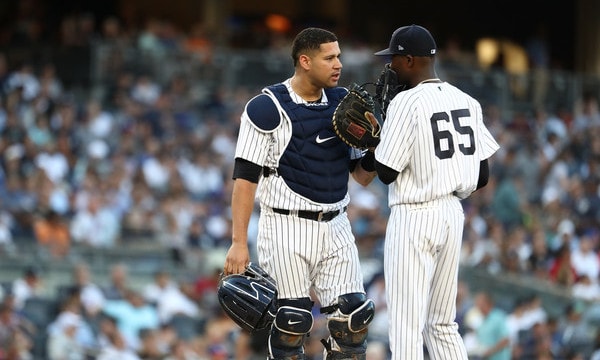 Domingo Struggles Again
For the fifth time in his last seven starts and the sixth time in his 13 starts, Domingo German allowed a first inning run Friday night. Three of them, in fact. It started with a five-pitch leadoff walk to Brandon Nimmo and all five pitches were fastballs, which told you right away German did not have his fastball command. When he has it, he's awesome. When he doesn't, well, this happens.
The five-pitch leadoff walk started the rally and the Mets continued it with three — three! — two-strike doubles. German shouldn't be giving up two-strike extra-base hits with his stuff, nevermind three in one inning. Asdrubal Cabrera poked a curveball into the right field corner, Michael Conforto hooked a running two-seamer into the right field corner, and Jose Bautista crushed a hanging curveball …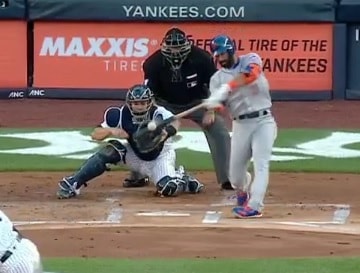 … off the left field wall. Not too long ago Bautista hits that pitch to the moon. The 37-year-old version bangs it off the wall. Six batters into the game the Mets had a walk, three two-strike doubles, and three runs. German now has a 9.00 ERA in the first inning. Thirteen runs in 13 first innings. Awful.
German allowed a solo homer to Yoenis Cespedes in the third inning — it clanked off the left field foul pole — and his evening ended when he went from 0-2 to a walk against No. 9 hitter Matt den Dekker with two outs in the fourth inning. Adam Warren had to come in to clean up the mess. German's final line: 3.2 IP, 5 H, 4 R, 4 ER, 2 BB, 3 K, 1 HR on 71 pitches. He now has a 5.68 ERA (4.52 FIP) on the season and has failed to complete five innings in four of his last five starts.
The Yankees optioned German to Triple-A Scranton following the game and it had to be done. Young pitchers struggle and take their lumps, I get that, but German is going backwards and the Yankees can't afford to continue sending him out there every fifth day. Luis Cessa will be called up to take the rotation spot — someone else is coming up in the interim — which is fine. Best option the Yankees have right now if they don't consider Justus Sheffield ready. German has a lot of promise, but he absolutely is not cutting it, and a change had to be made.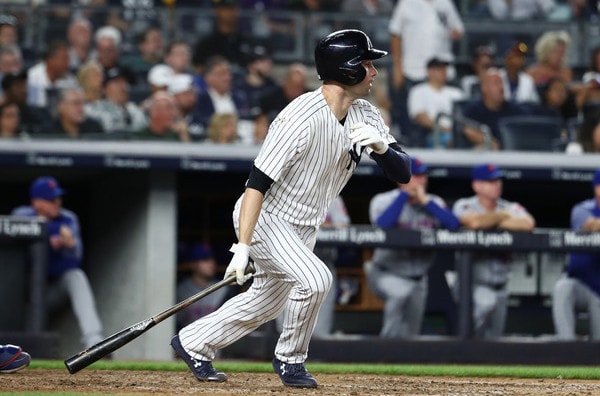 Late Rallies Come Up Short
Like I said, the Yankees had men on base all night. Literally every inning. They had multiple runners in five of their nine offensive innings too. Fourteen hits and four walks in nine innings should equal some dang runs, and hey, it did. The Yankees scored five runs. But a decided lack of extra-base hits (two doubles) and a healthy dose of RISPFAIL (2-for-13) short-circuited the offense.
The Yankees got on the board with a Giancarlo Stanton sac fly in the third inning and they added two more in the sixth when Neil Walker split the outfielders and doubled into the left-center field gap. Unexpected! Brett Gardner flew out and Aaron Judge lined out softly to end the inning and strand Walker at second. The bases were left loaded in the seventh inning when Miguel Andujar popped up a hanging curveball. Argh.
The eighth inning was the team's last best chance to get back in the game. The Mets had a 6-3 lead going into the frame, and the rally started with Amed Rosario booting Gardner's grounder with one out. Judge singled to center and Didi Gregorius poked a double the other way — one of two (2) hits with runners in scoring position — to get the Yankees to within 6-4 and put the tying run in scoring position.
I both was and wasn't surprised the Mets pitched to Giancarlo Stanton in that situation. You never want to put the tying run on base intentionally, but he's been crushing the ball for over two months now, and he's not really someone you want to mess with in those spots. Instead, the Mets pitched to him, and Stanton got a run home with a ground ball. The Yankees had gotten to within 6-5 and had a runner on third with two outs.
Aaron Hicks got the ol' free pass to put runners on the corner — they threw him two pitches and decided that was it, just walk him — which brought Gary Sanchez to the plate. Sanchez singled the other way earlier in the game and we were all hoping he'd do it again. Robert Gsellman fed him slider after slider after slider and got Sanchez to chase the fifth slider out of the zone in a 2-2 count …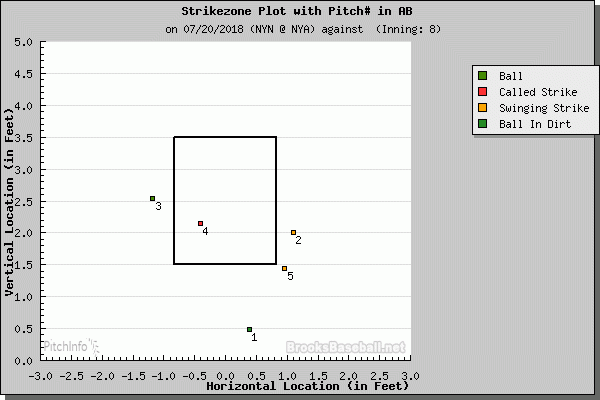 … for the inning-ending strikeout. That was the team's 13th — 13th! — and final at-bat with runners in scoring position. How annoying. The Yankees had 14 hits but only two went for extra bases and three of them didn't even leave the infield. Singles will only take you so far. You need at least three of 'em to score a run. Sock some dingers this weekend, guys. The Yankees usually have a runner in scoring position even with the bases empty.
Bad Bullpen
Bad night for the bullpen overall. Adam Warren was unable to stop the bleeding after German. He did escape the fourth inning, but, in the fifth, he walked the bases loaded — when's the last time he did that? Warren had nine walks all season going into this game — and allowed two singles to allow the Mets to add insurance runs. Down 4-1? That's manageable. Warren let the Mets stretch it to 6-1 though and that's trouble.
Chasen Shreve, Chad Green, and Jonathan Holder kept the Mets at six runs into the ninth, which is when Aaron Boone went to A.J. Cole for some reason. Why not Dellin Betances down a run? He was already warning. Cole allowed a single (to a lefty), Sanchez let the runner advance on a wild pitch that should've been scored a passed ball, then a grounder and an elevated two-strike curve (to a lefty) got the insurance run home with a sacrifice fly. Cole's been pretty great since joining the Yankees. He hasn't been "let's use him in a one-run game" great though.
Leftovers
Everyone in the lineup had a hit. Judge and Didi had three each and Andujar had two. Stanton, Hicks, Walker, and Greg Bird drew the walks. Walker and Gregorius had the doubles. This was the 11th time the Yankees had at least 14 hits in a game this season. They averaged 9.4 runs in the other ten games and had at least six runs in all ten. So many baserunners. The most annoying kind of loss. Poor starting pitching and runners stranded.
Box Score, WPA Graph & Standings
ESPN has the box score and updated standings, and MLB has the video highlights. Here's our Bullpen Workload page and here's the loss probability graph:

Source: FanGraphs
Up Next
The Subway Series continues with the middle game of this three-game series Saturday afternoon. That's a 1:05pm ET start. Sonny Gray and Steven Matz are the scheduled starters for that one.