What, you didn't think the trade deadline would pass without the Yankees being connected to Manny Machado at some point, did you?
The non-waiver trade deadline is exactly three weeks away now, and, according to Ken Rosenthal (subs. req'd), the Yankees are "showing serious interest" in Machado. Jon Heyman and Roch Kubatko add the Yankees have spoken to the Orioles about more than Machado too. They've asked about starters and relievers as well, including Zach Britton.
First things first: I'll believe a big Yankees-Orioles trade will happen when I see it. Orioles owner Peter Angeles hates the Yankees, has for a very long time, and two sides have rarely done business over the years. It is worth noting the 89-year-old Angelos is not very active in the organization any more. His sons Lou and John are expected to make the final call on trades. Who knows what that means.
Anyway, when I first saw the Machado reports last night, I assumed one of three things is happening:
The Yankees have genuine interest in acquiring Machado.
The Orioles are using the Yankees to create a bidding war and drive up the price for other teams.
The Yankees are trying to drive up the price for rivals and other contenders who want Machado.
Machado is a hell of a ballplayer who would instantly make any team better. He's hitting .309/.379/.555 (149 wRC+) with 21 home runs and nearly as many walks (10.5%) as strikeouts (13.1%). A difference-maker through and through. Machado can change the balance of power within a division all by himself. A few thoughts on the Machado rumors.
1. He's a rental and that is a-okay. Machado will be a free agent after the season and the expectation is he will test the market and command a record contract. Trading for him and then signing him to an extension seems incredibly unlikely to me. He stands to make too much money after the season. I think you have to look at Machado as a rental and a rental only. Forget about an extension.
And you know what? That is perfectly fine. Rentals get a bad rap. Baseball is obsessed with years of control and I get it. I totally do. Better to have a good player for many years than half-a-year. The goal right now is winning the 2018 World Series though. That's the goal for the Yankees. Machado would unquestionably and significantly improve their World Series chances. How could you say no to that just because he's a rental?
2. So where's he going to play? This is the big question. Machado insists he wants to play shortstop — "I'm a shortstop. I play shortstop," he said to Marc Carig following last night's game — even though he hasn't been great there this year. The defensive numbers hate him (-18 DRS!) and the eye test isn't kind either. Machado let a few playable balls get by him yesterday. Every time a ball was hit his way, it seemed like he was on the ground.
The Yankees have a defensively superior shortstop in Didi Gregorius and it's hard to think they'd displace Didi for Machado. Gregorius at short and Machado at third is the optimal defensive alignment. Rosenthal hears the Yankees are unlikely to include Miguel Andujar in a Machado trade and would instead stash Andujar in Triple-A the rest of the season, which would stink and be undeserved, but what else could they do?
Back in the day, when the Yankees acquired Alex Rodriguez, they made sure A-Rod was on the board with the move to third base before completing the trade. They didn't make the trade, then surprise him with the position change. I have to think a Machado trade would play out similarly. The Yankees will want to know he's on board with playing third base before making the trade. Machado's insistence on playing short could be a dealbreaker.
3. There's nothing wrong with adding to a strength. Yes, the Yankees absolutely need another starting pitcher. They need two starters, really. That doesn't mean they should forget about Machado though. For starters, the front office can walk and chew gum at the same time. Working through a Machado trade won't prevent them from getting a starting pitcher(s). Rotation help remains the priority.
Secondly, there's nothing wrong with improving a strength. The Yankees already have one of best offenses in baseball and Machado would make it even better. Machado, Aaron Judge, and Giancarlo Stanton would give the Yankees three elite power bats and create that much more breathing room for the pitching staff. Adding Machado wouldn't prevent the Yankees from getting a starter and there would be no diminishing returns offensively. It would make the offense that much more devastating.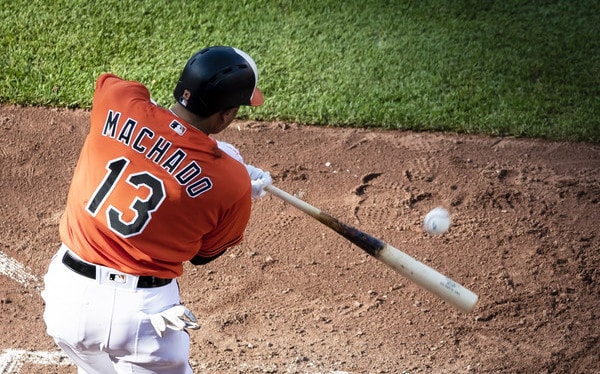 4. Don't forget about the luxury tax! Machado is making $18M this year, you know. Trade for him on the July 31st deadline and his pro-rated luxury tax hit the rest of the season is about $6M. The last time I ran the numbers, the Yankees had about $13M in wiggle room under the $197M threshold. The Yankees appear to have enough room to add Machado, but my numbers are just an estimate, and the Yankees will need payroll space to add a pitcher(s) plus September call-ups and all that.
This could be a situation where the Yankees insist the Orioles take Neil Walker and the remainder of his $4M salary back to offseason money a la Tyler Clippard in the Todd Frazier trade last year, and even then they may need the O's to eat a few bucks to make this work. Point is, the luxury tax is something to keep in mind here. The Yankees worked too hard and too long to get under the luxury tax threshold this season. They're not blowing it up at the deadline. They're going to want to make sure they have enough payroll space to get all the pieces they need.
5. What about those pitchers? I had a feeling a "the Yankees are interested in Machado" rumor was coming at some point. I am weirdly more interested in the Yankees touching base with the Orioles about their pitchers. Britton's a rental and he's going to be traded. There is no such thing as too many good relievers and Britton would effectively replace Chasen Shreve in the bullpen. Works for me.
As for the starters, I have to think the rumor is referring to Kevin Gausman and/or Dylan Bundy. Alex Cobb stinks now and is expensive, so forget him. Andrew Cashner? Meh. Gausman and Bundy are younger, better, cheaper, and under team control longer. They are pretty much exactly what the Yankees are looking for in a starter. Would the Yankees be able to get Gausman (4.11 ERA and 4.37 FIP) or Bundy (4.08 ERA and 4.39 FIP) to perform better? Maybe! The O's aren't exactly known for pitcher development. The pitching aspect of this rumor interests me.
6. So what'll it cost? Let the rosterbating begin. Elite position players are rarely traded as rentals. J.D. Martinez was traded last year, but he missed much of the first half with an injury and is a defensive liability. Machado is a healthy two-way impact player, especially at third base. You know what the most recent comparable trade may be? Carlos Beltran to the Astros. Beltran was a 27-year-old two-way star when he was traded in 2004, and he fetched:
John Buck (preseason No. 67 overall prospect in 2003)
Mark Teahan (preseason No. 85 overall prospect in 2005)
Mike Wood (non-top-100 Triple-A pitching prospect)
That was a 14 years ago. Times have changed. Prospects and young players are valued much more highly these days — more highly than superstars, it seems — and it seems unlikely to me Machado can be had for two back half of a top 100 list prospects and a Triple-A depth arm. Then again, who knows. The Yankees traded Starlin Castro and two low level prospects for the reigning NL MVP a few months ago. Weird stuff happens.
Adding Britton and/or Gausman and/or Bundy to Machado and making this a true blockbuster would further complicate things. Could the Yankees truly get it done while making Andujar unavailable? What about Justus Sheffield? Can they find a way to keep him too? That'd be cool. I am confident the Orioles will trade Machado and Britton before the deadline. Whether they make a good baseball trade is another matter.
* * *
For the record, I am 100% on board with a Machado trade. I don't love post-Achilles injury Britton and need to look deeper at Gausman and Bundy before forming an opinion about them, but Machado? Bring him to me. He's an elite talent and a true difference-maker. If the Yankees can keep Andujar and Sheffield (and Gleyber Torres) out of the trade package, I'm not sure there's a combination of three prospects I'd say no to to get Machado for the stretch run.
We'll see where this goes. I'm skeptical the Orioles will trade their franchise player to the hated Yankees, especially when other motivated contenders like the Dodgers and Cubs and Brewers are said to be in the mix as well. The Yankees have the prospect depth to match any trade offer, but there's enough interest that the O's could deal Machado for a quality package without sending him to a division rival. The Yankees need starting pitching, first and foremost. Machado sure would be rad too.