The trade deadline is exactly one week away and the oh so terrible Orioles have already started their teardown. Manny Machado was traded away last week and it's only a matter of time until other impending free agents like Adam Jones, Brad Brach, and Zach Britton are traded away as well. No sense in keeping any of them. Get as much young talent as possible.
The Yankees, among many other teams, have shown interest in Britton in recent weeks. They don't really need another reliever — the bullpen has been fantastic pretty much all season — but there's always room for another quality arm out there, plus the Chasen Shreve roster spot can always been upgraded. There is never ever ever such a thing as too many good relievers. Does Britton make sense for the Yankees? Let's look.
Injury History
Going to start here quick just to get it out of the way. Britton tore his Achilles during an offseason workout and needed surgery, and he didn't return to the O's until last month. Kind of a fluke injury, but it happened and it cost him quite a bit of time. Furthermore, Britton spent two stints and roughly three months total on the disabled list with a forearm strain last season. Forearm issues are a common precursor to Tommy John surgery, though it should be noted Britton returned last July and his forearm/elbow have been fine since.
Current Performance
Because of the Achilles injury, Britton hasn't pitched a whole lot this season, and, even when he has pitched, he's looked awfully rusty. Britton has a 3.45 ERA (4.43 FIP) with 20.6% strikeouts, 15.9% walks, and 61.1% grounders in 15.2 innings so far this season, though it should be noted he's thrown eight scoreless innings with a 72.2% ground ball rate in his last eight appearances. He's looking better and better the further he gets from the Achilles injury.
Last season, around the forearm trouble, Britton was merely very good rather than great. He threw 37.1 innings with a 2.89 ERA (3.40 FIP) with subpar strikeout (18.0%) and walk (11.2%) rates, but a great ground ball rate (72.6%). Back in 2016, the year he finished fourth in the Cy Young voting, Britton posted a 0.54 ERA (1.94 FIP) with excellent strikeout (29.1%) and ground ball (80.0%) rates. He was untouchable back then.
I'm not quite sure what a realistic expectation is for Britton going forward. You hope and pray you get the 2016 version, feel pretty good if you get the 2017 version, and hope you don't have to settle for the 2018 version. Britton is throwing better lately, which is good. This year's Achilles injury and last year's forearm trouble have made him difficult to evaluate. Can he ever be close to 2014-16 Britton again?
Current Stuff
Once he moved to the bullpen full-time a few years ago Britton simplified his repertoire and became a sinker/curveball pitcher. During his peak his sinker would sit 96-97 mph and touch 99 mph. It was a hellacious pitch. Britton doesn't have quite that much velocity now, though he has been adding some velocity this year as he gets further from the Achilles injury: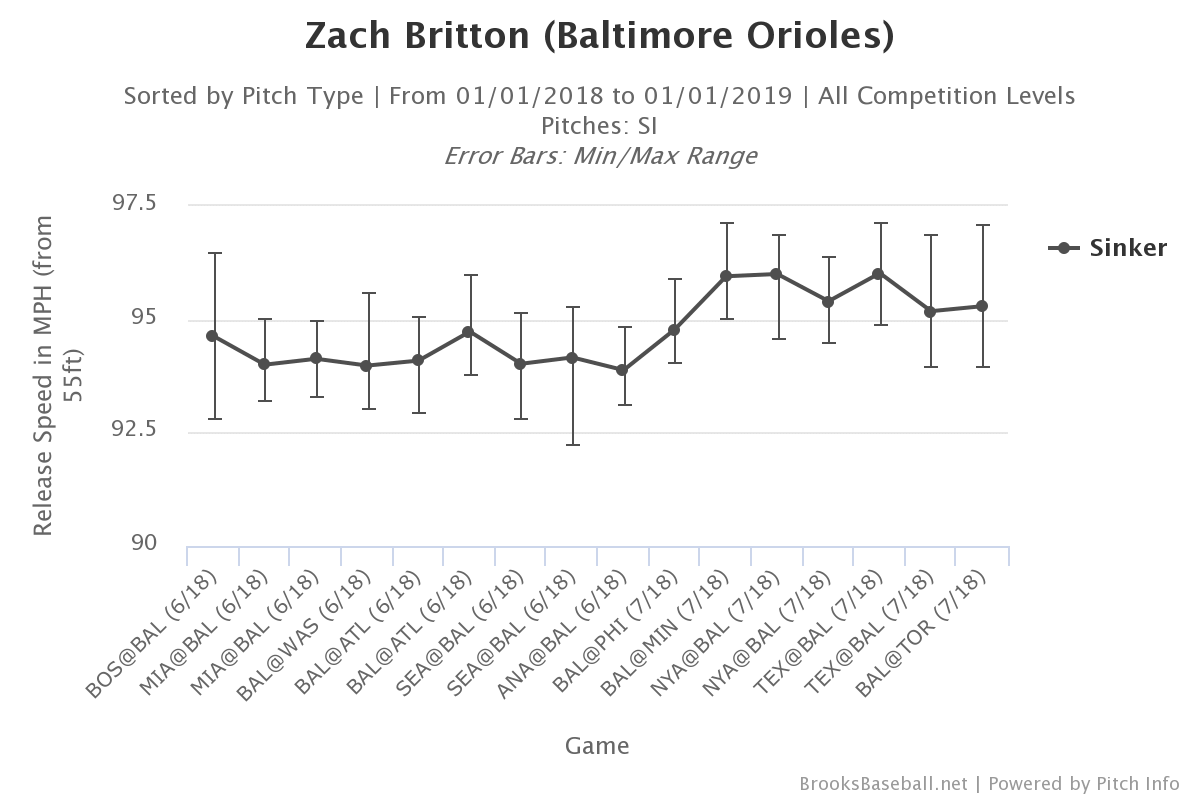 There's also a bit more sink on the pitch now that there was when he first returned from the disabled list. I haven't watched every one of his outings this season, but, from what I can gather, Britton is a guy who is still building some arm strength and shaking off rust following the long layoff. The sinker lacked it's usual oomph and drop when he first returned. Now it's coming back.
As for the curveball, it has always been more of a change-of-pace pitch than a put-away pitch for Britton. Even at his peak he only threw it about 10% of the time. Everything about the pitch (velocity, movement, etc.) is basically the same this year as previous years. Britton is a sinker specialist, and that sinker is starting to look like it did before the injuries, which is a good thing.
Contract Status
Like I said, Britton is a rental. He's making a hefty $12M this season, and if the Yankees were to acquire him on trade deadline day, they would be charged with a pro-rated $4M luxury tax hit, which they can afford. (The trade deadline is, conveniently, exactly two-thirds of the way through the season this year.) Once he's traded, Britton will be ineligible to receive the qualifying offer after the season, so no draft pick compensation.
What Will It Take?
This section is usually a pain in the behind, but rental relievers are traded every year, even great ones like Britton, so we have plenty of benchmarks. Granted, his injuries and general lack of work the last two seasons throws a wrench into things, but we can get a general idea what it'll take to nab Britton. Some recent rental reliever trades:
Headliner
Rest of Trade Package
Jeurys Familia
(NYM to OAK)
$1M in IFA money
Fringe top 30 prospects (Bobby Wahl, Will Toffey)
Brandon Kintzler
(MIN to WAS)
Top 20 org. prospect (Tyler Watson)
$500k in IFA money
Tony Watson
(PIT to LAD)
Top 30 org. prospect (Oneil Cruz)
Fringe top 30 prospect (Angel German)
Pat Neshek
(PHI to COL)
Top 30 org. prospect (J.D. Hammer)
Fringe top 30 prospects (Jose Gomez, Alejandro Requena)
Addison Reed
(NYM to BOS)
Top 20 org. prospect (Jaime Callahan)
Top 30 org. prospects (Gerson Bautista, Stephen Nogosek)
Mark Melancon
(PIT to WAS)
MLB reliever (Felipe Vazquez)
Top 10 org. prospect (Taylor Hearn)
I intentionally excluded the Aroldis Chapman trade because that was, very clearly, a special case. If the Orioles can get a Chapman-caliber package for Britton before the deadline, great, more power to them. The Yankees won't be the ones to give it to them. At least I don't think they will.
The Mets essentially salary dumped Familia, so I'm not sure that trade works as a benchmark for Britton. Kintzler had a limited track record, and Watson and Neshek had barely closed, which is somehow still a thing that matters. Reed and Melancon are the two best comparable trades here. If the Orioles would take three top 20-30 organizational prospects for Britton a la Reed, sign me the hell up. Pick any three and let's do this, O's.
The Melancon trade seems more appropriate because, like Britton, he was a multi-time All-Star closer who was in high demand. Felipe Vazquez was not yet FELIPE VAZQUEZ, but he was a lefty who threw 100 mph, and those dudes always have value. Hearn was a pretty good prospect too. Based on the Melancon trade, the Orioles wouldn't be crazy to ask for an MLB roster player in return, plus more.
Keep in mind all the heavy hitters are after Britton. The Yankees, the Astros, the Red Sox, the Dodgers, the Phillies. The team that gets Britton will likely be the team that caves and gives up that extra prospect. Ultimately, Britton's trade value is driven by supply and demand, not what similar relievers fetched in trades. Reed and Melancon are potential benchmarks. It wouldn't surprise me at all if Britton returns a larger package.
Does He Make Sense For The Yankees?
Oh sure. Shreve bailed Chapman out the other day and that was awesome. But it doesn't mean the Yankees shouldn't replace Shreve with someone better if given the opportunity. Two things to keep in mind here. One, Chapman is pitching through a knee issue that isn't going anyway anytime soon. If the knee goes at some point, having a Proven Closer™ like Britton ready to step in would be pretty cool. Remember when Rafael Soriano stepped in for Mariano Rivera in 2012? Kinda like that, except we already know Chapman's nursing a knee problem.
And two, the Yankees don't get many innings from their starters other than Luis Severino, and even Severino will need his workload monitored down the stretch. That means more reliever innings to go around, and adding Britton means more of those reliever innings go to a top notch reliever. Look at it this way: Shreve's roster spot is going to have to throw some high-leverage innings along the way no matter what. Wouldn't you rather have Britton there than Shreve? Exactly.
The Yankees are in good shape because they don't absolutely need bullpen help. Other teams like the Astros, Dodgers, and Red Sox are more desperate for a late-inning arm. Britton would be a luxury for the Yankees, truly. It is possible, if not likely, other teams will show more urgency and be more aggressive in their pursuit of Britton, which could push the Yankees out of the picture. I'm totally on board with adding another reliever and Britton would be ideal. Should the Yankees go all in for a bidding war? I think that's up for debate.