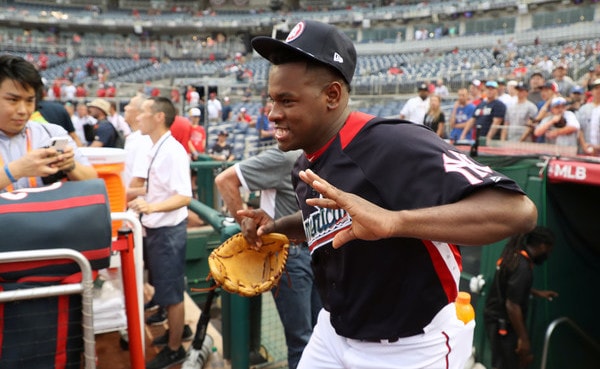 Later tonight Luis Severino will take part in his second All-Star Game, and he's actually going to pitch this year. American League manager A.J. Hinch announced yesterday Severino will be the first guy out of the bullpen behind starter Chris Sale. Severino made the All-Star team last year but did not pitch. This year he's going to get in the game, so that's cool.
For practical purposes, the All-Star Game will act as a throw day for Severino. He started last Thursday, so he will be on regular rest for tonight's appearance. His first start after the All-Star break will be Monday, so he'll have an extra day of rest between the All-Star Game appearance and that first start of the second half. That is all by design too. The Yankees are giving Severino this long midseason break intentionally.
"With him having pitched Thursday, it's an opportunity to give him a pretty good blow," said Aaron Boone over the weekend. "No red flags and nothing I am concerned about, but no doubt he will benefit from having what almost is having a skipped turn in the rotation … I think that break at this point in the season, as much as we leaned on him, hopefully it will be something real beneficial for him. Hope the extended break will allow him to be a little fresher."
Already this season Severino has thrown 128.1 innings through 95 team games, which puts him on track for 219 innings through 162 games. Last year he threw 209.1 total innings, postseason included. He's on pace for more than that in the regular season alone this year. Obviously that will not happen though. The Yankees will ease up on him as much as possible in the second half. For two reasons:
They want him fresh and well-rested for a potential postseason run.
They don't want to put him at risk of injury, either short or long-term.
Remember, Severino's last two starts before the All-Star break were not good. They weren't disasters, but they weren't good. Severino allowed seven runs and 17 baserunners in ten innings, including four homers. His velocity was down just a tick and, more than anything, his location stunk. He looked like a pitcher who needed an All-Star break, basically. Pitchers are known to hit walls at midseason. It's not unusual.
The need to control Severino's workload — and again, this is for both the short-term and long-term benefit of both Severino and the Yankees — makes it that much more important for the Yankees to add another starter at the trade deadline, because someone has to soak up those innings. Limiting Severino's workload will be much easier in September, once rosters expand. There's still more than six weeks to go until September 1st, however.
Given his last two starts, it seems Severino needs the All-Star break just to recharge his batteries a bit. Throwing an inning or two in the All-Star Game tonight won't be the end of the world, and in fact it'll be a good thing because it will act as a throw day, and help keep him sharp during this long break between starts for the Yankees. Plus it's a reward. Severino has had a great season and pitching in the All-Star Game is an honor.
"Chris Sale deserves the honor. He's one of the great pitchers in baseball right now, so he could start this year, next year, and all the years," Severino said yesterday. "I'm just looking forward to pitching. I'm really excited. I spent some time in the bullpen in 2016, so I'll just go back in time."
The All-Star Game is a great and well-deserved honor for Severino, and I'm happy for him. Do I wish he'd skip the game and take the extra rest and not risk injury in an exhibition game? Of course, but I'm sure it'll be fine. The Yankees, meanwhile, are using the All-Star break to give their ace extra rest, because they're going to need him more in the second half than they did the first. That 219-inning pace probably isn't something that can continue.