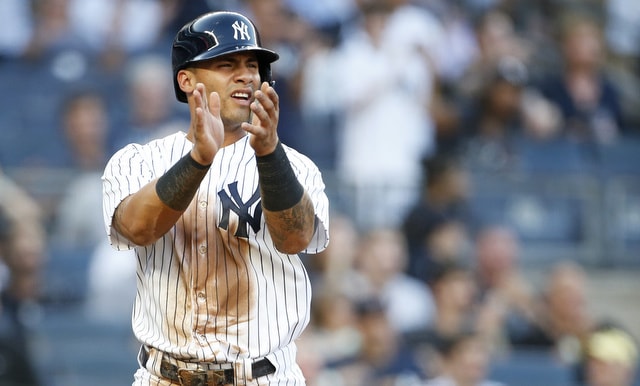 The good news is the Yankees won yesterday and clinched their third consecutive series victory. The bad news is they lost Gleyber Torres to a right hip strain. He's on the 10-day DL. The Yankees did not give a timetable for his return but they say the injury is mild, whatever that means. The All-Star break is eleven days away. Hopefully Torres can return shortly thereafter. Anyway, I have some thoughts on the state of the Yankees, so let's get to 'em.
1. Losing Torres positively stinks and is a considerable loss — the kid is hitting .295/.350/.555 (144 wRC+) with 15 homers in 63 games, after all — though it doesn't sound like it's a significant injury, and I'm glad the Yankees aren't screwing around and playing shorthanded. Remember when Brett Gardner's knee was barking and they sat him out five straight games rather than put him on the 10-day DL? I hate that. Put him on the disabled list, make sure he gets the proper treatment and as much time as necessary to recover, and don't play shorthanded in the meantime. I'd rather the Yankees play a few games without Gleyber now than rush things and potentially have to play many games without him later. Torres is, truly, a franchise cornerstone type of player. Don't screw around with him. Get him on the disabled list and get him healthy, however long it takes. I'm glad the Yankees are doing that.
2. Aaron Boone said yesterday that Neil Walker and his .188/.268/.259 (46 wRC+) batting line will get the majority of the playing time at second base while Torres is sidelined. That makes sense. He's a career second baseman and Boone has been looking for ways to get Walker into the lineup to hopefully get his bat going. The Gleyber injury gives Walker a chance to play regularly at a familiar position and potentially get on track. This might be Walker's last chance to show the Yankees he's worth keeping around. Realistically, given the free agent market these days, it might be his last chance to show teams he's still a viable big leaguer. That must be scary. Hopefully Walker steps into the lineup and contributes. He had a nice little run in May where he seemed to be in the middle of every big rally, so he hasn't been a total zero this year. There's still a talented player in there somewhere. And, if Walker does not produce while Torres is out, it's probably time for the Yankees to move on and fill his roster spot with someone else. At some point he has to show he can produce in his current role and he's yet to do it. This might be his final chance.
3. Now, that said, I would rather see Brandon Drury at second base while Torres is out. Walker is what he is. A veteran role player on a one-year contract who has no real future with the Yankees. Drury is still a young player — he's four months younger than Aaron Judge! — who has a much better chance than Walker to contribute to the Yankees long-term, either as a roster player or trade chip. (Walker has no trade value. Stop sending me mailbag questions asking what the Yankees can get for him.) Drury has not played any second base this season, not even in the minors or Spring Training, but he was a most of the time second baseman with the Diamondbacks last year. He has over 1,000 innings of big league experience at the position, with most of it coming last season. Drury is familiar with second base and hopefully that means it wouldn't take him long to get comfortable there. I know he's only 1-for-9 since being recalled but who cares about that? It's nine at-bats spread across six games. Drury hit .314/.419/.488 (158 wRC+) in 48 Triple-A games this year and .267/.317/.447 (92 wRC+) in 135 big league games last year, and apparently now his migraines and blurry vision are no longer an issue. Boone said Walker is going to play second base while Torres is out. I'd rather it be Drury, personally.
4. As for who replaces Torres on the roster, I have to think it'll be Tyler Wade. The Yankees need another shortstop on the roster — neither Walker nor Drury (nor Miguel Andujar) can play shortstop, so Gleyber was backing up Didi Gregorius — and Wade is the only available shortstop capable infielder on the 40-man roster. Ronald Torreyes has been on the minor league temporary inactive list since June 26th because he's home with his wife who has a medical issue, and yesterday Triple-A Scranton manager Bobby Mitchell told DJ Eberle that he has no update on Torreyes. Toe is dealing with something more important than baseball right now. Either the Yankees will call up Wade to replace Gleyber and serve as the backup infielder, or they're going to call up a non-40-man roster guy like Rey Navarro, L.J. Mazzilli, or Abi Avelino. I'd bet against the latter, even if transferring Jordan Montgomery to the 60-day DL opens up a 40-man spot easily. Wade's the easy move here and MLB teams tend to go with the path of least resistance in these situations. I'd bet on Wade getting called up. Will he actually play? Who knows. I'd rather see him at second base than Walker (or Drury, for that matter).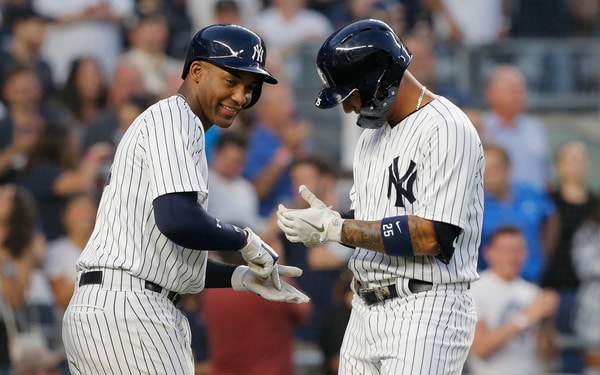 5. Unless it's a prolonged absence — and hopefully it's not — I don't think the injury will hurt Gleyber's Rookie of the Year chances much, if at all. He'll still be able to play 120 or so big league games this year and that's plenty. Carlos Correa won Rookie of the Year with only 99 games played four years ago. Shohei Ohtani returned from the disabled list earlier this week but will be limited to hitting only for the foreseeable future. Doctors have not yet cleared him to resume pitching and he might not be cleared to pitch until the offseason. That'll hurt his Rookie of the Year chances. Andujar owns a .282/.312/.511 (121 wRC+) batting line and he leads all rookies in extra-base hits (by ten!), so he's certainly in that Rookie of the Year race. As long as Torres comes back soon, as in right after the All-Star break, I'd still consider him the Rookie of the Year favorite. If he misses more time than that, it does open the door for Andujar (or Ohtani) to sneak in and steal the award.
6. What the injury almost certainly does, however, is rule Torres out for the All-Star Game. He could still be selected for the All-Star team, sure, but it's hard to see him playing. His 10-day DL stint expires the day before the All-Star break. Would the Yankees really activate him for that one game? I mean, yeah, it's possible. It just seems likely to me they'll play it safe and keep Torres on the disabled list though the end of the All-Star break, and in that case, he ain't playing in the All-Star Game. Starlin Castro went to the All-Star Game last year when he on the disabled list and he still participated in all the fan and media events, and Gleyber can still do that, assuming he is selected to the All-Star team, which was not a given even before the injury. Those fan and media events will likely be the extent of his first All-Star experience, which is a bummer, but what can you do? Something tells me Torres will get plenty of chances to play in All-Star Games in his career.
7. I said this after Gary Sanchez got hurt and I'm going to say it again: It would be really nice if Greg Bird started hitting. He did drive in the game's first run with a single yesterday, and he had the two homer game against the Red Sox over the weekend, so maybe those are signs he's coming around? I sure hope so. Bird is hitting .200/.306/.419 (97 wRC+) since returning from the disabled list, and that's not good at all by first base standards. He has 121 plate appearances too. You'd think he'd have knocked off the rust by now. Either way, the Yankees are short two potent bats in Sanchez and Torres, and first base is an obvious position they can look at and say "we need more." Bird is the starter at first base now. He's playing against righties and lefties. I've said this a few times already, but if Bird still isn't hitting when the July 31st non-waiver trade deadline rolls around, it'll be time for the Yankees to go get another first baseman. I'm not saying they have to move on from Bird forever. Just the rest of the season. The AL East race is way too tight to get this little production from first base, where the offensive bar is quite high. Please start hitting, Greg.
8. Yesterday the Cubs designated veteran journeyman catcher Chris Gimenez for assignment and I wonder whether the Yankees will pursue him since Sanchez is on the disabled list and Austin Romine has been dealing with a hamstring injury. Gimenez won't cost anything — the Yankees can probably get him in a cash trade or even a straight waiver claim — and he'd add depth at a position of need. Send Kyle Higashioka to Triple-A and roll with Romine and Gimenez behind the plate until Sanchez returns? I'd be cool with it, even if Higashioka doesn't really deserve to be demoted after hitting three homers on the homestand. Catching depth is important. Get it while you can. Gimenez went 4-for-28 (.143) during his limited time with the Cubbies this year and that stinks, but the guy did hit .220/.350/.382 (100 wRC+) in 225 plate appearances with the Twins last season, and he's renowned for being a quality defender. I'd take that OBP from my backup catcher any day of the week. Point is, the Yankees are a little short on catching at the moment — the current Triple-A catcher tandem is organizational depth player Francisco Diaz and independent ball signing Wilkin Castillo, so yeah — and Gimenez is an experienced big league backup who is freely available. "It's a very thin area … I doubt there's a scenario we'll be able to improve upon the depth, because there's not a lot of great catching around the game," said Brian Cashman the other day when asked about trading for a catcher in the wake of Sanchez's injury. Gimenez isn't great, but he's about as good a catching option as you'll find on the scrap heap. Send the Cubs some cash, claim him, whatever. The Yankees need the catching depth.