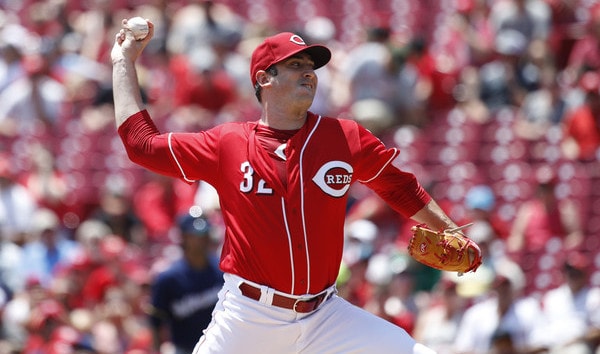 Later today the Yankees and Blue Jays will continue their three-game weekend series with the middle game. That's a 4:07pm ET start. Here are some trade deadline notes to check out in the meantime.
Harvey "not high" on Yankees' list
The kinda maybe possibly good again Matt Harvey is "not high" on the Yankees' list of trade targets, reports Jon Heyman. Heyman says that, among other things, the Yankees are worried about a "potential circus" that would follow Harvey's return to New York. Yeah, it sure would create a media frenzy. That's for sure. I'm sure the Yankees would happily live with the headache if Harvey were still a no-doubt ace, but that is no longer the case.
Harvey owns a 4.91 ERA (4.67 FIP) in 80.2 total innings this season, though he's been better since being traded to the Reds, pitching to a 3.86 ERA (4.20 FIP) in 53.2 innings. He's been especially good the last three times out, allowing only three runs with a 14/2 K/BB in 18.1 innings against contending teams (Cubs, Braves, Brewers). Jay Jaffe had a good breakdown of Harvey's revival. Strip away the name and I don't think the current version of Harvey generates much buzz as a trade candidate. Meh.
Yankees are "main player" for Happ
According to Heyman, the Yankees are a "main player" for J.A. Happ and he's either at or near the top of their deadline shopping list. The Brewers and Mariners are said to have interest as well, and I'm sure other teams will enter the mix before the trade deadline. The Yankees will get (another) firsthand look at Happ later this afternoon, when he takes the mound at Rogers Centre in the middle game of this three-game series.
The 35-year-old Happ is sitting on a 4.03 ERA (3.64 FIP) after getting clobbered for seven runs in 5.2 innings against the Tigers last time out. Prior to that he had a more palatable 3.62 ERA (3.58 FIP) in 97 innings. I think Happ is the best available rental in a pretty crummy market. A quality southpaw who is familiar with the AL East would be a welcome addition to the rotation. The trade that sent Scott Kazmir from the Athletics to the Astros in 2015 seems like a decent trade benchmark. The A's landed two top 20 organizational prospects (Daniel Mengden and Jacob Nottingham) in that deal.
Yankees don't have much interest in Ross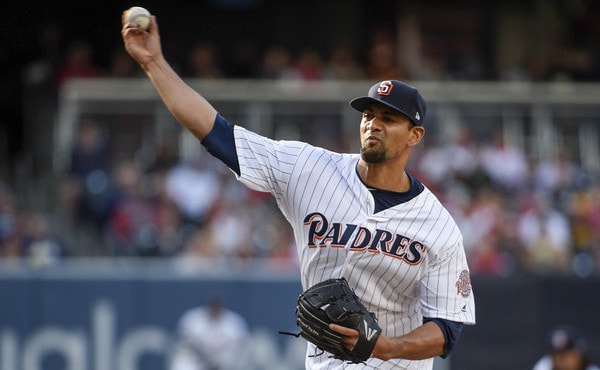 The Yankees do not have as much interest in Tyson Ross as they do other trade targets like Happ and Michael Fulmer, reports Lindsey Alder (subs. req'd). The 31-year-old Ross is on a dirt cheap one-year contract with the last place Padres and chances are he'll be traded before the deadline. San Diego would be silly to keep him when they could turn him into a prospect or two. Rebuilding teams sign reclamation projects like Ross specifically so they can flip them for prospects.
So far this season Ross has a 3.78 ERA (4.31 FIP) in exactly 100 innings, though, like Happ, his last start was disaster (seven runs in five innings). Prior to that Ross had a 3.32 ERA (3.87 FIP) in 95 innings. His strikeout (21.4%) and ground ball (43.8%) rates aren't nearly as good as they were before his 2016-17 arm problems. I see Ross as more of a secondary target a la Jaime Garcia last year. Someone to add for depth. Not someone you're counting on to really make a difference, you know?
Reds, Tigers, Royals all scouting Yankees
The Reds, Tigers, and Royals have all been scouting the Yankees in recent weeks, according to George King. The Royals had a scout on hand Sunday, Monday, and Tuesday at Yankee Stadium while Reds had someone in the Bronx on Monday and Tuesday. Kansas City has also been scouting Double-A Trenton. The Tigers, meanwhile, have been covering the farm system thoroughly. Undoubtedly other teams are scouting the system as well.
I think it's safe to assume the Tigers are doing their due diligence in advance of a potential Fulmer trade. The Reds have Harvey and Raisel Iglesias — would they move Luis Castillo? — while the Royals have Danny Duffy and Mike Moustakas, who I supposed could play first base. It might seem like a stretch that the Yankees would trade an MLB roster player(s) for any of those guys, but Jonathan Loaisiga started Monday and Domingo German started Tuesday. I don't think the Yankees would make either off-limits. I'm not saying they should trade them. But they would in the right deal, for sure.