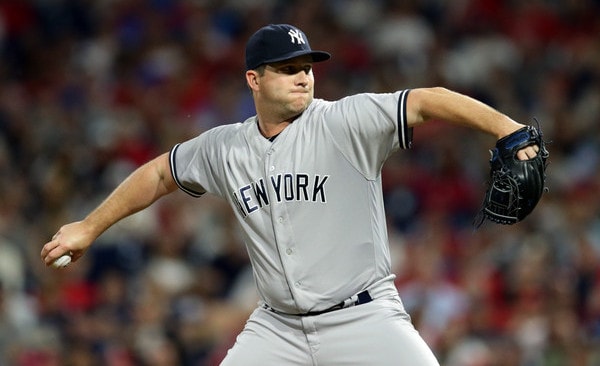 Rather than continue to add, the Yankees subtracted from their roster the day before the 2018 trade deadline. Adam Warren has been traded to the Mariners for international bonus money, both teams announced. Mark Feinsand says the Yankees are getting $1.25M. The trade is official.
It is entirely possible, if not likely, there are still other dominoes still to fall here. At the moment, the Yankees essentially salary dumped a reliable and versatile reliever in the middle of a postseason race. Salary dumped him to not just a fellow AL contender, but a team they could very well face in the AL Wild Card Game if they don't win the AL East. Huh.
Warren, 30, has a 2.70 ERA (3.30 FIP) with 28.9% strikeouts and 9.4% walks in 30 innings around a lat injury this season. Typical Warren, basically. Boring, reliable. He was probably the seventh best reliever in the bullpen, but he might be Seattle's third best. The Yankees save about $1.1M against the luxury tax in the trade.
Between the recent Warren ($1.25M), Caleb Frare ($1.25M), and Luke Voit ($1M) trades, the Yankees have maxed out their 2018-19 international bonus pool at $8,721,125. They started with $4,983,500 bonus pool and teams are allowed to add an additional 75% through trades. The Yankees have done that. Their pool is maxed out.
Most of the top international prospects have already signed, though top Cuban outfield prospect Victor Victor Mesa remains available. He has not yet been cleared to sign, but, if the Yankees are going to make a run at him, they're in position to do so. They've added as much bonus money as possible. Here are the team's other international signings.