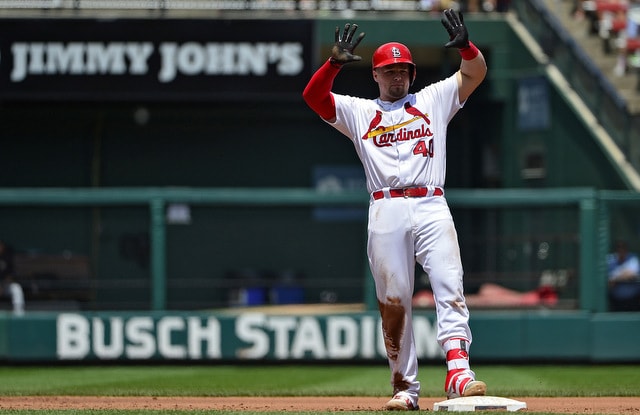 Following tonight's win the Yankees announced they have traded lefty Chasen Shreve and righty Gio Gallegos to the Cardinals for first baseman Luke Voit and an undisclosed sum of international bonus money. The move clears a 25-man roster spot for J.A. Happ, who was acquired Thursday.
The Yankees had been carrying four starters and a nine-man bullpen these last few days and they had to unload someone to make room on the roster for Happ, and Shreve is the odd man out. Realistically, it was either Shreve or A.J. Cole, and Cole's pitched quite well with the Yankees, so he stays.
Shreve, 28, had been on the 40-man roster bubble for what felt like three years before being traded away. He's spent the bulk of the last four years in the big league bullpen after coming over from the Braves in a trade for Manny Banuelos. This season Shreve has a 4.26 ERA (4.98 FIP) with 46 strikeouts in 38 innings. He was rather emotional following the trade:
The 26-year-old Gallegos has been the quintessential up-and-down reliever the last two years, throwing 30.1 innings with 32 strikeouts and a 4.79 ERA (3.98 FIP) for the Yankees. Over the last two seasons he has a 2.79 ERA (1.99 FIP) with a 38.7% strikeout rate in 71 Triple-A innings. With Gallegos traded, I imagine Tommy Kahnle will take over as the primary up-and-down reliever.
Voit, 27, is essentially Garrett Cooper with more power. He's a career .240/.307/.432 (95 wRC+) hitter with five home runs in 137 big league plate appearances scattered across the last two seasons. Down in Triple-A, Voit is hitting .299/.391/.500 (133 wRC+) with nine homers in 271 plate appearances this year. He's a right-handed hitting first base only guy.
The Yankees already have Tyler Austin and Ryan McBroom, two other right-handed hitting first basemen, down in the minors. Voit is a better hitter than McBroom — he has more power, if nothing else — and, unlike Austin, he has minor league options remaining for 2019 and 2020. This is Austin's final option year. For all intents and purposes, Voit is the new up-and-down first baseman.
To me, the trade was more about the international bonus money and getting something for Shreve rather than nothing. Had the Yankees designated him for assignment to clear a spot for Happ, he'd be lost on waivers. No doubt. Trading Gallegos clears a 40-man roster spot for … whoever needs one next. The Yankees have really cleaned up the fringes of the 40-man roster with their recent deals.
Update: Jesse Sanchez says the Yankees received $1M in international bonus money in the trade.