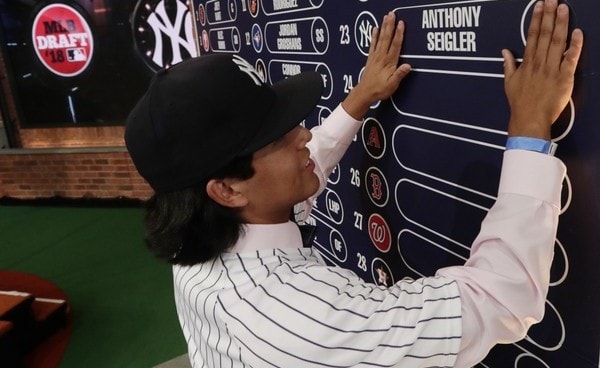 A lot has changed the last two months. First of all, the 2018 amateur draft went down in early-June, injecting every farm system with more talent. The Yankees made 40 picks in this year's draft and signed 34 of them, including every pick in rounds 1-30. That's an awful lot of draft signings. Teams will usually sign 25-30 guys in a given year. This year the Yankees brought in 34.
Secondly, the Yankees were very active at the trade deadline. Possibly the most active team. They made six trades in the week leading up to the trade deadline, and the end result was eleven players going out and four players (plus $3.75M in international bonus money) coming in. Add in some graduations (Gleyber Torres and Domingo German, most notably) and the farm system looks quite a bit different now than it did two months ago.
So, now that the draft and trade deadline have passed and the dust has settled, it's time to update my top 30 Yankees prospects list. Again, this is my list. Not yours, not Baseball America's, not anyone else's. If you disagree, cool. There's no right answer when it comes to ranking prospects. Because I know the "where would this guy have ranked?" questions are coming, I've included where I would've ranked the guys who were traded away. Here's the updated top 30. Enjoy.
The Top Prospect
1. LHP Justus Sheffield, Triple-A (Pre-Draft: No. 2)
Torres has graduated to the big leagues — he was 17 at-bats short of the rookie limit when I compiled the pre-draft list — so Sheffield takes over as the No. 1 prospect in the organization, pretty clearly so in my opinion. There wasn't much to think about here. Sheffield is a near big league ready southpaw with mid-90s gas, a wipeout slider, and a quality changeup he should probably use more often. We'll see him in the Bronx before the end of the season. I'm pretty sure of it.
The Next Four
2. OF Estevan Florial, High-A (Pre-Draft: No. 3)
3. C Anthony Seigler, Rookie (Pre-Draft: N/A)
4. RHP Jonathan Loaisiga, Triple-A (Pre-Draft: No. 5)
5. RHP Albert Abreu, High-A (Pre-Draft: No. 4)
Seigler, this year's first round pick, is the only new addition to my top five prospects. A switch-hitting (and switch-throwing!) catcher with offensive upside and quality defensive tools is my kinda prospect. Seigler has also drawn praise for his grinder mentality and leadership. A minor hamstring issue has slowed him some the last few weeks, but Seigler went into last night's game hitting .342/.457/.474 (164 wRC+) with more walks (eight) than strikeouts (seven) through 13 pro games. The early returns are very promising. Good chance Seigler is the next No. 1 prospect once Sheffield is no longer prospect eligible.
Florial (wrist), Loaisiga (shoulder), and Abreu (appendix, elbow) have all missed several weeks with injuries this year. Florial has since returned and is playing well, which is good. The wrist surgery was more of a bump in the road than a derailment. Loaisiga's stock increased tremendously before his injury, so much so that he made four big league starts and held his own (3.00 ERA and 2.89 FIP in 18 innings). Just wish he could've stayed on the field and thrown a full season for the first time in his career. Abreu recently returned to the mound and has gotten shelled in two rehab starts. As long as he's healthy and actually pitching, I'm willing to overlook the short-term results.
Two New Faces, Two Old Faces
6. OF Everson Pereira, Rookie (Pre-Draft: Not Ranked)
7. RHP Roansy Contreras, Low-A (Pre-Draft: No. 21)
RHP Dillon Tate (Pre-Draft: No. 7)
8. RHP Chance Adams, Triple-A (Pre-Draft: No. 6)
9. RHP Luis Medina, Rookie (Pre-Draft: No. 8)
Pereira and Contreras are the big climbers on the list. I didn't include Pereira in my pre-draft top 30 because he had yet to play a professional game, and my preference is to wait until guys show up and actually start playing games before ranking them. He's since made his debut, the performance is good, and the reports are glowing. Is ranking him No. 6 aggressive? Yeah, but that's okay. Tooled up center fielders who keep getting better deserve an aggressive ranking.
As for Contreras, he's added basically two full grades of velocity within the last two years, going from 88-91 mph when he signed in 2016 to 94-96 mph now, with some 97s. Great curveball, good changeup, excellent pitchability, great mound presence. He's only 18 and there's a lot that can go wrong before he reaches the show, yeah, but I'm very excited. Contreras has a chance to be special. So does Medina, who is more of a long-term project because he has basically zero command. Think 19-year-old Dellin Betances. Adams? What a rough year. Hard to believe that, after his breakout 2016 season, we're now in August 2018 and he still hasn't made his MLB debut.
Breakout Arms (Mostly)
10. RHP Matt Sauer, Short Season (Pre-Draft: No. 12)
11. RHP Clarke Schmidt, Short Season (Pre-Draft: No. 14)
12. UTIL Tyler Wade, MLB (Pre-Draft: No. 9)
13. RHP Domingo Acevedo, Double-A (Pre-Draft: No. 13)
14. RHP Trevor Stephan Double-A (Pre-Draft: No. 15)
15. RHP Deivi Garcia, Low-A (Pre-Draft: No. 26)
The Yankees have really cleaned up Sauer's mechanics and he's throwing way more strikes now than I expected. I thought it would be a long-term process to get him to find the plate consistently. Glad that happened quickly. Schmidt has completed his Tommy John surgery rehab and, so far, everything looks quite good. The early returns are encouraging. The rest of this season will be about shaking off the rust and getting comfortable. Next year will be Schmidt's breakout party.
Wade and Acevedo are starting to slide down the rankings for different reasons. Wade is still a few at-bats short of the rookie limit and he's been unable to carve out any sort of big league role in numerous opportunities. Part of it is not playing much, but that doesn't absolve him of blame. Player better and you'll be in the lineup. Still, a lefty hitter with speed, a history of getting on base, and splendid defense has value. Acevedo has again dealt with injuries this year, his breaking ball isn't really progressing, and his strikeout rate is down to 20.2% after 26.6% from 2016-17.
Stephen hit a bit of a wall at midseason but he has predictably carved up low level minor leagues with his fastball/slider combination. I think he could pitch in the big leagues within 12 months. Garcia is one of the top breakout players in the farm system. The big question coming into the season was will he throw strikes? And here he is with a 6.9% walk rate in 45.1 innings. Great fastball plus elite curveball plus improved control equals a 37.1% strikeout rate. The only thing holding the kid back is his size (5-foot-10 and 163 lbs.).
The Injured Prospects
16. SS Thairo Estrada, Triple-A (Pre-Draft: No. 10)
17. RHP Freicer Perez, High-A (Pre-Draft: No. 11)
A lost season for both. Estrada's season started late because he got shot during a robbery in January, and, once he returned to the field, wrist and back trouble limited him to 18 games. The back injury ended his season on May 7th. I get the sense he's a candidate to be non-tendered and re-signed to a minor league contract after the season. Perez made six awful starts before needing season-ending surgery to remove bone spurs from his shoulder. I suppose the good news is his labrum and rotator cuff were in good shape. Still sucks.
One Standout Tool
18. C Josh Breaux, Short Season (Pre-Draft: N/A)
19. RHP Nick Green, High-A (Pre-Draft: Not Ranked)
20. SS Kyle Holder, Double-A (Pre-Draft: No. 17)
21. 1B Dermis Garcia, Low-A (Pre-Draft: No. 18)
Everyone in this tier has a top notch carry tool. It's just unclear whether the rest of their game will be good enough to make it work long-term. Breaux and especially Garcia have big power — Breaux's a sneaky good defender behind the plate, though he still has a lot of work to do — while Holder could play Gold Glove caliber defense in the big leagues today. Will he hit enough? Will Breaux or Garcia make enough contact? Who knows. The Yankees are converting Dermis into a two-way player, you know. He's expected to pitch in a game sometime this month.
I finally caved and included Green in the top 30 after basically two years of being on the fence. His little sinker/cutter hybrid has produced the best ground ball rate in the minors (65.9%) by more than three percentage points. That's the kind of dominant pitch that can get a guy to the big leagues. I'm not sure if the secondaries will be up to par, though maybe Green can settle in as a sinker heavy reliever like Blake Treinen or Jeremy Jeffress? I'd take it in a heartbeat.
The Final Nine
22. RHP Garrett Whitlock, High-A Tampa (Pre-Draft: No. 19)
OF Billy McKinney, Triple-A (Pre-Draft: No. 22)
23. SS Hoy Jun Park, High-A (Pre-Draft: No. 20)
24. OF Pablo Olivares, Low-A (Pre-Draft: No. 23)
25. RHP Luis Gil, Rookie (Pre-Draft: Not Ranked)
26. OF Isiah Gilliam, High-A (Pre-Draft: No. 24)
27. RHP Nick Nelson, High-A (Pre-Draft: No. 28)
28. SS Diego Castillo, Low-A (Pre-Draft: No. 25)
29. RHP Rony Garcia, High-A (Pre-Draft: Not Ranked)
30. SS Oswaldo Cabrera, Low-A (Pre-Draft: No. 27)
Olivares is one of my favorite prospects in the system. He's one of those "does everything well but nothing great" players and the whole is greater than the sum of the parts. Olivares has been on the disabled list for another a month now with a mystery injury, which stinks. Cabrera is a similar prospect, though I'm less sold on him hitting long-term. Park is basically the opposite. Great tools on the both sides of the ball but he leaves you wanting more.
Gil is a new addition to the list and he's better than I realized. The Yankees got him from the Twins for Jake Cave back in Spring Training, and the just turned 20-year-old is reportedly sitting 96-98 mph with a few 101s this summer, and his curveball is a true hammer. Gil still needs to figure out control (16.7% walks), but he's got good size (6-foot-3 and 176 lbs.) and a good two-pitch mix. He's basically what Deivi Garcia was at this time last year, only with more size and more velocity. I am intrigued.
The 31st Player
31. OF Antonio Cabello, Rookie (Pre-Draft: Not Ranked)
Wade is a few at-bats away from the rookie limit — he actually lost rookie eligibility through service time last year — and once he graduates, everyone in the top 30 moves up a spot and Cabello slides in at No. 30. The Yankees signed him as a catcher last year, moved him to the outfield right away because that's where his skill set (athleticism, speed, weak arm) fits best, and he's crushing the ball right now. Cabello is not as good a prospect as the stats (.342/.447/.613) would lead you to believe, but he has bat-to-ball skills and some power, and he can be an asset in the outfield defensively once he gains more experience and improves his reads and routes.
Also considered for the 31st spot were, in alphabetical order, RHP Juan De Paula, 2B Ezequiel Duran, OF Ryder Green, RHP Mike King, RHP Nolan Martinez, RHP Glenn Otto, RHP Erik Swanson, RHP Juan Then, and RHP Alex Vargas. RHP Cody Carroll would've been in this mix as well had he not been traded to the Orioles in the Zach Britton trade. Overall there are 31 players ranked here and 40 players mentioned total. Twenty-four of them are pitchers. That's where the system is right now. Very pitching heavy. Not necessarily a bad thing! Just a bit risky because the attrition rate is so high. That said, all the best young bats in the organization are in the big leagues now, and that's a good place for them to be.