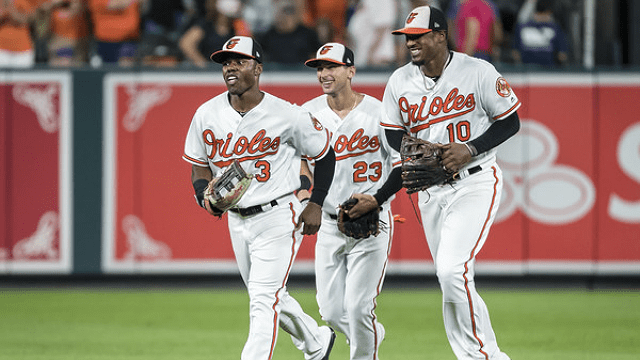 The Yankees continue their road trip of last-place teams in Baltimore where they'll take on the worst team in baseball. Can the Yankees finally break through against the Orioles? They'll have four chances in three days.
The Last Time They Met
On July 31-Aug. 1, the Yankees and Orioles played a two-game series right after the trade deadline and split with the O's taking the series finale.
Masahiro Tanaka danced out of a first-inning jam to toss six scoreless frames in the opener en route to a 6-3 victory. The big blow in the game came off the bat of Miguel Andujar, who launched a three-run homer to make it 6-0.
Sonny Gray made his final start before being bumped from the bullpen in the finale, allowing seven runs in 2 2/3 innings. Lance Lynn cleaned up for him with 4 1/3 shutout innings, but it wasn't enough.
Gleyber Torres hit a pair of home runs in the Aug. 1 game, helping make up for an early fielding miscue. Didi Gregorius had three hits.
Injury Report
Relievers Pedro Araujo, Richard Bleier, Jhan Marinez and Gabriel Ynoa are all out and won't return this series. Marinez is on rehab assignment in rookie ball. Bleier and Ynoa are likely out for the season.
On offense, the O's will miss OF/DH Mark Trumbo, who was placed on the DL this week with right knee inflammation.
Their Story So Far
So. So. Bad. At a blistering 37-90, the Orioles are 52 games back(!) in the AL East. They've already been eliminated from playoff contention and are on pace for a 47-115 record. Considering they traded Manny Machado, Jonathan Schoop, Kevin Gausman, and Zach Britton at the deadline, they actually might be worse than their record says.
The O's are *slightly* better at home, going 21-40 at beautiful Camden Yards this season. The Yankees are a paltry 6-6 against the Birds this year, playing down to the competition. That's been one of the few respites for this truly awful Baltimore squad.
The Lineup We Might See
Buck Showalter has his hands full with trying to piece together a good offense. With a young mix surrounding a few veterans, here's what the lineup may look like this weekend:
1. Cedric Mullins, CF – .310/.396/.571, 2 HR, 0 SB, 162 wRC+
2. Jonathan Villar, 2B – .260/.320/.384, 9 HR, 18 SB, 90 wRC+
3. Trey Mancini, DH – .235/.299/.386, 17 HR, 0 SB, 86 wRC+
4. Adam Jones, RF – .281/.315/.431, 13 HR, 4 SB, 101 wRC+
5. Chris Davis, 1B – .163/.241/.306, 15 HR, 2 SB, 46 wRC+
6. Renato Nunez, 3B – .234/.317/.383, 3 HR, 0 SB, 91 wRC+
7. Tim Beckham, SS – .222/.282/.353, 8 HR, 1 SB, 72 wRC+
8. John Andreoli, LF – .273/.385/.273, 0 HR, 1 SB, 95 wRC+
9. Caleb Joseph, C – .215/.258/.337, 3 HR, 2 SB, 59 wRC+
The team features Craig Gentry, Jace Peterson and Austin Wynns off the bench, all of whom figure to get a start on Saturday at the very least.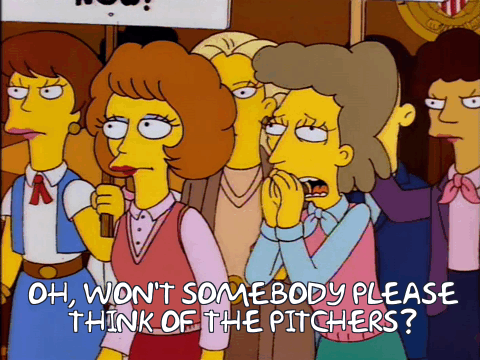 The Starting Pitchers We Will (Probably) See
Friday (7:05 PM ET): LHP CC Sabathia vs. RHP Alex Cobb
Alex Cobb came into his start on July 13 with a 6.67 ERA. Since then, he's looked much more like the pitcher that the Orioles thought worthy of a four-year, $60-million deal in the offseason with a 2.14 ERA over his last seven starts. The improvements haven't been drastic in some of his underlying numbers with a slight uptick in his K-BB and groundball rates, but he's ceded far fewer home runs and seen his batting average against plummet.
His run of recent success culminated in a complete game victory his last start vs. Cleveland. What might be causing this overhaul in Cobb's season? It could be the return of his split-changeup, which he's used with much more frequency in the last two months. With that back, it's his most frequent pitch alongside his sinker and curveball.
Last outing (vs. CLE on 8/13) – 9.0 IP, 5 H, 2 R, 1 BB, 3 K
Saturday Game 1 (1:05 PM ET): RHP J.A. Happ vs. TBA
Saturday Game 2 (7:05 PM ET): TBA vs. TBA
I'll link these together because, as of this writing, the Orioles have yet to announce a starter for Saturday's pair of games despite having a pitcher in place for Sunday. Thanks to a day off on Thursday, the O's could go with two of their normal rotation pieces (Andrew Cashner, Yefry Ramirez) for both games, though they would need a sixth starter at some point next week.
If Baltimore wants to use their 26th man to fill in one of the starts, they'll be able to use Jimmy Yacabonis, who pitched in last month's doubleheader against the Yankees as well as their twin bill with the Red Sox two weeks ago. He last pitched vs. Scranton on Aug. 18, so he'd be well rested. When facing the two-pitch pitcher with occasional bouts of wildness, the Yankees attacked Yacabonis early in the count to take advantage of fastballs on the plate.
The Yankees have not yet announced their starter for the second game of the doubleheader, but Aaron Boone has indicated Sonny Gray will get the ball. Luis Cessa also lines up to pitch that day and figures to come up as the 26th man for long relief duty, at the very least.
Update: Dan Connolly says Yacabonis will start one of the doubleheader games Saturday. For the Orioles, that is.
Sunday (8:05 PM ET): RHP Luis Severino vs. RHP Dylan Bundy
While Cobb has found his groove, Bundy has gone in the opposite direction. He's allowed seven earned runs in each of his last three starts and has a ghastly 9.08 ERA over his last eight starts (39 2/3 innings). In that span, he's given up 15 home runs with three coming in his most recent start in Toronto. Unlike other Baltimore starters, he's even struggled against the Yankees this year, allowing five runs over four innings on July 11.
The 25-year-old righty works off his low-90s fastball while mixing in a low-80s slider, mid-80s changeup and mid-70s curveball. He's had some success with the slider this year, but the other pitches have been hit hard.
Last outing (vs. ATL on 8/14) – 4.1 IP, 10 H, 5 R, 2 BB, 3 K, 3 HR
The Bullpen
With the spate of trades at the deadline, Mychal Givens has taken over the closing role by default as he is the only proven reliever on the squad. Outside of him, it's a mix of misfits and rookies, including former Yankee farmhand Cody Carroll.
Here's how the Orioles' pen has shaped up since the non-waiver trade deadline:
1.1 WAR (Last in MLB)
7.82 ERA (Last in MLB)
6.44 FIP (Last in MLB)
14.8% BB rate (Last in MLB)
5.1% K-BB rate (Last in MLB)
1.99 HR per nine (28th in MLB)
Outside of Givens, Buck Showalter doesn't have a go-to reliever upon whom he can rely. If the starter doesn't last eight with a lead, it's tough sledding to complete a win for the O's.
Who (Or What) To Watch
Weekend doubleheaders are always nice as it means something to keep on the TV all day, even if it's just in the background. However, this one involves the Orioles.
We keep hammering this point, but the Yankees really need to take advantage of facing bad teams and losing to the Orioles has been the main reason why. Good teams beat up on bad ones. Plain and simple.