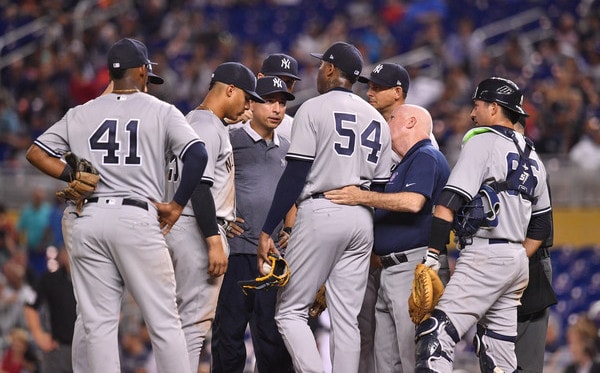 The Yankees can't play a game without losing a player to injury these days. I swear. Sunday they lost Didi Gregorius to a bruised heel, and of course both Aaron Judge and Gary Sanchez are still on the disabled list as well. Sanchez will begin a minor league rehab stint tomorrow. Judge? Who knows. He still hasn't started swinging a bat yet. He's weeks away, not days away.
Last night it was Aroldis Chapman's turn to exit a game with an injury. He threw six pitches in the 12th inning before signaling for the trainer and exiting the game. Chapman's achy left knee flared up again. Here's his final pitch and exit:
Chapman has been pitching with left knee tendinitis for months now — the left knee is his push-off knee, which helps explain why his six fastballs averaged 96 mph last night, his lowest average fastball velocity in a game since 2012 — and so far he's been able to manage it. He managed it well enough to make the All-Star team! Last night though, the pain became too much, so Chapman took himself out of the game.
"It was his knee again that did not feel right," said Aaron Boone following the game. "Same spot as he felt before. So just got him out of there. We'll get all the testing and stuff done tomorrow. Usually, it is not really an issue for us. But for him to call us out there, obviously we needed to get him out of there."
Last night's flare up is a worrisome because we're in late August now and Chapman's knee is getting worse. He said there was more pain last night than there was earlier in the season — "The pain was just more than what I've encountered lately. It's worrisome," he said — and that was coming off six straight days without pitching. Chapman has thrown seven innings since the All-Star break. He's had lots of rest lately, and yet, the pain is getting worse.
The Yankees are built around their bullpen, and with less than six weeks to go in the regular season, they should prioritize Chapman's long-term health over winning games in the short-term. They are more or less locked into a Wild Card spot now — the Yankees are eight games behind the Red Sox and eight games up on the Mariners — so the goal should be getting Chapman healthy for the postseason.
Hopefully today's MRI comes back clean and Chapman gets the okay to continue pitching. Even if that happens, giving the knee a little breather and putting him on the disabled list seems like a pretty good idea. He's been pitching through this injury for weeks now and it's not getting better. Why push it? It would be understandable if the Yankees were in the middle of a tight postseason race. They're not though. Their spot is mostly secure.
Furthermore, the Yankees have the bullpen pieces to cover while Chapman is on the disabled list. Dellin Betances could close in the interim. Or Zach Britton. Or David Robertson. Even with Chapman out, the Yankees would still have those three guys plus Jonathan Holder and Chad Green available for late-inning duty. I'm not sure any team in baseball could absorb losing a closer as good as Chapman as well as the Yankees.
The Yankees are carrying a nine-man bullpen as it is, so giving Chapman a quick 10-day DL stint to rest the knee gets them back to a normal eight-man bullpen and clears a spot for CC Sabathia, who is due back Friday. Plus September is right around the corner, meaning the Yankees will soon have plenty of call-ups available to soak up mop-up innings. Giving Chapman that 10-day DL breather would be quite easy from a roster standpoint.
Point is, Chapman has been pitching on this achy left knee for months now, and it's not getting better. It's getting worse, if anything. There's less than six weeks to go before the postseason and the Yankees have to do all they can to get him healthy between now and then because Chapman is a huge part of the team. The Yankees are built around their bullpen. They're going to go into the postseason looking to shorten games as much as possible and Chapman helps make that possible.
I'm not a doctor. Perhaps Chapman's knee is at the point where two or three weeks of rest won't do much and it won't be until he gets a full offseason of rest (or surgery?) that he gets back to 100%. Intuitively, it seems that continuing to push through it and pitch on this thing won't help. The Yankees are in good postseason position and they have the bullpen pieces to pick up the slack. After weeks of pitching hurt, it's time to give Chapman a break.