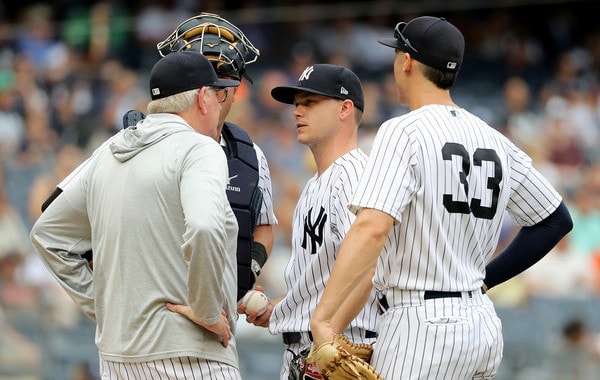 Six days ago the Yankees moved Sonny Gray to the bullpen following a disaster start against the lowly Orioles, a disaster start in which he allowed seven runs in only 2.2 innings. Gray has not pitched since that game — to be fair, he wasn't available until Saturday — and, frankly, I have no idea when the Yankees could use him. Has to be mop-up duty in a loss — I'm not sure I even trust Sonny in a blowout win — or extra innings only, right?
Anyway, Gray remains on the roster as a break glass in case of emergency reliever even though Brian Cashman did have a chance to move Gray at the trade deadline. During a radio interview last week Cashman explained he didn't want to trade Gray just for the sake of trading him. A partial transcript:
"I think teams look at (Gray) and say, 'alright, we have somebody who's struggling in this environment, in New York — which has happened — and they have gone on elsewhere to pitch effectively or return to form. We understand and see that time and time again. So I had definitely teams that were in contention and teams that were not in contention because of his control year next year that asked about Sonny Gray because they know what his capabilities are and that his stuff is still the same. But the approached it in a buy-low situation where it did not make any sense … I was not presented with anything that would make me feel like I missed an opportunity or I should have done something."
At this point it is very tough to see Gray remaining with the Yankees next season, or even possibly through the end of this season. You hate to trade away pitching depth, but Sonny has pitched so poorly that I'm not sure the Yankees can rely on him as depth anyway. Lance Lynn is in the rotation now and J.A. Happ is coming back soon, plus Chance Adams showed enough over the weekend to get another spot start should one be needed.
Trades are still possible in August, they just require trade waivers, which complicate things slightly. Long story short, players who clear trade waivers can be traded anywhere at any time. Players who are claimed on trade waivers can only be traded to the claiming team within 48 hours. Gray is making $6.5M this season, of which roughly $2.1M is still owed to him, and I think that's enough to get him through waivers unclaimed. The overwhelming majority of players clear trade waivers anyway.
Clearly, Gray has fallen out of favor with the Yankees, and truth be told he would almost certainly benefit from a change of scenery as well. I'm not a big believer in the whole "he can't handle New York" stuff, but, at this point, Sonny could probably use a change. A fresh start with a new team, etc. etc. I'm going to do something now I rarely do around here: Propose a trade. My proposal:
Brewers get: Sonny Gray
Yankees get: Keon Broxton and pitching prospect Zack Brown
My trade proposal sucks. I am fully aware of that and I welcome the ridicule and the overwhelming potential to look dumb. I don't do the whole "here's a very specific trade" idea thing often though, and I figured I'd indulge myself. Gray to the Brewers for Broxton and Brown. Two-for-one. Let's talk it out.
Why the Brewers?
At 65-50, the Brewers have the third best record in the National League and they're 1.5 games behind the Cubs in the NL Central. They have a need in their rotation with Jimmy Nelson (shoulder surgery), Zach Davies (back), and Brent Suter (Tommy John surgery) all on the disabled list and not due back anytime soon, and they're loaded with outfielders. They traded top 100-ish prospect Brett Phillips for Mike Moustakas and still have this outfield depth chart:
Christian Yelich
Lorenzo Cain
Eric Thames
Ryan Braun
Domingo Santana (in Triple-A)
Keon Broxton (in Triple-A)
The Brewers had interest in Gray last season. I didn't randomly pick them as a trade partner. There's been interest here in the not-too-distant past. The Yankees and Brewers were the two teams vying for Sonny at the deadline last year. The A's wanted a close-to-MLB center fielder in the trade package and the Yankees made Dustin Fowler available while the Brewers reportedly said no to Lewis Brinson, and that was that. (Brinson went to the Marlins in the Yelich trade over the winter.)
Furthermore, Brewers pitching coach Derek Johnson was Gray's pitching coach at Vanderbilt back in the day and the two are very close. "He's a pretty special person to me. He was one of those father-figure types you hear people talk about — especially at an important part of my life," said Gray to Mark Chiarelli in 2016. The Brewers need a starter, they have outfield depth to spare, they had interest in Gray last year, and he's close with their pitching coach. And he'll remain under team control as an arbitration-eligible player last year. It fits.
Why Broxton?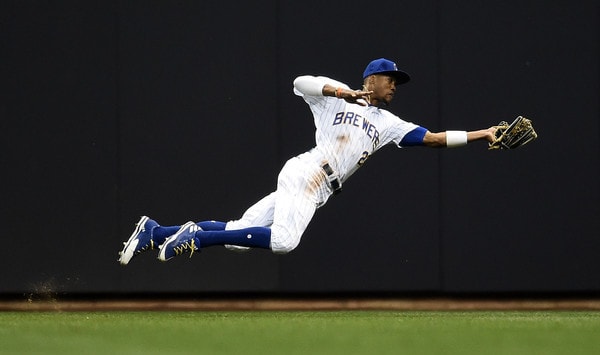 The Yankees went from having plenty of outfield depth to starting Shane Robinson in five of their last ten games in a hurry. Aaron Judge is injured and it doesn't seem he'll return in the original three-week time frame. Clint Frazier is out with post-concussion migraines and there's no telling when he'll return. Giancarlo Stanton is nursing a tight hamstring. Billy McKinney was traded away. Jacoby Ellsbury? Hah.
The Yankees really need another outfielder and Broxton, while flawed, is an upgrade over Robinson. The 28-year-old is a very good defensive center fielder and he's a right-handed hitter with a history of punishing left-handed pitchers. The career big league numbers:
| | PA | AVG/OBP/SLG | wRC+ | HR | BB% | K% |
| --- | --- | --- | --- | --- | --- | --- |
| vs. RHP | 529 | .215/.297/.404 | 82 | 22 | 9.1% | 36.9% |
| vs. LHP | 245 | .242/.362/.449 | 115 | 9 | 15.9% | 35.4% |
| Total | 774 | .223/.317/.418 | 93 | 31 | 11.2% | 36.4% |
Yeah, Broxton strikes out a ton and the Yankees don't really need more strikeouts to the lineup, but they also don't need more Shane Robinson in the lineup either. Robinson, despite hitting the home run last week and having that tough sac bunt attempt turned walk Sunday night, can't hit. Broxton will at least draw walks and hit lefties, on top of the defensive upgrade.
The Brewers have no spot for Broxton on their roster and he's spent pretty much the entire season in Triple-A, where he's hitting .260/.329/.422 (95 wRC+) in 310 plate appearances. This is his final minor league option year as well, and it's hard to see where he fits on next year's roster. The guy is already 28 and he'll be out of options next year. Chances are the Brewers will be looking to trade him over the winter or next spring before losing him on waivers.
The Yankees could replace Robinson with Broxton right away and, at the very least, platoon him with Brett Gardner. The Judge injury and Stanton's lingering hamstring issue means he'd probably get a fair amount of playing time the next few weeks. The Brewers don't have a spot for him and it is unlikely he's in their long-term plans. Broxton is an expendable piece for Milwaukee and an upgrade over Robinson for the Yankees.
Why Brown?
The 23-year-old Brown was a fifth round pick in 2016 and he is currently in Double-A, where he has a 2.34 ERA (3.40 FIP) with 24.4% strikeouts, 7.2% walks, and 56.4% grounders. Great numbers! Baseball America (subs. req'd) did not rank Brown among Milwaukee's top ten prospects in their recent update though, and MLB.com ranks him as the 12th best prospect in the system. Their scouting report:
He pitches with a 92-95 mph fastball to both sides of the plate … He's adept at manipulating the pitch, too, as he'll turn it over to create sinking action at times while reaching back for extra velo with his four-seamer as dictated by the situation. His curveball, though currently underused, is a plus pitch, and he also has feel for a promising changeup that contrasts nicely against his heater … Brown's detractors believe that he'll end up in the bullpen on account of his high-effort delivery.
Brown fits the mold of a quality 'tweener pitching prospect. Can he master a changeup? Will the delivery hold up as a starter? If not, he'll end up a reliever, potentially a very good one. Brown's a notch below where Dillon Tate was before the Yankees traded him, and he's about two notches below where Chance Adams was in 2016, just for reference. The results are better than the scouting report, but the scouting report is still pretty good. Here's some video:
The trade boils down to Gray for a fourth outfielder and a second tier pitching prospect. Considering what the Yankees gave up to get Gray, it's a big net loss. Sonny is a sunk cost though. The Yankees made the trade and he's pitched terribly. They can either stick it out and try to make it work — that wouldn't be crazy, in my opinion — or cut their losses and turn him into usable pieces. Broxton helps now and Brown could help later.
For all intents and purposes, the trade is Gray for Brown. Broxton is a spare part without a ton of trade value. He's closer to 30 than 25 and he'll be out of options next year, and he's been unable to carve out a big league role despite extending playing time in 2016 and 2017. Guys like that don't fetch much on the trade market, even a reclamation project starter like Gray. Sonny's track record and extra year of control have real value.
The Brewers get a starter with a strong track record and get to reunite him with his college pitching coach, and they give up an extraneous outfielder and a good pitching prospect from a deep farm system. The Yankees give up an out-of-favor pitcher, upgrade their short-term outfield situation, and add a pitching prospect who could help as soon as next year. Also, trading Gray opens a bullpen spot for Tommy Kahnle. It all makes sense to me, but, then again, my trade proposal sucks.