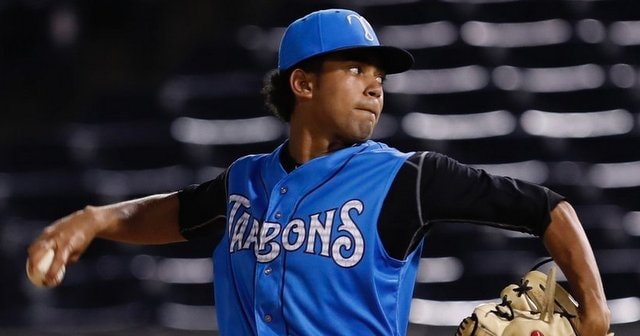 Earlier this week right-hander Deivi Garcia, the No. 15 prospect in the farm system, retired all 21 batters he faced in a start with High-A Tampa, 12 via strikeout. Tampa actually lost that game despite not allowing a hit or a walk because of the extra innings tiebreaker rule. The extra inning started with a runner at second base, and an error and a fielder's choice brought him home. A no-hitter loss.
"He went out there and executed the game plan from the first inning on," said Tampa pitching coach Jose Rosado to Chris Bumbaca. "The first time he went through the lineup, I was like, 'Well, the only chance they have against him is if he hangs a pitch or he makes a mistake. But if he stays calm and he continues to execute his pitches, it's going to be a tough night for the other team … I'm happy to see him do what he did."
The 19-year-old Garcia opened the season in Extended Spring Training before joining Low-A Charleston in June. Now he's with Tampa. He owns a 3.10 ERA (2.72 FIP) with an insane 39.1% strikeouts and 6.2% walks in 52.1 innings. A whopping 1,133 pitchers have thrown at least 50 innings in the minors this season and only five have a better K-BB% than Garcia. Three are relievers and all five are at least three years his elder. He's the only teenager in the top 25.
Over the last few years, particularly since Gary Denbo replaced Mark Newman as the farm system head, the Yankees have become one of the top pitching prospect development systems in baseball. They help guys add velocity, add new pitches, manipulate their old pitches, and create better game plans. Guys like Justus Sheffield, James Kaprielian, Jordan Montgomery, Cody Carroll, and even Luis Severino upped their stock while in the system.
It is still way too early to say Garcia is making that kind of jump, a Severino type of jump, but so far the Dominican right-hander is making his $200,000 signing bonus look like a bargain. And, in a few ways, Garcia is the perfect pitching prospect for the modern game of baseball. Here are three.
1. He's a spin rate freak. Yes, teams have spin rate and exit velocity and all that data for the minor leagues. It's not available freely the way big league Statcast is, but the data exists. And, according to the various scouting publications, Garcia boasts very high spins rates on both his low-to-mid-90s fastball and curveball:
Baseball America (subs. req'd): "(His) bread and butter is a curveball that registers a spin rate of better than 3,000 on StatCast."
MLB.com: "Garcia generates tremendous spin on both his fastball and curveball … some of the best spin rates in a Yankees organization that puts a premium on them."
For reference, only five big league pitchers are averaging better than 3,000 rpm with their curveball this season: Garrett Richards (3,252 rpm), Ryan Pressly (3,208 rpm), Seth Lugo (3,165 rpm), Chris Stratton (3,110 rpm), and Joe Kelly (3,042 rpm). Those names are a good reminder that spin rate isn't everything. It's not nothing either though. Spin rate is like velocity. It's one tool in the shed.
Trevor Bauer claims you can add spin rate with foreign substances and I have no idea whether that is true (probably is), though, clearly, some pitchers just have the innate ability to spin the ball. Some guys throw harder than others. Some guys spin the ball more that others too. At some point, you can either do it or you can't. Garcia can do it. His curveball already has an elite spin rate by MLB standards and his fastball is up there too.
"We call it, like, a sneaky fastball. It gets to you quicker than what you think," Rosado added. "As an organization in the pitching department, I think we do a great job. That's something I really like and I love what we do here. We love to help them, teach them how to do one pitch at a time. I think this is like a team effort."
2. He's a strikeout machine. This goes hand-in-hand with the spin rate. High spin rates on fastballs and breaking balls correlate very well to swings and misses, and thus strikeouts. Garcia's last two seasons:
2018 Strikeout Rate: 39.1% (fifth best among 1,133 minor leaguers with 50 innings)
2017 Strikeout Rate: 36.6% (13th best among 1,837 minor leaguers with 50 innings)
This year Garcia has a 15.9% swing-and-miss rate that ranks 71st among those 1,133 minor leaguers with at least 50 innings pitched, though it's second highest among teenagers in full season ball. The vast majority of the players with a higher swing-and-miss rate are either much older or in rookie ball.
Baseball is obsessed with strikeouts these days. Hitters are willing to trade strikeouts for power and pitchers want strikeouts because less contact means less potential for damage, especially with hitters selling out for homers. Garcia's current strikeout and swing-and-miss rates are as good as it gets given his age and the levels he's pitching at.
3. He packs a lot of punch in his small frame. Okay, I'm reaching here, but hear me out. Smaller players are dominating baseball nowadays. Jose Altuve. Mookie Betts. Jose Ramirez. Alex Bregman. They all have big player numbers in a sub-6-foot frame. The little guy is starting to take over baseball.
That extends to the mound as well, though not quite as drastically. In recent years we've seen shorter pitchers like Marcus Stroman, Mike Leake, and Kelvin Herrera have considerable big league success despite standing no taller than 6-foot-0. Sonny Gray belongs in this group as well. He was pretty excellent before things fell apart with the Yankees this year.
Garcia is a tiny little guy listed at 5-foot-10 and 163 pounds. He looks a little heavier than that now, though not in a bad way. He's added some more muscle and good weight. Again, the kid is 19 years old and he's still growing. Chances are Garcia doesn't have a growth spurt coming that will push him up over 6-foot-0, but shorter pitchers can have success too. There's a lot of talent packed into his little frame. Here's some video.
Not a great camera angle there, so we don't get a good look at that high-spin curveball, but look at those swings! Not comfortable at best and hilariously silly at worst. A low-90s heater with a hammer curveball coming out of a 5-foot-10 frame will do that. Garcia has the elite spin rate(s), he misses bats, and his diminutive frame makes him easy to underestimate.
Of course, we are talking about a 19-year-old in Single-A ball, so a whole lot can go wrong before Garcia reaches the big leagues, if he ever does at all. The raw skills are very impressive though, and already he's cut his walk rate from 12.0% from 2016-17 to 6.2% in 2018, so progress is being made. The Yankees literally have more quality pitching prospects than rotation spots in the minors, and Garcia is the farm system's breakout stud this year.