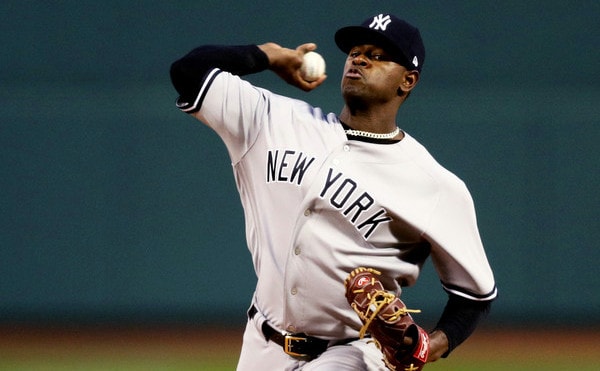 Gosh, did last night's game suck, or what? That was no fun. Forget about that and focus on tonight. Speaking of tonight, the Yankees really need a win. Not only for the sanity of the fan base, but also to stay alive in the AL East race. They're five back in the loss column with 55 games to play. Doable. They just don't want the deficit to get any worse. I mean, duh.
Big start for Luis Severino tonight! For a few reasons. One, Sonny Gray and CC Sabathia combined for 5.2 innings the last two games, so the pitching staff is a bit of a wreck. The Yankees need innings. And two, Severino himself has been kinda crappy the last few times out. We need to see the good version of Severino again and soon, as in tonight. The Yankees need to bounce back as a team and Severino needs to bounce back personally. Here are the lineups:
New York Yankees
1. LF Brett Gardner
2. RF Giancarlo Stanton
3. SS Didi Gregorius
4. CF Aaron Hicks
5. 2B Gleyber Torres
6. 1B Greg Bird
7. DH Miguel Andujar
8. C Austin Romine
9. 3B Neil Walker
RHP Luis Severino
Boston Red Sox
1. RF Mookie Betts
2. LF Andrew Benintendi
3. 1B Steve Pearce
4. DH J.D. Martinez
5. 2B Ian Kinsler
6. 3B Eduardo Nunez
7. SS Brock Holt
8. C Sandy Leon
9. CF Jackie Bradley Jr.
RHP Rick Porcello
Another hot, humid, and cloudy night in Boston. Sticky to your seat weather. First pitch is scheduled for 7:10pm ET and you can watch on WPIX locally and MLB Network out-of-market. Enjoy the game.
Injury Update: Aaron Judge (wrist) is progressing well and he could begin taking dry swings and hitting off a tee very soon, as in before the end of the weekend. Good news … Gary Sanchez (groin) is doing some light rehab work. He hasn't been cleared to start running or to resume baseball activities yet.
Roster Move: Welcome back, Tommy Kahnle. He was called up and Luis Cessa was sent down, the Yankees announced. Kahnle might only be here for one day since Chance Adams is coming up to make tomorrow's start. Interestingly enough, Aaron Boone said today the Yankees considered a few different options for Cessa's roster spot today, including some outside the organization. Hmmm.