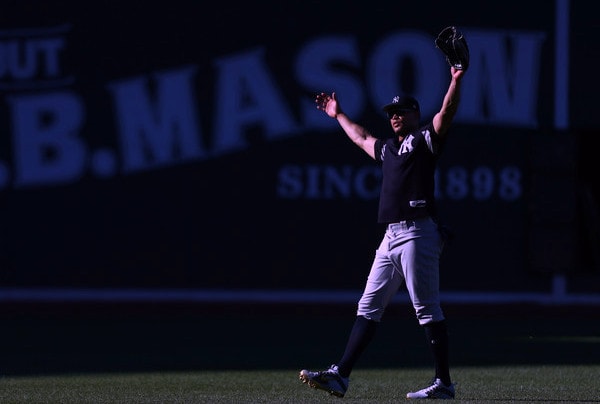 What a mess of a series this has been. The Yankees dropped the first three games by the combined score of 23-9 and they've fallen to 8.5 games back in the AL East (seven in the loss column). FanGraphs puts their division odds a 12.4%. Their postseason odds are still sky high (99.9%), but at some point the Yankees have to start playing better. They're 18-19 in their last 37 games. That won't cut it.
While the damage has already been done, the Yankees can salvage this four-game series with a win in the finale tonight. Masahiro Tanaka is on the mound and he's been the team's best starter the last three or four turns through the rotation, plus David Price will be on the mound for the Red Sox, and I can't remember the last time he pitched well against the Yankees. I'd feel a lot better if Aaron Judge and Gary Sanchez were in the lineup though. Here are the lineups:
New York Yankees
1. CF Aaron Hicks
2. DH Giancarlo Stanton
3. SS Didi Gregorius
4. 2B Gleyber Torres
5. 3B Miguel Andujar
6. 1B Luke Voit
7. LF Brett Gardner
8. C Austin Romine
9. RF Shane Robinson
RHP Masahiro Tanaka
Boston Red Sox
1. CF Mookie Betts
2. LF Andrew Benintendi
3. DH Steve Pearce
4. RF J.D. Martinez
5. SS Xander Bogaerts
6. 1B Mitch Moreland
7. 3B Eduardo Nunez
8. 2B Brock Holt
9. C Sandy Leon
LHP David Price
Clear skies and humid in Boston tonight. The series finale will begin a little after 8pm ET and ESPN will have the broadcast. Try to enjoy the game.
Injury Update: Aaron Judge (wrist) still has discomfort and has not yet started swinging a bat. He has started throwing though (the injury is to his throwing wrist). Judge said that, once he returns, he's going to have a protective guard on the wrist and probably more armor at the plate overall … J.A Happ (hand, foot, and mouth disease) threw today in New York and will be evaluated tomorrow. If he checks out okay, he'll start Thursday, the first day he's eligible to be activated.