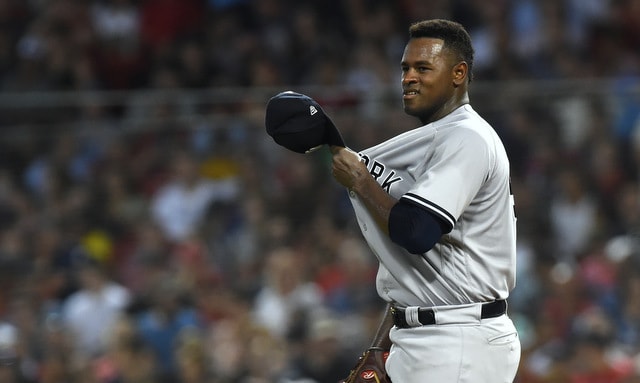 Two games and two wins against the lowly White Sox so far this series. It took 13 innings last night, but hey, all that matters is the win. They don't all have to be pretty. The Yankees will go for the three-game series sweep tonight — they haven't swept a three-game series since the Mariners series in June — with Luis Severino on the mound.
On paper, the ChiSox are a good matchup for Severino. Their 12.7% swing-and-miss rate is the highest in baseball and Severino has had some swing-and-miss issues the last few times out. The whiff rates:
First 18 starts: 13.9%
Last 5 starts: 9.7%
Severino got smacked around a bit in the first inning last time out but did look better after that. Hopefully he builds on that tonight and gets back to being the Cy Young caliber starter we saw earlier this year. First half Severino would be a welcome sight indeed. Here are tonight's lineups:
New York Yankees
1. LF Brett Gardner
2. DH Giancarlo Stanton
3. CF Aaron Hicks
4. 1B Greg Bird
5. SS Gleyber Torres
6. 3B Miguel Andujar
7. 2B Neil Walker
8. C Austin Romine
9. RF Shane Robinson
RHP Luis Severino
Chicago White Sox
1. 2B Yoan Moncada
2. 3B Yolmer Sanchez
3. 1B Jose Abreu
4. DH Daniel Palka
5. RF Avisail Garcia
6. LF Nicky Delmonico
7. SS Tim Anderson
8. C Kevan Smith
9. CF Adam Engel
RHP Lucas Giolito
Pretty much a perfect evening for baseball in Chicago. Clear skies, warm but not hot, and a nice breeze. Tonight's series finale will begin at 8:10pm ET and YES will have the broadcast. Enjoy the game.
Injury Update: Clint Frazier (post-concussion migraines) is "feeling better" and has starting hitting on the field down in Tampa. He is making progress but they're going to wait until he's completely symptom free before really ramping up his rehab work.