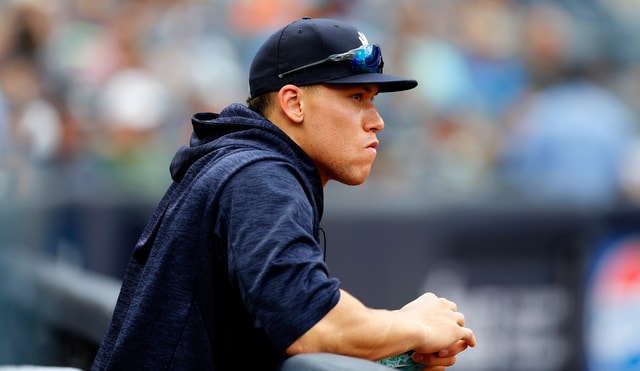 The seven-game road trip is over and the Yankees are back home in the Bronx for a long eleven-game homestand. I can't remember the last eleven-game homestand. Usually they cap these things at ten games, but the Yankees lost Monday's off-day to a makeup game with the Mets, so eleven games it is. Well, whatever. This homestand is a great chance to do some damage in the standings.
On the mound tonight will be J.A. Happ, who has returned from the disabled list and will be making his second start as a Yankee. The first went very well. Too bad the hand, foot, and mouth disease — I still can't believe not one, but two New York baseball players have landed on the disabled list with that this season — sent him to disabled list. Oh well. At least Happ is back tonight. Here are the lineups:
New York Yankees
1. LF Brett Gardner
2. DH Giancarlo Stanton
3. SS Didi Gregorius
4. CF Aaron Hicks
5. 1B Greg Bird
6. 3B Miguel Andujar
7. 2B Neil Walker
8. C Austin Romine
9. RF Shane Robinson
LHP J.A. Happ
Texas Rangers
1. DH Shin-Soo Choo
2. 2B Rougned Odor
3. SS Elvis Andrus
4. 3B Adrian Beltre
5. 1B Jurickson Profar
6. RF Joey Gallo
7. C Robinson Chirinos
8. LF Willie Calhoun
9. CF Carlos Tocci
RHP Ariel Jurado
It is hot and humid in New York and will be until the day the sun swallows the Earth. Tonight's game will begin at 7:05pm ET and YES will have the broadcast. Enjoy the ballgame.
Roster Move: As expected, Chance Adams was sent back to Triple-A Scranton to clear a roster spot for Happ, the Yankees announced. Adams was sent down following last night's game.
Injury Update: Aaron Judge (wrist) still has pain and is not yet swinging a bat. He's doing pretty much everything else though. He's scheduled to see the doctor tonight for a checkup … Gary Sanchez (groin) has been cleared to resume running. He's also ramping up his hitting and defensive rehab work as well … Aroldis Chapman is available. He was available last night too. The Yankees held Chapman out a few days because he was sore following Sunday's extended outing. He's good to go now.