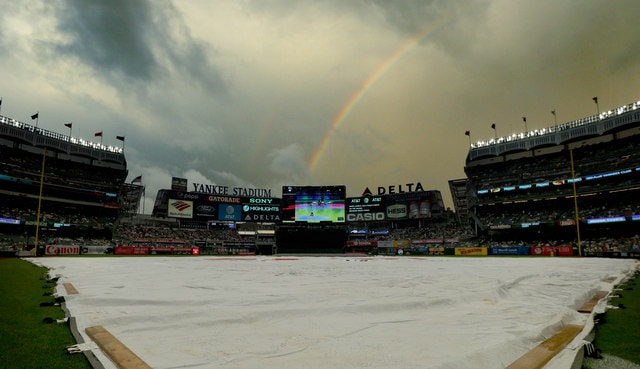 The bad weather season continues. The Yankee Stadium gates are open and no delay has been announced, but, looking at the weather forecast, it sure doesn't look like there will be much baseball played in the Bronx today, if any.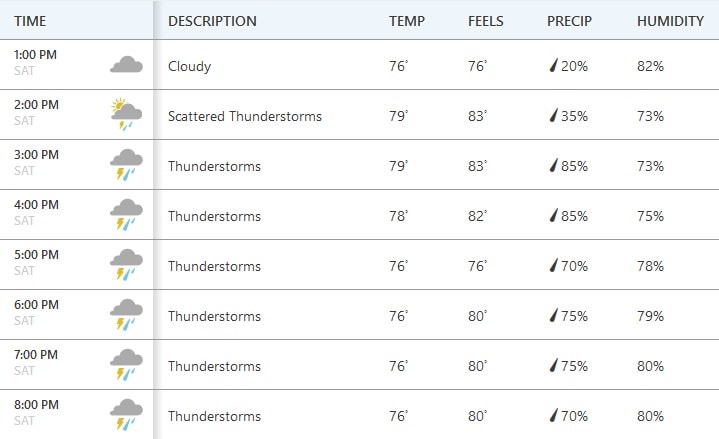 On and on it does. The rain is supposed to stop sometime tomorrow morning. I've seen worse weather forecasts turn into playable conditions, so maybe they can get this game in. If they try, make sure you have a lead after the top of the fifth, fellas. Here are the lineups. Note today's right fielder:
New York Yankees
1. LF Brett Gardner
2. DH Giancarlo Stanton
3. SS Didi Gregorius
4. 3B Miguel Andujar
5. 1B Greg Bird
6. 2B Gleyber Torres
7. RF Neil Walker
8. C Kyle Higashioka
9. CF Shane Robinson
RHP Lance Lynn
Texas Rangers
1. RF Shin-Soo Choo
2. 2B Rougned Odor
3. SS Elvis Andrus
4. DH Adrian Beltre
5. 3B Jurickson Profar
6. LF Joey Gallo
7. C Robinson Chirinos
8. 1B Ronald Guzman
9. CF Carlos Tocci
RHP Drew Hutchison
Like I said, it's raining. Not much right now but more is coming. First pitch is scheduled for 1:05pm ET. We'll see if that actually happens. YES with have the local broadcast and MLB Network will have the out-of-market broadcast. Enjoy the game.
Injury Updates: Stanton still has tightness in his hamstring. Aaron Boone said it's not getting worse, but it's still there. The Yankees absolutely can not afford to lose Giancarlo right now. It seems more DH days are in his immediate future … Walker was unavailable last night because he was sick, and because his neck was stiff. Seems he's all good to go now though.