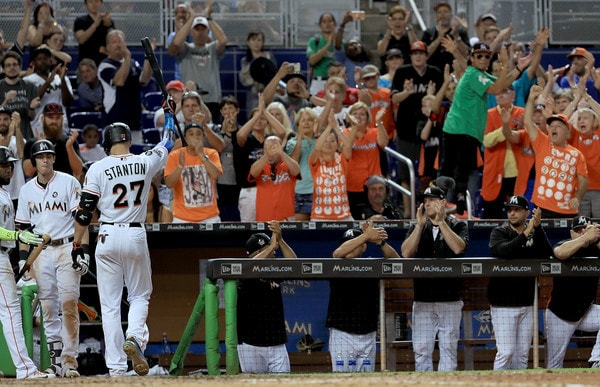 Thanks to the magic of interleague play, the Yankees are in Miami this week for a two-game series with the Marlins. It's a 2003 World Series rematch! But I don't like talking about that. Instead, I look at this week as Giancarlo Stanton's homecoming. The Yankees poached Stanton from the budget conscious Marlins over the winter and now he's back in Miami with a chance to hit his 300th career home run in front of his former hometown fans.
"It's been a big part of my life, my time down there. It'll be a cool experience going back," said Stanton over the weekend. This series marks Giancarlo's return to Miami and also his return to the field. A tight hamstring has limited him to DH duty the last few weeks. Tonight, with the DH spot unavailable, Stanton will play right field for the first time since August 7th. Score lots of runs then double switch him out of the game in a blowout. Sounds like a plan. Here are tonight's lineups:
New York Yankees
1. LF Brett Gardner
2. RF Giancarlo Stanton
3. CF Aaron Hicks
4. 3B Miguel Andujar
5. 1B Greg Bird
6. SS Gleyber Torres
7. 2B Neil Walker
8. C Austin Romine
9. RHP Masahiro Tanaka
Miami Marlins
1. RF Rafael Ortega
2. C J.T. Realmuto
3. 3B Brian Anderson
4. 1B Derek Dietrich
5. 2B Starlin Castro
6. LF Austin Dean
7. SS JT Riddle
8. CF Magneuris Sierra
9. RHP Pablo Lopez
It is hot and humid in Miami, so I imagine the Marlins Park roof will be closed. First pitch is scheduled for 7:10pm ET and the game will air on YES. Enjoy the ballgame.
Injury Updates: In case you missed it earlier, Didi Gregorius was placed on the 10-day DL with a left heel contusion. Aaron Boone said the Yankees are hopeful it is a short-term injury. "Next couple of days will tell us," said Boone … Aaron Judge (wrist) still hasn't been cleared to swing a bat … Gary Sanchez (groin) will begin a minor league rehab assignment Thursday. He's going to play "about a week's worth" of games … Clint Frazier (post-concussion migraines) is showing improvement and has increased his rehab work … CC Sabathia (knee) will come off the disabled list and start Friday. Good injury news? I didn't know that was possible.