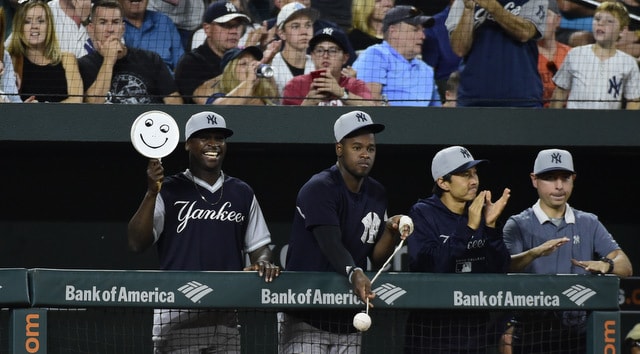 After struggling against the Orioles earlier this season, this weekend has gone about as well as we could've hoped. The Yankees have three wins since Friday night and tonight they're going for the four-game sweep. With the Red Sox stumbling a bit — they were swept by the Rays this weekend and have lost six of their last eight games — the top of the AL East standings currently look like this:
Red Sox: 90-42
Yankees: 82-47 (6.5 GB)
The Yankees have gained four games in the standings in the last seven days and a win tonight means they'll wake up tomorrow morning five games back in the loss column. Five back with six head-to-head games remaining. Still a long climb ahead. A very long climb. But suddenly that climb doesn't seem as improbable as it did even a week ago. Go beat the Orioles and continue to make things interesting. Here are tonight's lineups:
New York Yankees
1. CF Brett Gardner
2. RF Giancarlo Stanton
3. DH Aaron Hicks
4. 3B Miguel Andujar
5. 2B Neil Walker
6. SS Gleyber Torres
7. 1B Luke Voit
8. C Austin Romine
9. RF Shane Robinson
RHP Luis Severino
Baltimore Orioles
1. 2B Jonathan Villar
2. CF Craig Gentry
3. DH Trey Mancini
4. RF Adam Jones
5. 1B Chris Davis
6. SS Tim Beckham
7. 3B Renato Nunez
8. 2B Jace Peterson
9. C Caleb Joseph
RHP Dylan Bundy
I thought for sure Gardner would sit tonight after playing both ends of the doubleheader yesterday. Shows what I know. Anyway, it's another hot and humid day in Baltimore. Probably not the most comfortable night to sit in the stands. At least there's no rain in the forecast. Tonight's game will begin at 8:05pm ET and it'll be on ESPN as the Sunday Night Baseball game. Why? I have no idea. Whatever. Enjoy the game.
Roster Move: As required, 26th man Luis Cessa was sent back to Triple-A following yesterday's doubleheader. Unless he replaces someone who goes on the disabled list, Cessa has to stay in the minors ten days, which means the earliest he can come back up is Wednesday, September 5th. He can't come back this coming Saturday, the first day rosters expand.
Injury Updates: Aaron Boone said he is "optimistic" both Gary Sanchez (groin) and Didi Gregorius (heel) will return in time for the upcoming West Coast trip. The Yankees play three games in Oakland and three games in Seattle starting September 3rd … Aaron Judge (wrist) still isn't ready to swing a bat.